Receiving an offer of employment is an exciting time, especially if one of your target companies has made the offer. If you receive a competitive offer from one of your target companies, your decision to accept the offer will likely be easy. However, sometimes the decision is not straightforward. You may receive multiple offers and need to analyze and compare the salary and benefit packages. You will likely need to consider various qualitative factors, such as location, type of work, etc. You may receive an offer from a company that you really want to work for, but they may have undervalued some of your skills and you will need to negotiate for a better offer.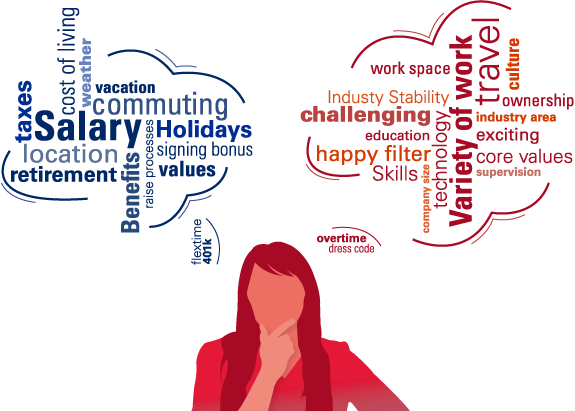 Receiving the Offer
There are usually two major communication steps in the job offer process; the verbal offer and the written offer. Your supervisor or Human Resources (HR) contact will call and offer you the job verbally over the phone. Show your excitement for the offer and express your gratitude, but do not accept the job offer during the phone call (even if it is your dream job). Your acceptance of the job will come during the written offer stage. Thanking them does not imply that you are taking the job. Usually the caller will confirm your contact information so the company can send you the written offer. The written offer usually includes: job title, salary, start date, supervisor's name, a benefits package, and a deadline for responding. There is still time to ask questions and investigate this job and potentially weigh it against other offers that you have received.
Evaluating the Offer
You've received an offer and now you need to understand the offer's value. There are many quantitative and qualitative factors that will influence your decision. You will need to evaluate the salary and benefits package, the type of work, team environments, and corporate culture. You may also have personal considerations such as distance from family, weather preferences, and recreational opportunities.
Quantitative Factors to Consider
The following are some of the quantitative factors you may want to evaluate:
Salary

Start by comparing your offer to the salary information reported by graduating engineers with your major. See information at: Engineering Career Services Placement, Salaries & Demographic Information.
Make adjustments for qualifications that make you an above or below average candidate. This could be a GPA that is significantly above average or below 3.0, and the amount of relevant work experience that you have. Most ISU engineering students complete one co-op or internship before they graduate.
Cost of living varies widely from location to location so it is important to take this into consideration. The average salaries calculated by Engineering Career Services are composites representing many locations, and end up being representative of the Ames, IA area. Ames has a cost of living index of 97, which means the cost of living is 3% below the national average. Use the US Census Bureau lookup tables or one of the online calculators to adjust the average salary for your major for the location of the position.
The employer benefits package.

Health Insurance (Medical, Dental, Vision).
Employee wellness program (not standard but sometimes gym memberships and wellness classes are reimbursed).
Holidays and vacation time (industry standard for entry level engineering jobs is one or two weeks of vacation per year. This will increase with seniority.).
Retirement program (usually in the form of a 401k plan with employer matching funds.).
Flextime, telecommuting, childcare and other quality of life programs.

Other forms of potential compensation – can include performance bonuses, commissions, profit sharing, gain sharing, stock options, merit pay, overtime pay.
Signing bonus and relocation package – a signing bonus is not standard but a relocation package is common.
Evaluation and raise processes – some offers come with guaranteed increases after a certain amount of time or completion of a training program.
Location issues such as property and sales taxes, commuting time and costs, etc.
Qualitative Factors to Consider
Money is important but may not be as important as other "happiness" factors. The following are some of the qualitative factors you may want to evaluate:
Core Values of Company – Do the company's values resonate with your core values? Do they live by their values or just use them for advertising?
Safety – What are the safety risks associated with the position and does the company have a good safety record?
Ownership Structure – Is the company public, private/family, employee-owned, etc.? Are you okay with the ownership structure? Each structure has its advantages and disadvantages.
Variety and Merit of Work – Will the work diversify your skills, keep you challenged, and interest you?
Industry Stability – Is the industry prone to cyclic boom and bust periods? Are the technologies cutting edge or outdated? Is the company in a growth industry or area?
Education, Continuous Learning and Development – Will you have an opportunity to continue your education? Bigger companies usually offer education reimbursement, internal training, workshops, and/or mentoring.
Career Growth/Advancement – Does the position offer opportunities for increased levels of responsibility and/or promotion?
Travel – Can you handle the travel requirements? Travel requirements are higher in some industries like oil, construction, and consulting.
Schedule and Time Expectations – What hours and how many hours are you expected to work each week? Will you get paid for reoccurring overtime?
Location – Does the geographic location and community appeal to you?
Manager and Coworkers – Do you think you will enjoy working with your supervisor and co-workers?
Corporate Culture – Do the dress code, work space, level of supervision, and flextime fit your expectations?
Non-Compete, Non-Disclosure, and Non-Solicitation Contracts
Another factor you may need to consider is whether to sign a non-compete, non-solicitation, or nondisclosure contract if requested. Some employers use these contracts to protect their interests such as intellectual property, confidential information, and customer relationships. You should never sign one of these contracts unless you fully understand it. If the language is very broad (non-specific), ask for more details to be added. The following are some questions you may want to ask:
To which competitors/industries does it apply? Ask them to be specific as to what companies you are prohibited from accepting employment.
Where does the non-compete apply? The larger the area, the more you might want to renegotiate.
What is the duration of the restriction?
Does it require you to report your future employers? Are you willing to do this?
Keep in mind that non-compete contracts can limit the companies you can work for during a certain period of time. It is important to understand that this can limit the number of jobs you'll be able to apply to after working for you current company. If it is for an internship position and it will limit your employment prospects with other companies that interest you after graduation, don't sign it. Free legal advice is provided to ISU students through Legal Student Services. More information on these contracts can be found here.
Take your time considering an offer and ask for more time if needed. Do not accept a position until you are ready to commit to it and turn down all subsequent offers. See the next page for information on asking for more time.