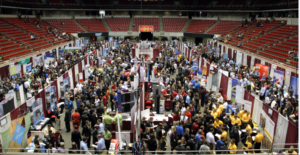 Thank you for visiting our website. We hope that the information that we have prepared answers many of your questions.  However,  if you have unanswered questions after reviewing this information, please do not hesitate to contact us.  We would love to hear from you.
Most universities have a career services office, but here at ISU, we have a specialized career services office in each of our colleges.  We understand that the process of preparing for and pursuing professional employment is not the same for all majors.  This office has the pleasure of focusing all of its time and attention on engineering students and alumni.
The Engineering Career Services staff is dedicated to assisting our students from the first day they walk on campus to the day they graduate and beyond. We are here to help students and alumni develop effective resumes and cover letters, learn job search techniques, develop interviewing skills, and provide other career-related support.
Not only do we help students prepare for employment, but we also work very hard to help students and graduates connect with employers.  Employers recruit heavily at ISU and this provides our students a significant advantage in the job search process. The employment process is largely about networking; while at ISU, students have many opportunities to meet with employers and build professional relationships that lead to full-time employment at graduation.
Find information on each of the majors offered by the College of Engineering here.
FAQs
Useful Links