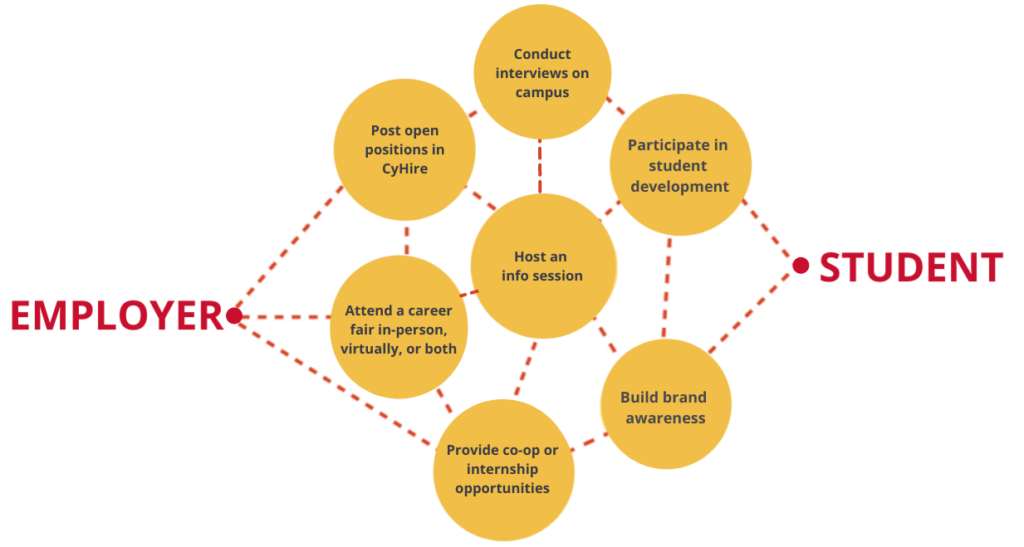 Create a Presence on Campus
Creating a presence on campus and regularly engaging with students are important strategies for recruiting highly sought-after candidates. Name recognition and company image are important when trying to attract the attention of busy college students. Interacting with students provides opportunities to evaluate skill sets, interests, and personalities.
Participate in Student Development
Get involved in technical presentations or design projects by hosting a Capstone Design Project or making a technical presentation to a class. Class presentations require an invitation from the instructor and must be related to the course. To request a class presentation, please complete the Classroom Speaker Request Form.
Partner with Engineering Career Services on our various programs throughout the year. Interested in being involved with programming such as resume reviews, mock interviews, panels, and more. Complete our Employer Interest Survey and let us know.
Build Name Recognition on Campus
Make connections with student organizations by setting up info sessions, sponsoring teams, or inviting them to participate in networking events or tours. Fill out this Student Organization Connection Form for assistance with getting connected.
Have a descriptive company profile in CyHire and include a logo to increase name recognition. Students look at company profiles in CyHire when deciding what positions to apply for, so making your company profile detailed and accurate can make a big impact.
Please note, it is the function of Engineering Career Services to support the recruitment-related activities of employers engaging with students on-campus, off-campus, virtually, or on-site at your organization. Student organizations should not be asked to arrange recruiting events or activities. Click here for our guidelines for best practices in engaging with student organizations. We are eager to assist you in connecting with talented students and alumni!
Engage with the College of Engineering
There are several opportunities to engage with the College of Engineering beyond the services provided through Engineering Career Services. Fund scholarships or otherwise support the College of Engineering through the ISU Foundation, sponsor research involving graduate and/or undergraduate students through the Engineering Research Institute, or serve on an advisory board (requires an invitation by the department chair).