Selection committees want to hear that you have chosen to apply to their program for good reasons.  Avoid telling them that it is because of rankings or that you grew up loving the university.  It is very important for you to tailor your essay for each application that you submit.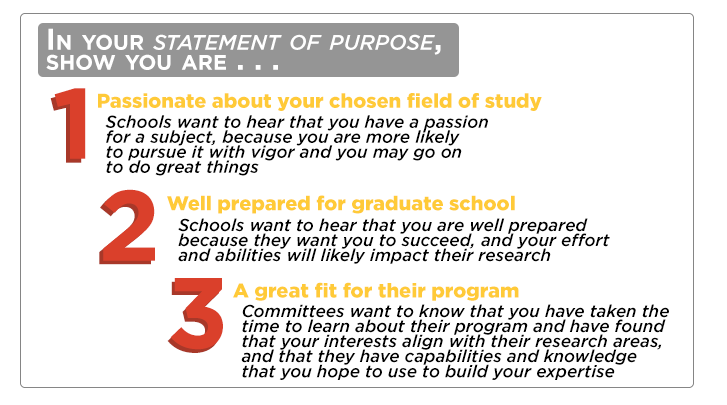 Some schools ask for specific information or want specific questions to be answered.  Be sure to focus your essay on the information requests.  A well-written essay that doesn't address the selection committee's interests will be ineffective.  Generally, most selection committees are interested in the following:
Why do you want to pursue this discipline?
What are your specific goals for graduate study?
What are your goals beyond graduate study?
How have you prepared academically?
What experiences have helped you prepare?
What attracted you to apply to this program?
The essay is also a sample of your communication skills.  It should be written in essay form with an introduction, body and closing. It should be well organized, easy to read, and interesting.  Organization is flexible but is should flow as you tell your story.  It should be error free and within the word limit, if one is imposed (500 words is common).  Have several people review it for errors and have it critiqued by a professor or career services professional.
PREVIOUS STEP: Curriculum Vitae
Section Tips

NEXT STEP: Letters of
Recommendation