Presenting a professional appearance at a career fair or when interviewing for a position, is very important.  Business professional attire is generally expected. If you are in need of business professional attire, consider these low-cost, and even no-cost clothing sources.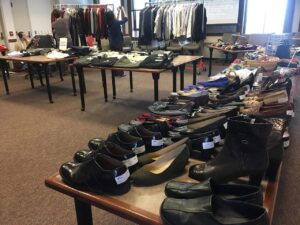 Professional Clothing Pop Up Shops:
Free, gently worn, business clothing is available through the ISU Multicultural Liaison Offices. Follow @isupopup on Instagram to view and claim available items.
Stores that sell slightly used, discounted clothing:
(list is not comprehensive; other sources may also exist)
Ames Area
Goodwill – 3718 Lincoln Way, Ames; (515) 292-8454
Miss Meyer's Clothing Consignment – 432 5th Street, Ames; (515) 598-4471
Overflow Thrift Store – 202 S Duff Avenue, Ames; (515) 290-0732
The Loft – 233 Main Street, Ames; (515) 232-9053
The Salvation Army Family Store – 133 E Lincoln Way, Ames; (800) 728-7825
Des Moines Area
Bargain Basket – 3811 Ingersoll Ave., Des Moines; (515) 279-5339
Dress For Success – 6000 Grand Ave., Des Moines; (515) 288-0130
Encore Thriftstore – 4640 Merle Hay Road., Urbandale; (515) 262-0876 and 500 E Army Post Road., Des Moines; (515) 777-7394
ReStyle – 7662 Hickman Rd., Des Moines; (515) 276-4525
Style Encore – 5550 Wild Rose Ln., #110, West Des Moines; (515) 327-5445
The Back Room – 2601 Beaver Ave., Des Moines; (515) 274-8773