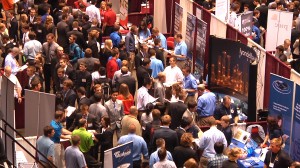 Each year the College of Engineering holds several career fairs to help students and employers connect. In a typical year, over 500 different employers will participate in one or more of the fairs. The employers will be hiring for post-graduation, co-op, and internship positions. These networking events lead to 1000s of on-campus interviews each year, and ultimately, have a significant, positive impact on our career outcomes. Since developing networking skills and effectively marketing oneself to employers takes time and practice, it is important that our students participate in these events.
Here are a few things you can do to help:
Promote upcoming fairs and encourage attendance.
Encourage students to have their resumes reviewed by Engineering Career Services well before a fair.
Remind students to make good use of their time by researching the employers that will be attending and planning out who they will visit.
Avoid scheduling tests or messy lab work on the day of a fair.
Provide class attendance flexibility and/or allow makeup assignments for students that miss class on these dates. Note: Each career fair runs from noon to 5:00p and students can come and go as their schedules allow.
Attend the fair yourself and visit with employers. Thank them for making their employment opportunities available to our students. Over half of the company representatives are alumni of the College of Engineering.