The College of Engineering at Iowa State University
A prestigious engineering program is nothing without passion – inspiring future engineering leaders, pursuing groundbreaking research, transforming technology to make a difference, celebrating diversity of thought and culture, and creating solutions to make the world a better place. We do all this and more!

Research Spotlight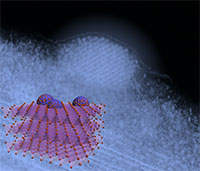 Iowa State University College of Engineering researchers have recently demonstrated modification of a two-dimensional metal carbide, opening new doors for water-gas shift reactions. The research was recently published in Nature Catalysis.
Yue Wu
, Herbert L. Stiles Professor in Chemical Engineering, led the effort that looked at a chemical process that improved catalytic potential in this type of material.
Read the full story