The College of Engineering at Iowa State University
A prestigious engineering program is nothing without passion – inspiring future engineering leaders, pursuing groundbreaking research, transforming technology to make a difference, celebrating diversity of thought and culture, and creating solutions to make the world a better place. We do all this and more!
 

Research Spotlight
Smart morphing façades for adaptive buildings under wind events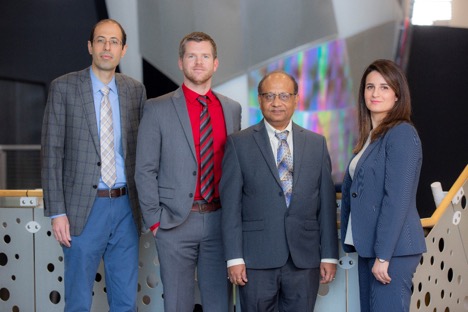 Alice Alipour
(pictured, far right) leads the project that will reinvent building façade systems as multifunctional, active structural units. The work will transform façades from a passive element serving its traditional architectural and functional role to an "alive" engineered system that can protect a building against extreme wind events, decrease structural costs and contribute to a sustainable solution for energy saving.
"This project aims to integrate and advance several emerging technologies: adaptive façades morphing structures," Alipour said. "Our effort will lead to a novel active-control system that aerodynamically transforms and streamlines the envelope of a building in response to variations in the direction and intensity of wind."
Read more