The College of Engineering at Iowa State University
A prestigious engineering program is nothing without passion – inspiring future engineering leaders, pursuing groundbreaking research, transforming technology to make a difference, celebrating diversity of thought and culture, and creating solutions to make the world a better place. We do all this and more!

Research Spotlight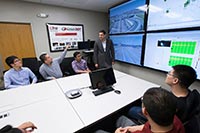 Researchers with Iowa State's Institute for Transportation (InTrans) are using artificial intelligence and machine learning tools to manage, sort and analyze the traffic data collected by the Iowa Department of Transportation. The idea is for researchers to use the latest computing tools to mine the huge data sets for useful information that could lead to safer roads.
Read the full story