The College of Engineering at Iowa State University
A prestigious engineering program is nothing without passion – inspiring future engineering leaders, pursuing groundbreaking research, transforming technology to make a difference, celebrating diversity of thought and culture, and creating solutions to make the world a better place. We do all this and more!
 

Research Spotlight
Robotic Plant Measurements Roll Toward Data-Driven Agriculture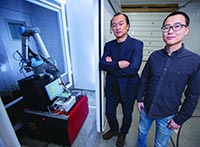 Lie Tang
's research team designs plant measuring robots that quickly and accurately collect the plant-trait data needed for data-driven crop performance research.
"We combine intelligent robotics and sensing technologies to improve both the throughput and the quality of plant measurements, a core need in the growing fi eld of predictive plant phenomics," said Tang, an associate professor of agricultural and biosystems engineering.
Read more