The College of Engineering at Iowa State University
A prestigious engineering program is nothing without passion – inspiring future engineering leaders, pursuing groundbreaking research, transforming technology to make a difference, celebrating diversity of thought and culture, and creating solutions to make the world a better place. We do all this and more!

Research Spotlight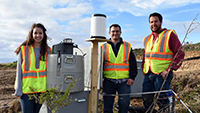 Michael Perez
, assistant professor of construction engineering, is the principal investigator for the project, "Field Monitoring of Erosion and Sediment Control (E&SC) Practices and Development of Additional Iowa DOT Design Manual Guidance." This $220,000 E&SC project, funded by the Iowa DOT, will span two years and develop improvements for erosion and sediment control practices used on active construction sites throughout the state.
Read the full story