The College of Engineering at Iowa State University
A prestigious engineering program is nothing without passion – inspiring future engineering leaders, pursuing groundbreaking research, transforming technology to make a difference, celebrating diversity of thought and culture, and creating solutions to make the world a better place. We do all this and more!

Research Spotlight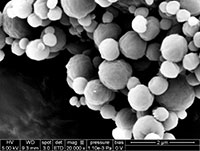 A research team led by Iowa State's
Balaji Narasimhan
and affiliated with the Nanovcaccine Institute based at Iowa State is studying nanovaccines for treating pancreatic cancer. There are no screening tests or early warning signs for the disease and so the cancer has often spread when it is found. When that's the case, current treatments are rarely effective. The researchers say nanovaccines could generate a response in pancreatic cancer. Their study is supported by a $2.67 million grant from the National Cancer Institute of the National Institutes of Health.
Read the full story