The College of Engineering at Iowa State University
A prestigious engineering program is nothing without passion – inspiring future engineering leaders, pursuing groundbreaking research, transforming technology to make a difference, celebrating diversity of thought and culture, and creating solutions to make the world a better place. We do all this and more!

Research Spotlight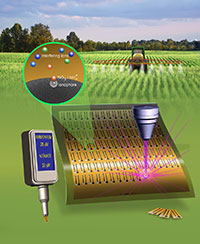 ME's
Jonathan Claussen
is leading a research team working on a group of "bury-and-forget" soil sensors and remote, wireless data-collection networks that could help reduce the fertilizer content in farm fields.
Data collected by the system will help the engineers build better models of the interactions of fertilizer, soil and crops. This tool could help farmers use less fertilizer in their fields, decreasing runoff.
"If we had a better predictive model, we could have better remedies for farmers. A better model could tell them they can use less fertilizer," said Claussen.
Read the full story