The College of Engineering at Iowa State University
A prestigious engineering program is nothing without passion – inspiring future engineering leaders, pursuing groundbreaking research, transforming technology to make a difference, celebrating diversity of thought and culture, and creating solutions to make the world a better place. We do all this and more!

Research Spotlight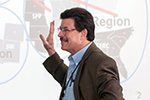 As part of a $220 million Grid Modernization Initiative announced in January 2016 by the U.S. Department of Energy, Iowa State University's
James McCalley
is working with researchers from national laboratories and the utility industry to study ways to tie the big eastern and western grids together.
Read the full story