Wapello Solar Power
Author: susanmcn | Image: susanmcn

Empowering Youth for a Sustainable Future: The Story of Wapello's Solar-Powered Schools
In the long afternoons of August at Wapello Elementary School, a group of students met once a week for a few hours on "early out" days. They were members of the FIRST LEGO League teams #58463, the Galactic Bagels and #54359, the Robo Emperors, and they looked forward to their season of robotics and problem solving. The two teams started from an existing traditional 4-H Club led by Abby Boysen. Little did they know that seven months later their teams would inspire the leaders in their community to make a big switch to promoting sustainability and renewable energy in their school.
"We were fortunate to have several youth mentors from the high school FIRST Tech Challenge team to help us get off the ground," recalled Boysen. "Using the 4-H Youth-Adult Partnership model, together we worked to prepare our approach to the season. The older youth were able to help the teams learn how to build and code their LEGO robot. But initially both teams struggled to come up with innovation project ideas. The theme of energy just seemed so large and vast for the kids."
After lots of brainstorming and several scuttled ideas, the Galactic Bagels and Robo Emperors decided to focus on a very concrete problem: reducing the coal-generated electricity use in the school building where they met. Each team spent countless hours researching and designing a solution.
The Robo Emperors proposed doing a school energy audit to identify easy ways to conserve electricity. Working with Mike Mohrfeld of Mohrfeld Electric in Fort Madison, they learned that 60% of the utility bill is related to lighting in a commercial environment like their school. They asserted that motion detectors and converting fixtures to LED would save money and drastically reduce electricity consumption.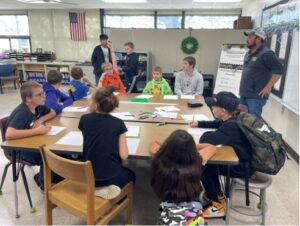 The Galactic Bagels focused on a proposal to install solar panels on their school. With the help of Terry Dvorak from Red Lion Renewables, the team investigated what would be involved in implementing their idea. The Galactic Bagels used Google Earth to view and measure the school's rooftop. Then they measured a standard solar panel to see how many would fit on top of their school. They realized they had more than enough space on the roof make the school almost completely solar powered.
To practice for their innovation project judging session at their Regional Qualifier, the Robo Emperors and Galactic Bagels asked to present their project ideas to the local school board.
"At first the school board was polite and thanked the kids for coming," recounted Boysen. "But when they realized that this was a well-researched and viable plan backed by professionals, their eyes widened, and their ears perked up."
The school board scheduled further investigation of the proposed energy reduction plans, and in March 2023, they voted to fund the installation of solar panels on multiple buildings in the district. The project not only will reduce the schools' carbon footprint, but it will also save the district an estimated $8,000 per year in energy costs.
The two Wapello FIRST LEGO League teams performed successfully at their Regional Qualifier, with the Robo Emperors winning the Innovation Project Award and the Galactic Bagels receiving the Rising All-Star Award. These 4-H FIRST LEGO League teams have significantly impacted on their community, and their efforts had paid off in more ways than one. Going forward, they want to continue to meet with other 4-H clubs to share what they learned about energy audits and solar panel installation.
For more information about FIRST LEGO League in Iowa, visit www.engineering.iastate.edu/outreach.
For more information about 4-H in Iowa, visit https://www.extension.iastate.edu/4h.