Purpose
To recognize a staff member who has demonstrated continued outstanding performance in serving the mission of the college.
Eligibility and Criteria
5 years or more service to CoE. A staff member may receive this award more than once, but not within the last 7 years.Must be ISU employees at the time of convocation (award ceremony).
Evidence of sustained exemplary effectiveness in position responsibilities and embracing ISU principles of community as documented by letters from supervisor and constituents served.
Submission Requirements
Please combine documents into a single PDF file before submission.
Nomination cover page (includes brief statement of responsibilities and constituents served), summary statement of candidate's accomplishments that warrant consideration of this award;
Brief vita (4 pages);
Statement of personal accomplishment and impact in role (up to 2 pages);
Up to 3 letters from peers and constituents served – one letter from supervisor mandatory.
Any other evidence of sustained effectiveness in role and embracing of principles of community
Award
$1000
Submit a CoE Award Nomination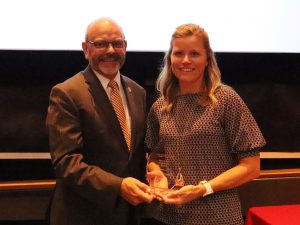 Fall 2018, Mike Renze, system support specialist in industrial and manufacturing systems