The E-APP program is designed to give you — an Iowa community college transfer student — multiple contact points and resources to enhance your transition to Iowa State. To join E-APP, you must first enroll in Iowa State's Admissions Partnership Program (APP).
Once accepted as an engineering APP student, you are automatically enrolled in E-APP and can start making connections to help you make a smooth transition to Iowa State.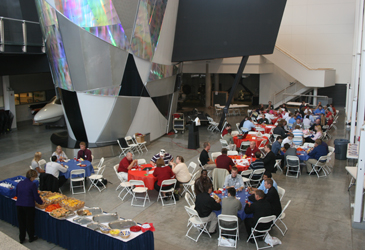 E-APP students meet with Iowa State engineering faculty, staff and peer mentors at the Engineering Career Fair Event.
E-APP Monthly Newsletters
Why Join E-APP?
Peer Mentors
Current engineering students will connect with you often to offer tips and event announcements. Since they have already gone through the transfer process, they are eager to help with your questions! Your peer mentor has successfully completed the Engineering Basic Program and will be happy to share experiences and advice with you.
Academic Advisers
Get answers to your questions about which courses to take—even if you aren't sure about your major. Academic advisers are your #1 resource for staying on track. As an E-APP member, you will be assigned an academic adviser in your major/department — stay in touch each semester as you plan your community college courses.
Newsletter
Receive a monthly E-APP newsletter (sent to your email address) that will highlight ISU and College of Engineering activities, clubs and organizations as well as reminders of application processes and deadlines, opportunities for scholarships, and more!
E-APP Facebook Group
Join the E-APP Facebook network and meet transfer students from across Iowa. Get the latest on engineering club activities, campus news and events, student organizations, and more!
College of Engineering Transfer Events
Be the first to hear about a variety of Iowa State events designed to meet the needs and schedules of engineering transfer students.
CyHire (Online Career Services Management System)
Access programs and services to assist you with your job search through Iowa State's Engineering Career Services. This includes an invitation to attend Iowa State's Engineering Career Fair.
It's free!

Added benefits of

Iowa State's APP.
To apply for the Engineering Admissions Partnership Program.
Please go to the E-APP Eligibility Requirements and Application Instructions.
Questions? Contact us at 515-294-8208 or engrapp@iastate.edu.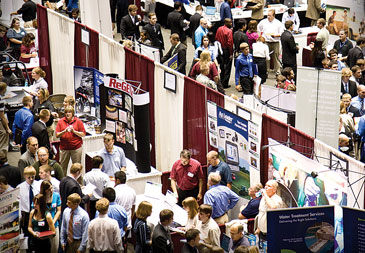 E-APP students attend Iowa State's Engineering Career Fair, where they have the opportunity to meet with representatives from over 300 companies—all seeking to employ engineers.