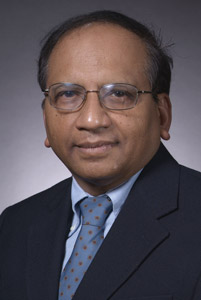 Suraj C Kothari
Main Office
3132 Coover
Ames, IA 50011-3060
Phone: 515-294-7212
Fax: 515-294-8432


Education
PhD, Mathematics, Purdue University (1977)
MS, University of Poona, India (1972)
BS, University of Poona, India (1970)
Interest Areas
Software engineering and its applications to high-performance computing, computational science, and bioinformatics

Core Research Area: Software systems

Strategic Research Area: Cyber infrastructure
Selected Publications
Kothari, Suraj C. Scalable Program Comprehension for Analyzing Complex Defects. In Proc. 16th IEEE International Conference on Program Comprehension, Amsterdam, The Netherlands, June 10-13, 2008: 3-4.
Stanek, Jason, Kang Gui, and Suraj C. Kothari. Method of Comparing Graph Differencing Algorithms for Software Differencing. In Proc. IEEE International Conference on Electro/Information Technology, Ames, IA, May 18-20, 2008: 482-487.
Neginhal, S. and S. C. Kothari. Event Views and Graph Reductions for Understanding System Level C Code. In Proc. 22nd IEEE International Conference on Software Maintenance, Philadelphia, PA, October 2006: 279-288.
Muthuprasanna, M., K.Wei, and S. C. Kothari. Eliminating SQL Injection Attacks: A Transparent Defense Mechanism. In Proc. 8th IEEE International Symposium Web site Evolution, Philadelphia, PA, September 23-24, 2006: 22-32.
Kothari S. C. Addressing Software Bottlenecks: Amplifying Human Capabilities with Tools. Special Issue, Advances in Computer Science and Engineering, Berkeley, CA, May 6, 2006: 65-69.