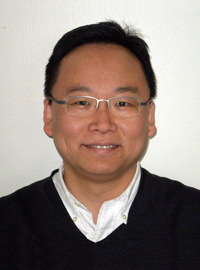 Jo Min
Associate Chair of Undergraduate Education
Associate Professor
Main Office
3034 Black Engr
Ames, IA 50011-2164
Phone: 515-294-8095
Fax: 515-294-3524


Interest Areas
Dr. Min's research areas are the economically efficient and effective design and analysis of energy, environmental, and production systems. Application areas are in the planning of electric power generation, the management of closed-loop supply chains with re-manufacturing, and the environmental stewardship on emission control and product reuse. Dr. Min is also interested in the educational research on the outcome assessment and improvement of curricula and courses as well as in the teaching and learning of teamwork and collaboration.
Selected Publications
Valenzuela, K. and K. J. Min, "Closed-Loop Supply Chains with Governmental Incentives and Fees" The Manufacturing and Service Operations Management Society Conference, TA3-177, pp. 1-6, MIT Sloan School of Management, Cambridge, MA, June 2009.
Wang, C. and K. J. Min, "Short-Term Electric Power Trading Strategies for Portfolio Optimization" The Engineering Economist, Special Issue on Energy Economics, Vol. 53, pp. 365-379, 2008.
Li, J., K. J. Min, T. Otake, and Van Voorhis, "Inventory and Investment in Setup and Quality Operations under Return on Investment Maximization" European Journal of Operational Research, Vol. 185, pp. 593-605, 2008.
Ball, P., H. Grierson, K. J. Min, J. Jackman, and P. Patterson, "Working on an Assignment With People You'll Never Meet: Case Study on Learning Operations Management in International Teams" International Journal of Engineering Education, Vol. 23, pp. 368-377, 2007. (
Wang, C. and K. J. Min, "Electric Power Generation Planning for Inter-Related Projects: A Real Options Approach" IEEE Transactions on Engineering Management, Vol. 53, pp. 312-322, 2006.
Min, Jackman, Patterson, Li, and Daniel, "US-Mexico Student Teams for a Global Supply Chain Course Project" Proceedings of ICEE Conference, Puerto Rico, July 2006.
Daniel, S. and K. J. Min, "Market-Based Electric Power Generation Planning with Emission Control, Proceedings of Industrial Engineering Research Conference, Orlando, Florida, May 2006.
Malladi, S. and K. J. Min, "Decision Support Models for the Selection of Internet Access Technologies in Rural communities" Telematics and Informatics, Vol. 22, pp. 201-219, 2005.