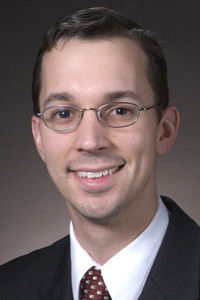 Ian C Schneider
Main Office
3053 Sweeney
Ames, IA 50011-1098
Phone: 515-294-0450


Education
Ph.D. Chemical Engineering, North Carolina State University, 2005
M.S. Chemical Engineering, North Carolina State University, 2002
B.S. Chemical Engineering, Iowa State University, 2000
Interest Areas
Cellular and molecular mechanisms of metastasis Paracrine loop signaling Cell Biomechanics Quantitative Light Microscopy
Teaching Spring Semester 2018
Ch E 356, Transport Phenomena I
ChE 406/506, Environmental Chemodynamics
Brief Biography
 Professional Affiliations
American Institute of Chemical Engineers
Biomedical Engineering Society
The American Society for Cell Biology
American Association for Cancer Research
Institutional Service
Member, Iowa State University Faculty Senate
Coordinator, Biomedical Engineering Minor Program, Dept. of Chemical and Biological Engineering
Adviser, Biomedical Engineering Society Student Chapter
Adviser, Triangle Fraternity
Selected Publications
Nuhn, JAM, Perez, AM and Schneider, IC, Contact guidance diversity in rotationally aligned collagen matrices, Acta Biomaterialia, 66, 248-257 (2018).
Wang J and Schneider IC, Myosin Phosphorylation on Stress Fibers Predicts Contact Guidance Behavior across Diverse Breast Cancer Cells, Biomaterials, 120, 81-93 (2017).
Wang J, Petefish J, Hillier A, Schneider IC, Epitaxially Grown Collagen Fibers Reveal Diversity in Contact Guidance Behavior among Cancer Cells, Langmuir, 31, 307-344 (2015).
Haage A and Schneider IC, Cellular Contractility and Extracellular Matrix Stiffness Regulate Matrix Metalloproteinase Activity in Pancreatic Cancer Cells, The FASEB J., 8, 3589-3599 (2014).
Lara Rodriguez L and Schneider IC, Directed Cell Migration in Multi-cue Environments, Integr. Biol., 5, 1306-1323 (2013).
Hou Y, Hedberg S and Schneider IC, Differences in adhesion and protrusion correlate with differences  in migration speed under EGF Stimulation, BMC Biophysics, 5, 8 (2012).
Gardel ML, Schneider IC, Aratyn-Schaus Y and Waterman C, Mechanical Integration of Actin and Adhesion Dynamics in Cell Migration, Ann. Rev. of Cell and Dev. Biol., 26, 315-333 (2010).
Pasapera AM, Schneider IC, Rericha E, Schlaepfer DD and Waterman C, Myosin II Activity Regulates Vinculin Recruitment to Focal Adhesions Through FAK-mediated Paxillin-phosphorylation, J. Cell Biol., 188, 877-890 (2010).
Schneider IC, Hays CK and Waterman CM, EGF-induced Contraction Regulates Paxillin Phosphorylation to Temporally Separate Traction Generation from De-adhesion, Mol. Biol. Cell., 20, 3155-3167 (2009).
Schneider IC and Haugh JM, Quantitative Elucidation of a Distinct Spatial Gradient Sensing Mechanism in Fibroblasts, J. Cell Biol., 171, 883-892 (2005).