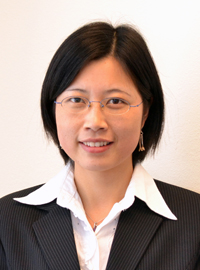 Guiping Hu
Main Office
3014 Black Engr
Ames, IA 50011-2164
Phone: 515-294-8638


Interest Areas
Dr. Hu's research interests include applying operations research, statistics and economic analysis methodologies to sustainable supply chain management, sustainable manufacturing and bio-energy analysis problems. Her recent projects include mapping foodshed with optimization approach, modeling integrated crop-livestock systems and life cycle assessment of bio-fuel feedstocks.
Selected Publications
G. Hu, B. Bidanda, "Modeling Sustainable Product Lifecycle Decision Support Systems," International Journal for Production Economics, 2009.
G. Hu, L. Wang, B. Bidanda, "Sustainable Manufacturing and Project Management Circa 2025," Project Management Circa 2025, 2009.
G. Hu, L. Wang, S. Fetch, and B. Bidanda, "A multi-objective approach to project selection with six-sigma criteria" International Journal of Production Research, vol. 46(23), p. 6611-6625, 2008.
Martin Gaussin,Guiping Hu, Ravi Shankar, Bopaya Bidanda, "Assessing the Environmental Footprint of Manufactured Products: A Survey of Current Literature" Proceedings of International Conference on Production Research, 2009.
G. Hu, and B. Bidanda, "A Product Upgrade Decision Model for Sustainable Manufacturing", Proceedings of the Industrial Engineering Research Conference, Miami, Florida, May 2009.