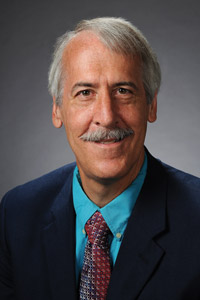 Doug W Jacobson
Main Office
203 Nuclear Engineering Building
Ames, IA 50011-3060
Phone: 515-294-8307
Fax: 515-294-8432


Education
PhD, Computer Engineering, Iowa State University (1985)
MS, Electrical Engineering, Iowa State University (1982)
BS, Computer Engineering, Iowa State University (1980)
Interest Areas
Information assurance, large-scale cyber attack simulation
Core Research Area: Secure and reliable computing
Strategic Research Area: Cyber infrastructure
Selected Publications
Rursch, Julie, Andy Luse, and Doug Jacobson. IT-Adventures: A Program to Spark IT Interest in High School Students Using Inquiry-Based Learning with Robotics, Game Design, and Cyber Defense. IEEE Trans. Education 53, no. 1, (2009): 71-79.
Rursch, J. and D. W. Jacobson. Using Cyber Defense Competitions to Build Bridges Between Community Colleges and Four-Year Institutions: A Footbridge for Students into an IT Program. In Proc. Frontiers in Education, San Antonio, TX, October 18-21, 2009: W1A1-W1A6.
Banerjee, P. and D. Jacobson. Optimal Configuration of a Secure Clustering Protocol for Sensor Networks. In Proc. 20th ISCA International Conference on Parallel and Distributed Computing Systems, Las Vegas, NV, September 24-26, 2007: 145-150.
Banerjee, P., D. Jacobson, and S. Lahiri. Security and Performance Analysis of a Secure Clustering Protocol for Senor Networks. In Proc. 6th IEEE International Symposium on Network Computing and Applications, Cambridge, MA, July 12-14, 2007: 134-144.
Jacobson, D. Computer Security Summer Camp for High School Students. In Proc. 2006 American Society for Engineering Education Conference, Chicago, IL, June 18-21, 2006.