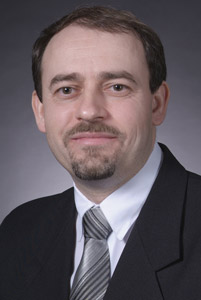 Alexander T Stoytchev
Main Office
1620F Howe Hall
Ames, IA 50011-2274
Phone: 515-294-5904


Interest Areas
Developmental robotics, autonomous robotics, machine learning, computational perception

Core Research Area: Communications and signal processing; software systems

Strategic Research Area: Distributed sensing and decision making
Selected Publications
Stoytchev, A. Some Basic Principles of Developmental Robotics. IEEE Trans. Autonomous Mental Development 1, no. 2, (2009): 122-130.

Sinapov, J., M. Wiemer, and A. Stoytchev. Interactive Learning of the Acoustic Properties of Household Objects. In Proc. IEEE International Conference on Robotics and Automation , Kobe, Japan, May 12-17, 2009: 2518-2524.

Stoytchev, A. Learning the Affordances of Tools Using a Behavior-Grounded Approach. In Affordance-Based Robot Control, Springer Lecture Notes in Artificial Intelligence 4760, (2008): 140-158.

Stoytchev, A. Toward Video-Guided Robot Behaviors. In Proc. 7th International Conference on Epigenetic Robotics , Camden, NJ, November 5-7, 2007: 165-172.

Sinapov, J. and A. Stoytchev. Learning and Generalization of Behavior-Grounded Tool Affordances. In Proc. 6th IEEE International Conference on Development and Learning , London, England, July 11-13, 2007.