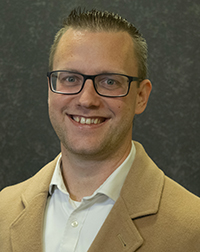 Cary L. Pint
Title(s):
Charles Schafer (Battelle) Chair of Engineering and Associate Professor
Mechanical Engineering
Office
2018 Black Engr
2529 Union Dr
Ames, IA 50011-2030
Information
Links
Prof. Cary Pint leads a research team (ENERG @ ISU) broadly interested in topics relating to studying the design and performance of next-generation energy systems.  The aim of our team is to study and translate new mechanistic properties related to these systems and translate these findings toward efficient and practical system-level development and design.  Whereas the specific interests of our team continuously evolve under the umbrella of this goal, some current interests of our team focus on: (1) Designing safe, high energy density, and low-cost battery systems for next-generation energy storage, (2) Studying the intersection between mechanics and battery materials to enable efficient textile-integrated energy harvesting and biomechanical sensing materials, (3) Optimizing system-level integration of energy systems through multi-functional design, such as in carbon fiber reinforced structural Li-ion batteries, and (4) Applying concepts of energy efficiency and nanomaterials design toward practical sustainability challenges, such as for the capture and conversion of carbon dioxide into solid, valuable carbons.
Overall, Prof. Pint brings a long track record of accomplishments in the areas intersecting energy devices and systems and nanomaterials with over 115 peer reviewed journals published and 14 US patents granted.  Pint also serves as an Associate Editor for Energy Storage Materials, the highest impact journal devoted to the dynamic area of energy storage, and has a passion for translating ideas relating to energy science into practical outcomes through corporate engagement and spin-off companies.  Pint has received numerous high profile awards for his accomplishments in energy systems, including being named as a "Top 30 under 30" disruptor by Forbes Magazine, "Top 20 under 40" talent in academia by the American Society of Engineering Education (ASEE), and a past Kavli Frontiers Fellow by the National Academy of Sciences.
Pint's favorite pastime is to engage in discussions and thoughts about old or new ideas and concepts regarding energy systems with interested students, staff, and faculty, so please stop by!
Education
PhD, Applied Physics, Rice University, 2010
MS, Applied Physics, Rice University, 2009
BS, Physics, University of Northern Iowa, 2005
Interest Areas
Energy storage
Battery Design
Energy Harvesting
Multifunctional and Integrated Energy Materials
Nanomaterials and Nanomanufacturing
Mechanical Energy Conversion
Carbon Capture and Conversion
Publications
Departments
Affiliations
Interests
Groups