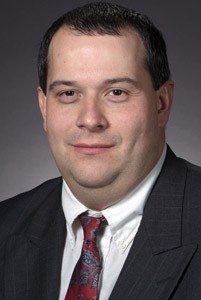 Thomas Daniels
Title(s):
Associate Teaching Professor
Office
2214 Coover
2520 Osborn Dr.
Ames, IA 500111046
Information
Education:
Ph.D., Computer Science, Purdue University (2002)
M.S., Computer Science, Purdue University (1999)
B.S., Computer Science, Southwest Missouri State University (1995)
Research Areas:
Core Area(s): Secure and reliable computing
Department's Strategic Area(s): Cyber infrastructure
Publications
Google Scholar Profile: https://scholar.google.com/citations?user=mGfRR-gAAAAJ&hl=en
Wang, W. and T. E. Daniels. A Graph-based Approach Towards Network Forensic Analysis. ACM Trans. Information System Security 12, no. 1, (October 2008): Article no. 4.
R. M. Gerdes, M. Mina, S. F. Russell, and T. E. Daniels, "Physical-layer identification of wired ethernet devices," Information Forensics and Security, IEEE Transactions on, vol. 7, no. 4, pp. 1339–1353, 2012.
T. E. Daniels, "Integrating engagement and first year problem solving using the Nintendo Wii remote," in ASEE Frontiers in Education Conference, 2009.
S. Chang and T. E. Daniels, "Correlation based node behavior profiling for enter- prise network security," in Proceedings of SECURWARE 2009, 2009
T. E. Daniels and E. H. Spafford, "Identification of host audit data to detect attacks on low-level IP vulnerabilities," Journal of Computer Security, vol. 7, no. 1, pp. 3–35, 1999.
Departments
Affiliations
Groups