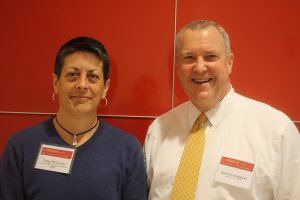 Tonia McCarley (CBiRC) &
Joel Severinghaus (ERI)
Objectives
Enhance career satisfaction and retention
Promote diversity by building collaborative relationships
Increase efficiencies and productivity
Provide an opportunity to 'give back'
Foster creativity and exposure to new ideas
Encourage professional development
Nurture future leaders
Eligibility

All staff members in the College of Engineering are eligible to participate. Separation from CoE during the year will result in a participant's ineligibility.  The Steering Committee will work with the remaining member of the dyad to find another mentor/mentee if the separation takes place on or before March 1.
Program Description

Mentoring has been identified as an important influence in professional development in both public and private sectors.  From increased morale to increased organizational productivity, career development, and higher retention; the benefits of mentoring are numerous.
Assist new employees as they settle into their position. Mentors play a key role in defining professional behavior for new employees.
Enhance skills of mentees.
Help mentees plan, develop, and manage their careers. Mentoring enables employees to be more resilient in times of change, more self-reliant in their careers, and more responsible as self-directed learners.
Encourage development of leadership competencies.
Provide an avenue for the exchange of information and knowledge.
Provide a tangible way to show employees they are valued and the CoE's future includes them.
Mentor and Mentee Expectations:

Make a one-year commitment to the program.
Actively participate in the mentoring relationship.
Establish trust, maintain confidentiality, and communicate openly.
Provide insight/advice in navigating job culture and expectations.
Promote the abilities of the mentoring partner.
Respect mentoring partner's time and opinions.
Process

An informational meeting or open house will be held annually to discuss the program.
Potential mentor and mentees will inform the Steering Committee of their interest to participate in the program.
Mentee training will be conducted each spring.
Mentor training will be conducted each summer. Each prospective mentor is required to attend training at least one time.
Mentors and mentees will each complete a profile sketch. Mentor and mentee profiles will be added to the website.
Mentees will review mentor profile sketches and request an initial meeting. The Steering Committee will provide suggested talking points for this meeting.
If both parties decide to proceed, they will submit their names to the Steering Committee with the signed agreement form. This will remove the dyad profiles from the website.
The Mentee and Mentor will work together to complete the goals worksheet and program agreement, which will be signed by mentor, mentee, and both supervisors. The signed agreement will be submitted to the Steering Committee.
The program will host five mentoring events each year, which could be a luncheon or workshop. Each event will feature a speaker with expertise in a targeted area.
Mentees will schedule meetings with their mentor and develop agenda items throughout the program year.
Training

Training will be provided to establish expectations and provide a framework for the mentoring relationship.  Topics will focus on developing skills helpful in fostering a productive mentoring relationship.  Participating in training does not guarantee a mentoring opportunity.  The mentor/mentee match is a process driven by the mentee.
Evaluation

An assessment will be conducted annually to gather feedback, guide future programming and foster continuous improvement.