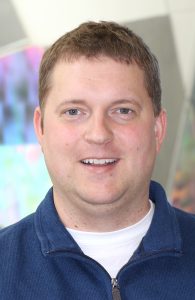 Travis Grager
Title(s):
Associate Teaching Professor
Office
2326 Howe
537 Bissell Rd.
Ames, IA 50011-1096
Information
Travis Grager, Associate Teaching Professor of Aerospace Engineering, teaches the aircraft sections of senior design (AERE 461/462). In these courses, students learn about the engineering design process by designing, building and testing small unmanned aerial vehicles (UAVs). In addition to teaching these courses, Travis supports multiple student projects that are part of the M2I program.
A native of Iowa, Travis received his Bachelor of Science in Aerospace Engineering and Masters of Science in Engineering Mechanics from Iowa State University. In industry, he worked for Physical Sciences Incorporated (PSI) where he was part of the team that developed and manufactured the InstantEye micro aerial vehicle (MAV). While working at PSI, Travis had many responsibilities including aerodynamic and mechanical design, product testing, customer training, and manufacturing management.
Courses
AERE 461: Modern Design Methodology with Aerospace Applications
AERE 462: Design of Aerospace Systems
Student Projects
M2I: Cardinal Flight
M2I: RAFF (Rocket Assisted Free Fall)
M2I: AABL Sting
Departments
Affiliations
Interests