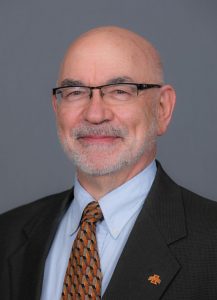 Thomas (Tom) Jude Brumm
Title(s):
Mary and Charles Sukup Global Professor in Food Security
Associate Director, Center for Sustainable Rural Livelihoods
Visiting Professor, Makerere University, Kampala, Uganda
Office
4335 Elings
605 Bissell Rd.
Ames, IA 500111098
Information
Interest Areas
Dr. Brumm's research goals are: (1) understanding and implementing improvements in post-harvest systems in low-income countries to help ensure food security, especially in reducing post-harvest losses; (2) examining biorefinery systems, identifying and eliminating inefficiencies, especially for biomass storage; and (3) understanding and assessing how teaching pedagogies affect student learning.
Appointment
Teaching (50%), Research (30%) and Service (20%)
Expertise
Post-harvest technology, grain/seed quality and processing, biorenewables, student learning/assessment, sustainable development.
Learn more about Dr. Brumm's programs:
Publications
Departments
Affiliations
Interests
Groups