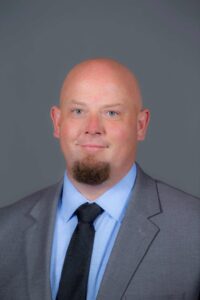 Roy Sturgill
Title(s):
Assistant Professor [CCE E]
Assistant Professor
Construction Engineer, Construction Management and Technology Program, Institute for Transportation
Office
Town Engr
813 Bissell Rd
Ames, IA 500111066
Office
Primary
450 Town Engr
813 Bissell Rd
Ames, IA 50011-1066
Secondary
2711 South Loop Drive Suite 4700
Ames, IA 50010-8664
Information
Education • Ph.D., Civil Engineering, University of Kentucky, 2018 • M.S., Civil Engineering, Virginia Tech, 2004 • M.B.A., University of Kentucky, 2003 • B.S., Civil Engineering, University of Kentucky, 2003 • Graduate Certificates—Engineering Education (VT), Preparing the Future Professoriate (VT), Applied Statistics (UK) Areas of Interest • Alternative contracting methods • Construction management & administration • Sustainable infrastructure • Emerging construction technologies • Decision support tools • Knowledge management & training • Utility engineering • Early & integrated utility coordination • Utility investigation technologies Biography
Roy Sturgill is an accomplished researcher and has served as principal investigator or co-investigator on over a dozen research projects totaling over $1,500,000 (inclusive of both state and national funding). Before coming to ISU, he worked as a research engineer at the Kentucky Transportation Center at the University of Kentucky in their Construction Engineering and Project Management Program and as an engineer with the Kentucky Transportation Cabinet, working in construction management and in highway design conducting constructability reviews.
Sturgill is a member of the Transportation Research Board's Standing Committee on Construction Management, friend to the Information Systems in Construction Management Sub-committee, friend to the Standing Committee on Project Delivery Methods, and Committee Research Chair of the Standing Committee on Utilities. He is a licensed professional engineer in Kentucky and has held previous sustainability related credentials (LEED GA and GreenRoads STP).
Honors and Awards
Myers-Lawson School of Construction Outstanding Graduate Student, 2006
Publications
• Al-Shabbani, Z., Sturgill, R., and Dadi, G. Developing a Pre-Task Safety Briefing Tool for Kentucky Maintenance Personnel. Transportation Research Record: Journal of the Transportation Research Board. ISSN: 0361-1981. https://doi.org/10.1177/0361198118792327. August 25, 2018. • Wang, X., Al-Shabbani, Z., Sturgill, R., Kirk, A., and Dadi, G. Estimating Earthwork Volume Calculations Using Unmanned Aerial Systems. Transportation Research Record: Journal of the Transportation Research Board. ISSN: 0361-1981. Issue No. 2630, pp.1-8. 2017 • Li, Y., Taylor, T., Dadi, G. and Sturgill, R. Modeling Long-Term Highway Staffing Requirements for State Transportation Agencies. Transportation Research Record: Journal of the Transportation Research Board. ISSN: 0361-1981. Issue No. 2612, pp. 76-84. 2017. • Zhai, D., Shan, Y., Sturgill, R., Taylor, T., and Goodrum, P. Using Parametric Modeling to Estimate Highway Construction Contract Time. Transportation Research Record: Journal of the Transportation Research Board. ISSN: 0361-1981. Issue No. 2573, pp. 1-9. 2016 • Sturgill, R. and Vorster, M.C. Visually Improving Construction Contract Administration. Transportation Research Record: Journal of the Transportation Research Board. ISSN: 0361-1981. Issue No. 1946, pp.12-21. 2006
Departments
Affiliations
Groups