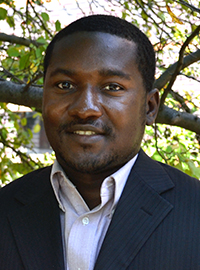 Mark Mba-Wright
Title(s):
Associate Professor
Mechanical Engineering
Office
2611 Howe
537 Bissell Rd
Ames, IA 50011-1096
Information
Videos and Presentations
Massachusetts Institute of Technology Energy Club Seminar Series: Video.
Iowa State University Clean Energy Technologies Series: Video.
Awards and Activities
BIO World Congress George Washington Carver Award (2009)
American Institute of Chemical Engineers
Engineers Without Borders ISU Chapter
Learn More
Education
PhD, Chemical Engineering and Mechanical Engineering, Iowa State University
MS, Engineering and Biorenewable Technologies, Iowa State University
Interest Areas
Energy Systems Analysis
We investigate the cost and performance of energy systems. Our research interests include techno-economics, process modeling, and energy conversion. Recent projects investigated the costs and emissions of biomass conversion to gasoline and diesel.
Biomass Conversion Technologies
We research novel ways of converting biomass into fuels. Our current research is on low-temperature thermochemical conversion (torrefaction and pyrolysis) of lignocellulosic biomass for the production of platform chemicals and fuels.
Publications
Research Papers                                                          
Qi Dang, Mark Mba Wright, and Robert C. Brown Ultra-Low Carbon Emissions from Coal-Fired Power Plants through Bio-Oil Co-Firing and Biochar Sequestration Environmental Science and Technology, Article ASAP 2015 Nov;DOI: 10.1021/acs.est.5b03548
B Li, L Ou, Q Dang, P Meyer, S Jones, R Brown, M Wright. Techno-economic and uncertainty analysis of in situ and ex situ fast pyrolysis for biofuel production Bioresource Technology. 2015 Nov; 49-56
Mark M. Wright, Navid Seifkar, William H. Green, and Yuriy Román-Leshkov. Natural Gas and Cellulosic Biomass: A Clean Fuel Combination? Determining the Natural Gas Blending Wall in Biofuel Production. Environmental Science & Technology 2015 49 (13), 8183-8192
G Liu, MM Wright, Q Zhao, RC Brown Catalytic fast pyrolysis of duckweed: Effects of pyrolysis parameters and optimization of aromatic production. 2015 March; Journal of Analytical and Applied Pyrolysis. 112 pp. 29-36
L Ou, R Thilakaratne, RC Brown, MM Wright Techno-economic analysis of transportation fuels from defatted microalgae via hydrothermal liquefaction and hydroprocessing Biomass and Bioenergy 72, 45-54
DSA Simakov, MM Wright, S Ahmed, EMA Mokheimer, Y Román-Leshkov
Solar thermal catalytic reforming of natural gas: a review on chemistry, catalysis and system design Catalysis Science & Technology 5 (4), 1991-2016
Thilakaratne R, Wright MM, Brown RC. A techno-economic analysis of microalgae remnant catalytic pyrolysis and upgrading to fuels. Fuel. 2014 Jul;128:104–112.
Ou L., Thilakaratne R., Wright MM, Brown R. C. Techno-economic Analysis of Transportation Fuels from Defatted Microalgae via Hydrothermal Liquefaction and Hydroprocessing. Biomass and Bioenergy (2015) pp. 45-54 (Accepted – 2014)
Brown TR, Wright MM. A Framework for Defining the Economic Feasibility of Cellulosic Biofuel Pathways. Biofuels (Accepted – 2014)
Brown TR, Wright MM. Techno-economic impacts of shale gas on cellulosic biofuel pathways. Fuel. 2014;117(Part B):989–995.
Dalluge DL, Daugaard T, Johnston P, Kuzhiyil N. Wright MM, Brown RC Continuous production of sugars from pyrolysis of acid-infused lignocellulosic biomass. Green Chemistry 2014;16:4144–4155.
Daugaard T, Mutti LA, Wright MM., Componation P, Brown RC. Learning rates and their impacts on the optimal capacities and production costs of biorefineries. Biofuels, Bioproducts, and Biorefining 2014
Zhang Y., Wright MM. Product Selection and Supply Chain Optimization for Fast Pyrolysis and Biorefinery System. Industrial & Engineering Chemistry Research 2014, 53 (51), pp 19987-19999
Wright, MM, Román-Leshkov, Y & Green, WH 2012, Investigating the techno-economic trade-offs of hydrogen source using a response surface model of drop-in biofuel production via bio-oil upgrading, Biofuels, Bioproducts and Biorefining, vol. 6, no. 5, pp. 503–520.
Brown T. R., Wright M. M., and Brown R. C. "Estimating profitability of two biochar production scenarios: slow pyrolysis vs fast pyrolysis" Biofuels, Bioproducts and Biorefining 2011 5 (1) pp 54
Wright M. M., Daugaard D. E., Satrio J. A., and Brown R. C. "Techno-economic analysis of biomass fast pyrolysis to transportation fuels" (2010) Fuel 89 S2-S10
Wright M. M., Daugaard D. E., Satrio J. A., and Brown R. C. "Techno-economic analysis of biomass fast pyrolysis to transportation fuels" (2010) NREL Report TP-6A20-46586
Anex, R. P., Aden, A., Kazi, F. K., Fortman, J., Swanson, R. M., Wright, M. M., Satrio, J. A., Brown, R. C., Daugaard, D. E., Platon, A., Kothandaraman, G., Hsu, D. D. and Dutta, A. (2010). "Techno-economic Comparison of Biomass-to-Transportation Fuels Via Pyrolysis, Gasification, and Biochemical Pathways." Fuel.
Wright M. "Fast pyrolysis: next generation biomass gasoline and diesel production" Inform, June 2011 22 (6) pp. 329
Wright, M. M., Brown, R. C. and Boateng, A. A. (2008). "Distributed processing of biomass to bio-oil for subsequent production of Fischer-Tropsch liquids." Biofuels, Bioproducts, & Biorefining (Biofpr) 2(3): 229-238.
Wright, M. and Brown, R. C. (2007). "Comparative economics of biorefineries based on the biochemical and thermochemical platforms." Biofuels, Bioproducts and Biorefining Journal 1: 49–56 (discussed by BBC.com:http://news.bbc.co.uk/2/hi/science/nature/6949861.stm).
Wright, M. and Brown, R. (2007). "Establishing the optimal sizes of different kinds of biorefineries." Biofuels, Bioproducts and Biorefining 1(3).
Book Chapters/Reviews                                                   
Brown, T. R., M. M. Wright, Y. Roman-Leshkov, R. C. Brown (2014) Techno-economic assessment of biorefineries, in Advances in Biorefineries: Biomass and Waste Supply Chain Exploitation, Waldron, K.W., Ed., Woodhead Publishing. (2014)
Wright M. M. and Brown R. C. "Costs of Thermochemical Conversion of Biomass to Power and Liquid Fuels" Book Chapter in Thermochemical Processing of Biomass Edited by R. C. Brown, Wiley (2011)
Brown R. C. and Wright M. M., "Capturing solar energy through biomass" Book Chapter in Principles of Sustainable Energy Edited by F. Kreith and J. F. Kreider, CRC Press (2011)
Departments
Affiliations
Interests
Groups