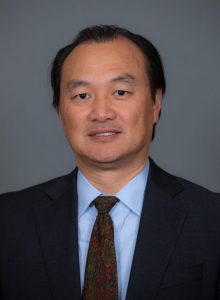 Lie Tang
Title(s):
Professor [A&BE]
Professor
Office
2346 Elings
605 Bissell Rd.
Ames, IA 500111098
Information
Education
Ph.D. Agricultural Engineering, University of Illinois at Urbana-Champaign, 2002
M.S. Agricultural Engineering, Zhejiang University, China, 1994
B.S. Electrical Engineering in Industrial Automation, Jiangsu University of Science and Technology, China, 1989
Interest Areas
Dr. Tang's research has been concerned with agricultural automation, optimization, machine intelligence and robotics. He has many years of international research experience in Europe and US. He has developed an advanced real-time machine vision system for automated behavior monitoring for group-housed pigs in KULeuven (Belgium). During his PhD study he developed a sensing and control system for variable rate and selective weed control. He also developed an automated sensing system for corn plant spacing measurement for Deere Company. While he was on faculty in both Denmark and the Netherlands, he has been working on agricultural robotics and intelligent systems. Dr. Tang is currently continuing his research in developing advanced sensing, optimization and robotic technologies for agricultural production systems in 21st century.
Learn more about Dr. Tang's programs:
Appointment
Teaching & Research
Expertise
Agricultural automation and robotics
Publications
Departments
Affiliations
Interests
Groups