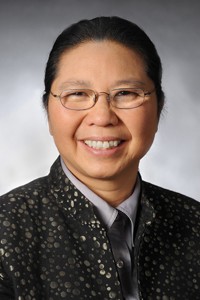 Kejin Wang
Title(s):
Wilson Engineering Professor
Civil, Construction and Environmental Engineering
Office
492 Town Engr
813 Bissell Rd
Ames, IA 50011-1066
Information
Professional Registration & Membership
Professional Engineer (P.E.): Civil Engineering, State of Illinois
Senior Editor of Elsevier's Journal of Construction and Building Materials
Associate Editor of ASCE Journal of Materials in Civil Engineering
Editorial Board Member of ASTM Journal of Advances in Civil Engineering Materials
Fellow and Member of American Concrete Institute (ACI), seven ACI committee members
Member of American Standard of Testing and Materials (ASTM), American Society of Civil Engineering (ASCE), and American Ceramic Society (ACerS)
Honors & Awards
2018: College of Engineering D.R. Boylan Eminent Faculty Award
2018: Distinguished Visiting Professor, University of Technology Sydney
2017: Wilson Professor of Engineering, College of Engineering, ISU
2015: University Award for Outstanding Achievement in Research, ISU
2013: Fellow of American Concrete Institute
2010 and 2006: Charles W. Schafer Faculty Award for "Excellence in Teaching, Research and Service in Civil Construction, and Environmental Engineering", ISU
2008: Outstanding Editorial Board Member, Journal of ASTM International, 2008
Honorary/Guest Professor of six universities in China
Education
Ph.D. Civil Engineering, University of California, Berkeley, 1994
M.S. Civil Engineering, Chinese Academy of Sciences (Beijing, China), 1985
B.S. Civil Engineering, Hefei University of Technology (Hefei, China), 1982
Major Research Experience and Areas of Expertise
Chemistry and microstructure of concrete (cement hydration and air void structure)
Nano-technology and application in concrete (nano-silica, nano-clay and nano-limestone)
3D printing concrete (mix development and characterization)
Workability and rheology of concrete (material effects, test methods, and thixotropic behavior)
Durability of concrete (freezing-thawing, alkali-silica reaction, and corrosion of reinforcement)
Sustainable concrete materials (uses of slag, fly ash, silica fume, recycled aggregate, geopolymer, etc.)
Advanced concrete technology (self-consolidating concrete, mass concrete and pervious concretes)
Concrete pavement (mix design, quality control, distress analysis, and repair)
Research Projects
Kejin Wang has conducted over 60 research projects, with a total of ~ $13 million, since 2000. Current research projects: (1) 3D printing concrete mix development and characterization; (2) bond strength and durability of concrete overlays (latex-modified, epoxy, and convectional overlays) (two projects), (3) heat of hydration and temperature prediction of mass concrete structures (5) freeze-thaw durability and chloride intrusion of high performance concrete; (6) mixing pressure on flow and strength of ultrahigh performance concrete, and (7) hydration characterization of calcium aluminate cement.
Others
Published 123 peer-reviewed journal papers and 46 other peer-reviewed papers; edited 7 books (2 international conference proceedings and 5 special publications); Supervised 40 graduate students (15 PhD and 25 MS), 6 post-docs, and 10 visiting scholars; Delivered invited lectures at various national and international conferences, including Germany, Netherland, South Africa, Turkey, Mexico, Egypt, India and China; Served as a chair/member of many international conferences and conference committees, proposal review panels (many in US, some in Canada, Kazakhstan, Belgium, etc.), and dissertation examiners (Canada, Singapore, India, Brazil,, and Israel).
Interest Areas
Chemistry and microstructure of concrete (cement hydration and air void structure)
Nano-technology and application in concrete (nano-silica, nano-clay and nano-limestone)
Workability and rheology of concrete
Durability of concrete (freezing-thawing, alkali-silica reaction, and corrosion of reinforcement)
Sustainable concrete materials (uses of slag, fly ash, silica fume, recycled aggregate, geopolymer, etc.)
Advanced concrete technology (self-consolidating concrete, roller compacting concrete, mass concrete and pervious concretes)
Concrete pavement (mix design, quality control, distress analysis, and repair)
Publications
Articles in Peer-Reviewed Journals
2022
B. Lei, H. Yu, Y. Guo, H. Zhao, K. Wang, W. Li, "Mechanical properties of multi-recycled aggregate concrete under combined compression and shear", Engineering failure analysis, 2022, p.106910, https://doi.org/10.1016/j.engfailanal.2022.106910
Adil, S. Sadati, Y. Ling+, P. Taylor, K.Wang, J. T. Kevern "Effect of penetrating sealers on joint performance of poor durability concrete" Aci Materials Journal119(2022)(9)
Fu¢; R. He; K. Wang, "The influences of corrosion degree and uniformity on bond strength and cracking pattern of cement mortar and PVA-ECC", ASCE J Materials in Civil Engineering (accepted 20221004)
Y Guo, W Li, W Dong, Z Luo, F Qu, F Yang, Wang, "Self-sensing performance of cement-based sensor with carbon black and polypropylene fibres under different loading conditions", Journal of Building Engineering, 59(2022) 105003, https://doi.org/10.1016/j.jobe.2022.105003
Wi+, K. Wang, H. Yang, H-S. Lee, S. Lim, "Effects of nano Palm Oil Fuel Ash on Hydration of Cement under the Accelerated Carbonation Curing", Materials Letters, 327(2022)132935, doi: https://doi.org/10.1016/j.matlet.2022.132935
X. Wang+, Y. Wang, X. Ge, B. Tong+, V. Schaefer, K. Wang, Cheng Li, "The quantitative assessment of clogging and cleaning effects on the permeability of pervious concrete", Constr. Bldg. Mater., 335 (2022) 127455, https://doi.org/10.1016/j.conbuildmat.2022.127455
F. Qu, W. Li, Y. Guo, S. Zhang, JL Zhou, K. Wang, "Chloride-binding capacity of cement-GGBFS-nanosilica composites under seawater chloride-rich environment", Bldg. Mater,. 342 (2022)127890, https://doi.org/10.1016/j.conbuildmat.2022.127890
Guo, W. Li, W. Dong, K. Wang, X. He, K. Vessalas, D. Sheng, "Self-sensing cement-based sensor with superhydrophobic and self-cleaning capacities after silane-based surficial treatment", Case Studies in Construction Materials, (2022) e01311
Zhao, Y. Hu, Z. Tang, K. Wang, Y. Li, W. Li, "Deterioration of concrete under coupled aggressive actions associated with load, temperature and chemical attacks: A comprehensive review", Constr. & Bldg. Mat. 322 (2022) 126466
Li, W. Dong, Y. Guo, K. Wang, SP Shah, "Advances in multifunctional cementitious composites with conductive carbon nanomaterials for smart infrastructure", Cement and Concrete Composites, 128(2022)104454
W Dong, W Li, Wang, SP Shah, D Sheng, "Multifunctional cementitious composites with integrated self-sensing and self-healing capacities using carbon black and slaked lime", Ceramics Int'l. 48 (14) (2022)19851-19863
W. Dong, W. Li, Y. Guo, F. Qu, K. Wang, D. Sheng, "Piezoresistive performance of hydrophobic cement-based sensors under moisture and chloride-rich environments", Cement and Concrete Composites 126 (2022) 104379
Y. Guo, W. Li, W, Dong, K. Wang, X. He, K. Vessalas, D. Sheng, "Self-sensing cement-based sensors with superhydrophobic and self-cleaning capacities after silane-based surficial treatments", Case Studies in Construction Materials 17 (2022) e01311
Zhao¢, H. Zhou, K. Wang, X. Wu, S.P. Shah, "Effects of CNT / MgO-type expansive agent on the cracking resistance of face slab concrete of CFRD", ASCE J. Mater. Civ. Eng., 34(12)(2022):04022331
X. Wang, W. Li, Z. Luo, K. Wang, SP Shah, "A critical review on phase change materials (PCM) for sustainable and energy efficient building: Design, characteristic, performance and application", Energy and Buildings, 260 (2022)111923
W. Dong, W. Li, Y. Guo, K. Wang, D. Sheng, "Mechanical properties and piezoresistive performance of intrinsic cement-based sensors subjected to impact load", Construction and Building Materials, 327 (2022) 126978
D. C. S. Garcia¢, K. U. Lima, K. Wang, R. B. Figueiredo, "Evaluating the effect autoclave curing on the microstructure and compressive strength evaluation of high strength concrete" Revista Materia, 27(2) (2022) e13201
Z. Luo, W. Li, K. Wang, S. P. Shah, D. Sheng, "Nano/micromechanical characterisation and image analysis on the properties and heterogeneity of ITZs in geopolymer concrete", Cement and Concrete Research, 152 (2022) 106677
J. Du, Z. Liu, J. Sun, G. Li, X. Wu, G. Li, Y. Lv, K. Wang, "Enhancing concrete sulfate resistance by adding NaCl", Construction and Building Materials, 322 (2022) 126370, https://doi.org/10.1016/j.conbuildmat.2022.126370
Z. Tang, W. Li, Q. Peng, V. W. Y. Tam, K. Wang, "Study on the failure mechanism of geopolymeric recycled concrete using digital image correlation method", Journal of Sustainable Cement-Based Materials, 11 (2) (2022)113-126
2021
F. Wu, W. Li, K. Wang, S. Zhang, D. Sheng," Performance deterioration of fly ash/slag-based geopolymer composites subjected to coupled cyclic preloading and sulfuric acid attack", Journal of Cleaner Production, 321(2021)128942
W. Sun+, K. Wang, P. Taylor, X. Wang+, "Air void clustering in concrete and its effect on concrete strength", International Journal of Pavement Engineering (online Nov. 18, 2021) https://doi.org/10.1080/10298436.2021.2000986
B. Melugiri-Shankaramurthy+, K. Wang, F. Hasiuk, "Influence of carbonate coarse aggregate properties on surface resistivity of high-performance concrete", Constr. & Building Materials, 312 (2021) 125402, https://www.sciencedirect.com/science/article/pii/S0950061821031421
K. Wi+, K. Wang, P. Taylor, S. Laflamme, S. Sritharan, and H. Qin, "Properties and Microstructure of Extrusion-based 3D Printing Mortar Containing a Highly Flowable, Rapid Set Grout", Cement and Concrete Composites, 124(2021)104243
W. Li, Z. Luo, Y. Gan, K. Wang, S.P. Shah, "Nanoscratch on mechanical properties of interfacial transition zones (ITZs) in fly ash-based geopolymer composites", Composites Science and Technology, 214 (2021) 109001, https://doi.org/10.1016/j.compscitech.2021.109001
Y. Liao¢, Y. Gui, K. Wang, S. Al Qunaynah+, S. M. Bawa, S. Tang, "Activation energy of calcium sulfoaluminate cement-based materials", Materials and Structures, (2021) 54:162
G. Li, Y. Ding, T. Gao, Y. Qin, Y. Lv, K. Wang, "Chloride resistance of concrete containing nanoparticle-modified polymer cementitious coatings" Construction and Building Materials 299 (2021) 123736
Y. Sargam+, K. Wang, "Quantifying dispersion of nanosilica in hardened cement matrix using a novel SEM-EDS and image analysis-based methodology", Cement and Concrete Research 147 (2021)106524  
S. Kawashima, K. Wang, R. D. Ferron, J. H. Kim, N. Tregger, S. P. Shah, "A review of the effect of nanoclays on the fresh and hardened properties of cement-based materials", Cement and Concrete Research, 147 (2021)106502  
K. Wi+, J. Hong, K. Wang, "Determine printable zone of 3D printable mortar using flow table tests" Special Issue on Advanced Rheology and AM, ACI Materials Journal, 118(2021)6:1-11
Y. Shin, J. H. Kim, K-T Koh, G-S Ryu, K. Wang, "Placement of ultra-high performance concrete for inclined-surface pavement", Road Materials and Pavement Design, online April 19, 2021, https://doi.org/10.1080/14680629.2021.1910552
W. Dong, W. Li, K. Wang, S.P. Shah, "Physicochemical and piezoresistive properties of smart cementitious composites with graphene nanoplates and graphite plates", Construction and Building Materials 286 (2021) 1229432
F. Qu, W. Li, Z. Tang, K. Wang, "Property degradation of seawater sea-sand cementitious mortar with GGBFS and glass fiber subjected to elevated temperatures", J. of Materials Research and Technology, 13(2021)366-384
Y. Sargam+, K. Wang, "Hydration kinetics and activation energy of cement pastes containing various nanoparticles", Composites Part B, 216 (2021) 108836
Z. Luo, W. Li, P. Li, Wang, Surendra P Shah, "Investigation on effect of nanosilica dispersion on the properties and microstructures of fly ash-based geopolymer composite", Construction and Building Materials 282 (2021) 122690
Z. Tang, W. Li, Q. Peng, V. W. Y. Tam, K. Wang, "Study on the failure mechanism of geopolymeric recycled concrete using digital image correlation method", Journal of Sustainable Cement-Based Materials, (2021) DOI: 10.1080/21650373.2021.1897706
Y. Sargam+, K. Wang, A. Tsyrenova, F. Liu, S. Jiang, "Effect of anionic and nonionic surfactants on the dispersion and stability of nanoSiO2 in aqueous and cement pore solutions," Cement and Concrete Research, 144 (2021)10641
Z. Luo, W. Li, K. Wang, A. Castle, S.P. Shah, "Comparison on properties of ITZs in fly ash-based geopolymer and Portland cement concretes with equivalent flowability", Cement and Concrete Research, 143(2021)106392
Y. Sargam+, K. Wang, "Influence of dispersants and dispersion on properties of nanosilica modified cement-based materials", Cement and Concrete Composite, 0 118 (2021) 103969
J. Milla, T. Cavalline, T. Rupnow+, B. Melugiri Shankaramurthy+, G. Lomboy+, K. Wang. J. Ideker "Methods of Test for Concrete Permeability: A Critical Review" Advances in Civil Engineering Materials, 10 (1) (2021) 172-209, doi:10.1520/ACEM20200067
C. Xue, W. Li, Z. Luo, K. Wang, "Effects of chloride on self-healing behavior of cementitious composite with crystalline admixture and MgO expansive agent", Cement and Concrete Research 139 (2021) 106252
Y. Sargam+, K. Wang, I. Cho, "Machine learning based prediction model for thermal conductivity of concrete", Journal of Building Engineering, 34(2021) 101956 https://doi.org/10.1016/j.jobe.2020.101956
2020
W, Dong, W. Li, Z. Luo, Wang, "Effects of layer-distributed CNT and agglomeration on mechanical properties and piezoresistive behavior of cement-based sensors" Nanotechnology, 31(50)(2020):505503, doi: 10.1088/1361-6528/abb503.
Li, Z. Zhuang, Y. Lv, K. Wang, D. Hui, "Enhancing carbonation and chloride resistance of autoclaved concrete by incorporating nano-CaCO3", Nanotechnology Reviews, 9 (2020) 998–1008, https://doi.org/10.1515/ntrev-2020-0078
W. Dong,, W. Li, Z. Luo, Y. Guo, K. Wang, "Effect of layer-distributed carbon nanotube (CNT) on mechanical and piezoresistive performance of intelligent cement-based sensor", Nanotechnology, 31 (50) (2020) 505503 (15pp) https://iopscience.iop.org/article/10.1088/1361-6528/abb503/meta
C. Xue, W. Li, A. Castel, K. Wang, D. Sheng, "Effect of incompatibility between healing agent and cement matrix on self-healing performance of intelligent cementitious composite", Smart Mater. Struct. 29 (2020) 115020 (12pp), https://doi.org/10.1088/1361-665X/aba9ac
F. Qu, Z. Tao, A. Castel, K. Wang, "High temperature resistance of fly ash/GGBFS based geopolymer composite after exposure to load-induced damage and crack" , Materials and Structures, 53 (2020)111, DOI: 10.1617/s11527-020-01544-2
W. Dong, W. Li, K. Wang, B. Han, D. Sheng, S. P. Shah, "Investigation on physicochemical and piezoresistive properties of smart MWCNT / cementitious composite exposed to elevated temperatures", Cement & Concrete Composite, 112 (2020) 103675 https://doi.org/10.1016/j.cemconcomp.2020.103675
W. Dong, W. Li, K. Wang, K. Vessalas, S. Zhang, "Mechanical strength and self-sensing behaviors of cementitious composite with conductive rubber crumbs", J. of Intelligent Material Systems and Structures, May 2020, https://doi.org/10.1177/1045389X20916788
Q. Shu, K. Wang, G. Yuan, Y. Zhan, L. Lu, Z. Liu, "Assessing capacity of corroded angle members in steel structures based on experiment and simulation", Construction and Building Materials, 244 (2020) 118210, https://doi.org/10.1016/j.conbuildmat.2020.118210
Y. Liao¢, G. Jiang, K. Wang, S. Al Qunaynah+, W. Yuan, "Effect of steel slag on the hydration and strength development of calcium sulfoaluminate cement", Construction and Building Materials 265 (2020) 120301, https://doi.org/10.1016/j.conbuildmat.2020.120301
L. Li, M. Chen, X. Guo, L. Lua, S. Wang, X. Cheng, K. Wang, "Early-age hydration characteristics and kinetics of Portland cement pastes with super low w/c ratios using ice particles as mixing water", J. of Materials Research and Technology, 9(4)(2020)8407–8428
P. Hou, J. Shi, S. Prabakar, X. Cheng, K. Wang, X. Zhou; S. P. Shah, "Effects of Mixing Sequences of Nanosilica on the Hydration and Hardening Properties of Cement-based Materials", Construction & Building Materials 263 (2020) 120226 https://doi.org/10.1016/j.conbuildmat.2020.120226
B. Lei, W. Li, Z. Luo¥, W. W. Y. Tam, W. Dong¥, K. Wang, "Performance of permeable asphalt mixtures with recycled aggregate and modification treatments for concrete pavement application", Frontiers in Materials, section Structural Materials, 7(2020)253, https://doi.org/10.3389/fmats.2020.00253
P. Hou, X. Wang, P. Zhao, K. Wang, S. Kawashima, X. Chen, S. P. Shah, "Physicochemical effects of nanosilica on C3A/C3S hydration" Journal of the American Ceramic Society, 103(2020)6505–6518, https://doi.org/10.1111/jace.17364
K. Freeseman, K. Wang, Y. Tan "Bond Strength and Chloride Resistance of Epoxy and Concrete Overlays on Bridge Decks", Int'l Journal of Pavement Engineering, June 19, 2020, https://doi.org/10.1080/10298436.2020.1778693
W. Dong, W. Li, K. Wang, Y. Guo, S. P. Shah, "Effect of carbon black on mechanical and self-sensing capacity of functional cementitious composite with polypropylene fiber", Powder Technology, 373 (2020) 184 –194, https://doi.org/10.1016/j.powtec.2020.06.029
C. Fu¢, Y. Ling+, K. Wang "An innovation study on chloride and oxygen diffusions in simulated interfacial transition zone of cementitious material" Cement and Concrete Composite, 110 (2020) 103585, https://doi.org/10.1016/j.cemconcomp.2020.103585
H. Qin, K. Manikandan GD, K. Wi+, X. Zhang, K. Wang, "Characterizing cement mixtures for concrete 3D printing", Manufacturing Letters, 24(2020)33-37, https://doi.org/10.1016/j.mfglet.2020.03.002
F. Zhang, J. Xia, G. Li, Z. Guo, H. Chang, K. Wang, "Degradation of Axial Ultimate Load-bearing Capacity of Circular Thin-walled Concrete-filled Steel Tubular Stub Columns after Corrosion", Materials, 13 (2020)795; doi:10.3390/ma13030795
W. Dong, W. Li, K. Vessalas and K. Wang, "Mechanical and Conductive Properties of Smart Cementitious Composites with Conductive Rubber Crumbs", ES Materials & Manufacturing, 7(2020) 51-63, DOI: 10.30919/esmm5f711
J. Liu¢, K.Wang, Q. Zhang, G. Lomboy+, L. Zhang, "Effects of ultrafine powders on the properties of lubrication layer and highly flowable concrete", ASCE J. of CE Materials, 32(5)(2020)04020099, DOI: 10.1061/(ASCE)MT.1943-5533.0003193.
G. Li, J. Zhou, J. Yue, X. Gao, K. Wang, Effects of nano-SiO2 and secondary water curing on the carbonation and chloride resistance of autoclaved concrete", Construction & Building Materials, 235 (2020) 117465
Y. Sargam+, K. Wang, J. Alleman, "Effects of Modern Concrete Materials on Thermal Conductivity", ASCE J. of Civil Engineering Materials 32(2)(2020); 10.1061 / (ASCE)MT.1943-5533.0003026
K. Wi+, V. Suresh, K. Wang, B. Li, H. Qin, "Quantifying Quality of 3D Printed Clay Objects Using a 3D Structured Light Scanning System", Additive Manufacturing, 32 (2020) 100987 https://doi.org/10.1016/j.addma.2019.100987 (IF: 7.17)
X. Wang+, G. Lu+, K. Wang, "Effect of Inter-Particle Action on Shear Thickening Behavior of Cementitious Composites: Modeling and Experimental Validation", Journal of Sustainable Cement-Based Materials, 9(2)(2020) 78-93, DOI: 10.1080/21650373.2019.1692257
Y. Sargam+, B. Melugiri Shankaramurthy+, K. Wang, "Characterization of RCAs and their concrete using simple test methods", Journal of Sustainable Cement-Based Materials, 9(2)(2020)61-77, https://doi.org/10.1080/21650373.2019.1692093
J. Hong§, K. Wang, Z. Xiong, M. Gong, C. Deng, G. Peng, H. Zhu, "Investigation into the freeze-thaw durability of semi-flexible pavement mixtures", Road Materials and Pavement Design, 21(8)(2020)2198-2214; DOI: 10.1080/14680629.2019.1599995
2019
Y. Ling+, K. Wang, X. Wang+, W. Li, "Prediction for engineering properties of fly ash ‐ based geopolymer using artificial neural networks", Neural Computing and Applications, (online 12/2/2019) (IF: 4.664) https://doi.org/10.1007/s00521-019-04662-3
Xue, W. Li, J. Li, K. Wang, "Numerical investigation on interface crack initiation and propagation behaviour of self-healing cementitious materials", Cement and Concrete Research 122 (2019) 1–16, https://doi.org/10.1016/j.cemconres.2019.04.012
W. Li, W. Dong, K. Wang, Z. Luo, "Self-sensing and piezoresistive behaviors of cement-based sensors with layer-distributed conductive rubber fibres", Sensors & Actuators: A. Physical, ID SNA-2019-1578, (IF: 2.74) https://doi.org/10.1016/j.sna.2019.111763
Sargam+, M. Faytarouni, K. Riding, K. Wang, C. Jahren, J. Shen, "Predicting thermal performance of a mass concrete foundation – A field monitoring case study", Journal of Case Studies in Construction Materials, 11(2019) e00289; https://doi.org/10.1016/j.cscm.2019.e00289
Ling+, K. Wang, X. Wang+, S. Hua¢, "Effects of Mix Design Parameters on Heat of Geopolymerization, Set Time, and Compressive Strength of High Calcium Fly Ash Geopolymer," Construction & Building Materials, 228 (2019) 116763
Zhang¢, Y. Zheng, K. Wang, K. Zhang, "Combined influence of nano‐CaCO3 and polyvinyl alcohol fibers on fresh and mechanical performance of concrete incorporating fly ash", Structural Concrete, fib, Oct. 2019; doi.org/10.1002/suco.201900134
W. Li, Z. Tang, V. Y. Tam, X. Zhao, and K. Wang, "A review on durability of alkali-activated system from sustainable construction materials to engineering infrastructures", ES Materials & Manufacturing, March 2019, DOI: 10.30919/esmm5f 204
Melugiri-Shankaramurthy+, Y. Sargam+, X. Zhang, W. Sun+, K. Wang, H. Qin, Evaluation of Cement Paste Containing Recycled Stainless-Steel Powder for Sustainable Additive Manufacturing, Construction & Building Materials, 227 (2019) 116696
Dong, W. Li, G. Long, Z. Tao, j. Li, and K. Wang, "Electrical Resistivity and Mechanical Properties of Cementitious Composite Incorporating Conductive Rubber Fibers", Smart materials and Structures, 28(2019)085013(15pp) DOI: 10.1088/1361-665X/ab282a
Wang+, XH Wang+, S. Sadati, P. Taylor, K. Wang, "A Modified Foam Drainage Test Protocol for Assessing Incompatibility of Admixture Combinations and Stability of Air Structure in Cementitious Systems", Construction & Building Materials, 211(2019) 174-184 https://www.sciencedirect.com/science/article/pii/S0950061819306294?via%3Dihub
Choi§, S. Park, K. Wang., "Early‐age strength of alkali‐activated slag mortar based on burned oyster shell and other chemical activators", ASCE J. of Materials in Civil Engineering, 31(9) (2019): ID 04019186
Zhao¢, K. Wang, D. A. Lange, H. Zhou, W. Wang, D. Zhu, "Creep and thermal cracking of ultrahigh volume fly ash mass concrete at early age", Cement and Concrete Composites 99(2019)191-202; https://doi.org/10.1016/j.cemconcomp.2019.02.018
Ling+, K. Wang., C. Fu, "Shrinkage Behavior of Fly Ash Based Geopolymer Pastes with and without Shrinkage Reducing Admixture", Cement and Concrete Composites, 98 (2019) 74–82, https://doi.org/10.1016/j.cemconcomp.2019.02.007
Ling+, K. Wang., W. Li, G. Shi, P. Lu, "Effect of slag on the mechanical properties of fly ash-based engineered geopolymer composites", Composites Part B, 164 (2019)747–757, 10.1016/j.compositesb.2019.01.092
Dong, W. Li, Z. Tao, K. Wang, "Piezoresistive properties of cement-based sensors: review 1 and perspectives", Construction & Building Materials 203 (2019) 146–163
Murphy, G. Lomboy+, K. Wang, S. Sundararajan, S. Subramaniam, "The rheology of slurries of a thermal cohesive micro-particles immersed in fluid: A computational and experimental comparison", Chemical Engineering Science 193 (2019) 411–420
Fu§, H. Ye, K. Wang, K. Zhu, C. He, "Evolution of mechanical properties of steel fiber-reinforced rubberized concrete (FR-RC)", Composites Part B, 160 (2019) 158–166
2018
P. Zhang¢, Y. Zheng, K. Wang, J. Zhang, "A review on properties of fresh and hardened geopolymer mortar", Composites Part B 152 (2018) 79–95
P. Hou, R. Li, Q. Li, N. Lu, K. Wang, M. Liu, X. Cheng, S. Shah, "Novel Superhydrophobic Cement-based Materials Achieved by Construction of Hierarchical Surface Structure with FAS/SiO2 Hybrid Nanocomposites", ES Materials & Manufacturing, 1(2018)57–66, DOI: 10.30919/esmm5f125
S. Laflamme, D. Eisenmann, K. Wang, F. Ubertini, I. Pinto, A. DeMoss, "Smart Concrete for Enhanced Nondestructive Evaluation", Materials Evaluation, 76(10)(2018); https://ndtlibrary.asnt.org/2018/SmartConcreteforEnhancedNondestructiveEvaluation
Z. Luo, W. Li, K. Wang, S. P. Shah, "Research Progress in Advanced Nanomechanical Characterization of Cement-based Materials", Cement and Concrete Composite, 94 (2018) 277–295
X. Wang+, J. Zhang, XH. Wang, P.Taylor, K. Wang, and X. Sun, "Exploration of Mechanisms of Joint Deterioration in Concrete Pavements regarding Interfacial Transition Zone", J. Advances in Civil Engineering, Vol. 2018, ID 3295954, https://doi.org/10.1155/2018/3295954
D. S. Garcia¥, K. Wang, R. B. Figueiredoa, "The influences of quartz content and water-to-binder ratio on the microstructure and hardness of autoclaved Portland cement pastes", Cement and Concrete Composite, 91 (2018) 138–147
Y. Li¥, W. Li, D. Deng¥, K. Wang, W. H. Duan, "Reinforcement effects of polyvinyl alcohol and polypropylene fibers on flexural behaviors of sulfoaluminate cement matrices", Cement and Concrete Composites, 88 (2018) 139-149
2017
S. Choi §, K. Wang, Z. Wen, J. Chu, "Mortar Crack Repair Using Microbial Induced Calcite Precipitation Method", Cement and Concrete Composite, 83 (2017) 209-221 http://dx.doi.org/10.1016/j.cemconcomp.2017.07.013
P. Zhang¢, J. Wan, K. Wang, Q. Li, "Influence of nano-SiO2 on properties of fresh and hardened high performance concrete: A state-of-the-art review", Construction and Building Materials 148 (2017) 648–658, https://doi.org/10.1016/j.conbuildmat.2017.05.059
Z. Liu¢, K. Wang, Q. Zhang, F. Han, J. Sha, and J. Liu, "Influence of superplasticizer dosage on the viscosity of cement paste with low water-binder ratio", Construction & Building Materials, 149(2017)359-366, https://doi.org/10.1016/j.conbuildmat.2017.05.145
S. Choi §, J. Chu, R. Brown, K. Wang (co-corresponding author), Z. Wen, "Sustainable biocement production via microbially-induced calcium carbonate precipitation (MICP): use of limestone powder and acetic acid derived from fast pyrolysis of lignocellulosic biomass" ACS Sustainable Chemistry and Engineering, 5(2017)5183-5190; DOI: 10.1021/acssuschemeng.7b00521
F. Li, X. Luo, K. Wang and Y. Ji, "Pitting damage characteristics on prestressing steel strands by combined action of fatigue load and chloride corrosion", Journal of Bridge Engineering, 22(7)( 2017): 04017023-1-12; DOI: 10.1061/(ASCE)BE.1943-5592.0001057
2016
Lomboy+, F. Bektas+, K. Wang, "Extended Use of Limestone Fines in Various Concretes", Journal of Civil Engineering and Architecture, 10 (2016) 995-1005 doi: 10.17265/1934-7359/2016.09.003
Zhang¢, K. Wang, H. Liu, Z. Deng, "Key performance properties of asphalt mixtures with recycled concrete aggregate from low grade concrete", Construction and Building Materials, 126 (2016) 711–719; https://doi.org/10.1016/j.conbuildmat.2016.07.009
Han, K. Wang, X. Wang+, and P. J. Monteiro, "2D Image Analysis for Evaluating Coarse Aggregate Distribution and Concrete Homogeneity", Construction and Building Materials, 127 (2016) 30–42; http://dx.doi.org/10.1016/j.conbuildmat.2016.09.120
Hua¢, K. Wang, X. Yao, W. Xu, and Y. He, "Effects of Fibers on Mechanical Properties and Freeze-Thaw Resistance of Phosphogypsum-Slag Based Cementitious Materials", Construction and Building Materials, v 121, p 290-299, (2016) http://www.sciencedirect.com/science/article/pii/S0950061816309308
Choi §, K. Wang, J. Chu, "Properties of Biocemented, Fiber Reinforced Sand", Construction and Building Materials, v 120, p 623-629 (2016) http://www.sciencedirect.com/science/article/pii/S0950061816308601
Hou+, K. Wang, and W. Yodsudjai, "A Simplified Model for Prediction of Shrinkage Behavior of High Performance Concrete Containing Supplementary Cementitious Materials, Journal of Thailand Concrete Association, v. 4, n. 1, p 1-7 (2016) http://www.thaitca.or.th/journal/en/browseissues.html
Han¢ and K. Wang, "Influences of bleeding on particle distribution, hydration products, mechanical property, and water absorptivity of the surface layer of Portland cement paste" Construction and Building Materials, v. 115, p 240-246, July 15, 2016; http://www.sciencedirect.com/science/article/pii/S0950061816305979
Hua¢, K. Wang, X. Yao, "Developing high performance phosphogypsum-based oil-well cementing materials through a step-by-step optimization method", Cement and Concrete Composite, v. 72, p. 299-308, 2016; http://www.sciencedirect.com/science/article/pii/S095894651630172X
Elkashef+, K. Wang, M.N. Abou-Zeid, "Acid-treated carbon nanotubes and their effects on mortar strength" Frontiers of Structural and Civil Engineering, vol.10, Iss. 2, pp 180–188, 2016
Wang+, P. Taylor, K. Wang, and M. Malcolm, "Ultrasonic Wave Propagation Monitoring of Stiffening Process of Self-consolidating Concrete", Magazine of Concrete Research, v. 68, Is. 3, p.151-162, 2016
Han¢, K. Wang, Y. Wang, and J. Shi, "Influence of Aluminum Sulfate and Anhydrite on Cement Hydration Process", J. of Materials and Structures, v 49, n 4, p 1105-1114, April 1, 2016; (DOI 10.1617/s11527-015-0561-2) http://link.springer.com/article/10.1617%2Fs11527-015-0561-2
2015
Lomboy+ and K. Wang, "Semi-flowable Self-consolidating Concrete and its Applications", International Journal of Materials and Structural Integrity, Vol. 9, No. 1-3, p. 62-71, 2015; http://www.inderscience.com/offer.php?id=71110
Wang+, K. Wang, J. Han, P. Taylor, "Image Analysis Applications on Assessing Static Stability and Flowability of Self-Consolidating Concrete", Cement and Concrete Composites, vol. 62, p. 156-167, 2015; http://www.sciencedirect.com/science/article/pii/S0958946515000888
Han¢, K. Wang, J. Shi, and Y. Wang, "Influence of Triethanolamine on Hydration and Microstructure of Cement Pastes", Construction and Building Materials, v. 93, p. 457-462 (2015); http://www.sciencedirect.com/science/article/pii/S0950061815006996
Xu, K. Wang, C. Medina, B. Engquist, "A mathematical model to convert isothermal heat evolution to adiabatic temperatures with validation for cementitious materials", International Journal of Heat and Mass Transfer, v. 89, Iss: Oct., p. 333–338 (2015)
Wang, X+. P. Taylor, Wang, G. Morcous, "Using Paste-To-Voids Volume Ratio Evaluating the Performance of Self-Consolidating Concrete Mixtures", Magazine of Concrete Research, vol. 67, Iss. 14, p. 771-785 (2015), http://dx.doi.org/10.1680/macr.14.00313.
Garg+ and K. Wang, "Estimating Efficiency of Fly Ashes: An Alternative Definition of k-Values", Journal of Sustainable Cement-Based Materials, v. 4, Iss. 1, p. 25-33 (2015) http://www.tandfonline.com/doi/abs/10.1080/21650373.2014.956239#
2014
2013
Yu, K. Wang, W-F. Zhou,"Evalulation of surface Textures and Skid Resistance of Pervious Concrete Pavement," Journal of Central South University, v. 20, Iss. 2, p. 520-527, 2013
Hu, D. Wang, Wang, and G. Lu+, "Optimal Design for the Mortar-filled Glass Fiber Reinforced Polymer (GFRP) Tube Dowels," Road Materials and Pavement Design, v. 14, n. 4, p. 847-863 (2013); http://www.tandfonline.com/doi/abs/10.1080/14680629.2013.837834
Lomboy+, S. Sundararajan, and K. Wang, "Micro- and Macroscale Coefficients of Friction of Cementitious Materials", Cement and Concrete Research, v.54, p21-28 (2013), http://www.sciencedirect.com/science/article/pii/S0008884613001786
Garg+, K. Wang, and S. Martin "Raman Spectroscopy for Following Evolution of Sulfates and Hydroxides in Cement-Fly Ash Pastes," Cement and Concrete Research, v. 53, p. 91-103 (2013) http://www.sciencedirect.com/science/article/pii/S0008884613001440
P. Hou, S. Kawashima, Wang, D. J. Corr, J. Qian and S. P. Shah, "Effects of Colloidal Nanosilica on Rheological and Mechanical Properties of Fly ash-Cement Mortar", Cement and Concrete Composites, v 35, n 1, p 12-22 (2013) http://www.sciencedirect.com/science/article/pii/S0958946512001916
Q. Dong, H. Wu, B. Huang, X. Shu, K. Wang, "Investigation into Laboratory Abrasion Test Methods for Pervious Concrete", ASCE Journal of Materials in Civil Engineering, 25, n. 7, p. 886-892, (2013) http://ascelibrary.org/doi/abs/10.1061/%28ASCE%29MT.1943-5533.0000683
Chen, K. Wang, X. Wang+, and W. Zhou, "Strength, Fracture, and Fatigue of Pervious Concrete," Building and Concrete Materials, v. 42, p. 97–104 (2013) http://www.sciencedirect.com/science/article/pii/S095006181300069X
Hu+, K. Wang, and J. A. Gaunt, "Behavior and Mix Design Development of Concrete Made with Recycled Aggregate from Deconstructed Lead-Contaminated Masonry Materials," Construction and Building Materials, v. 40, p 1184–1192 (2013), http://www.sciencedirect.com/science/article/pii/S0950061812000256
Yodsudjai and K. Wang, "Chemical Shrinkage Behavior of Pastes Made with Different Types of Cements", Building and Construction Materials, v. 40, p. 854-862 (2013), http://www.sciencedirect.com/science/article/pii/S0950061812008896
2012
Chen, K. Wang, D. Liang, "Mechanical properties of pervious cement concrete", Journal of Central South University, Volume 19, Issue 11 , p. 3329-3334 (2012
J. Hu+, K. Wang and Z. Ge, "Study of Concrete Thermal Properties for Sustainable Pavement Design", Journal of Sustainable Cement-Based Materials, v 1, n 3, p 126-137 (2012)
Garg+ and K. Wang, "Comparing the Performance of Different Commercial Clays in Fly Ash Modified Mortars" Journal of Sustainable Cement-based Materials, v 1, n 3, p 111-125 (2012)
Wang+, K. Wang, F. Bektas+, P. Taylor, "Drying shrinkage of ternary blend concrete in Transportation Structures" Journal of Sustainable Cement-based Materials, v 1, n 1-2, p. 56-66 (2012)
P. Hou; K. Wang; J. Qian; S. Kawashima¥; D. Kong; S. P. Shah, "Effects of Colloidal NanoSiO2 on Fly Ash Hydration", Cement and Concrete Composite, v 34, n 10, p 1095-1210 (2012) , http://www.sciencedirect.com/science/article/pii/S0958946512001400
Wang+, F. Bektas, P. Taylor, K. Wang, P. J. Tikalsky, "Drying shrinkage behavior of mortars made with ternary blends," J. of Transportation Research Record (TRB), Construction, No. 2290, pp. 52–59 (2012)
Lomboy+, K. Wang, and Z. Quanji+, "Properties of Cementitious Materials in their Dry State and their Influences on Viscosity of the Cementitious Pastes", Powder Technology, v 229C, pp. 104-111(2012) http://www.sciencedirect.com/science/article/pii/S0032591012004020
Ge+, K. Wang, and S. P. Shah, "Hydration and Strength Development in a Cement Kiln Dust-Fly Ash System," Journal of the Chinese Ceramic Society, v 40,n 1, p. 12-19 (2012)
Lu+, X. Li, K. Wang "A Numerical Study on the Damage of Projectile Impact on Concrete Targets", Journal of Computers and Concrete, v 9, n 1, p 21-33 (2012)
Bektas+ and K. Wang, "Performance of Ground Clay Brick in ASR-Affected Concrete: Effects on Expansion, Mechanical Properties and ASR Gel Chemistry", Cement and Concrete Composites, v 34, p 273–278 (2012); http://www.sciencedirect.com/science/article/pii/S0958946511001697
2011
Lomboy+, Wang, and C. Ouyang, "Shrinkage and Fracture Properties of Semi-flowable Self Consolidating Concrete", ASCE Journal of Materials in Civil Engineering, v 23, n 11, p 1514-1524 (2011); http://ascelibrary.org/doi/abs/10.1061/(ASCE)MT.1943-5533.0000249
V. Hazaree+, K. Wang, H. Ceylan, and K. Gopalakrishnan, "Capillary Transport in RCC: water/cement-strength-F-T resistance", ASCE Journal of Materials in Civil Engineering, v 23, n 8, p 1181-1191, August 2011
Lomboy+, K. Wang, P. Taylor, and S. P. Shah, "Guidelines for Design, Testing, Production and Construction of Semi-Flowable Self-Consolidating Concrete for Slip-Form Paving," International Journal of Pavement Engineering, Sept. Issue, p. 1-10 (2011); http://www.tandfonline.com/doi/abs/10.1080/10298436.2011.610797#preview
Lomboy+, S. Sundararajan, Wang, and S. Subramaniam, "A Method for Determining Adhesion Forces and Hamaker Constants of Type I Portland Cement for Rheology of Cement Based Mixtures", Cement and Concrete Research, v 41, n 11, p 1157-1166 (2011)
Ge+, K. Wang, Z. Gao, "Prediction of Pavement Concrete Strength Development, Joint Sawing and Opening Time Using FEMLAB", ASCE Journal of Performance of Constructed Facilities, 26(2)(2012)162-169
Lu+, K. Wang "Theoretical and Experimental Study on Shear Behavior of Fresh Mortar", Cement and Concrete Composites, v 33, n 2, p 319-327 (2011) http://www.sciencedirect.com/science/article/pii/S0958946510001320
Hu+ and K. Wang, "Effect of Aggregate Characteristics on Concrete Rheology," Construction and Building Materials, 25 (3) (2011)1196-1204; http://www.sciencedirect.com/science/article/pii/S095006181000468X#
Xu, M. Ruiz, J. Hu+, K. Wang, and R. Rasmussen, "Modeling Hydration Properties and Temperature Development of Early-Age Concrete Pavement Using Calorimetry Tests", Thermochimica Acta, v 512, n 1-2, p 76-85, January 10, 2011
T. Kevern+, V.R Schaefer, and K. Wang, "Mix Design Development and Performance Evaluation of Pervious Concrete for Overlay Applications", ACI Materials Journal, v. 108, No. 4, p. 1-10 (2011)
D. Rupnow+, K. Wang, V. R. Schaefer, and P. Tikalsky, "A Simple Method for Characterizing and Predicting Temperature Behavior of Ternary Cementitious Systems" Construction & Building Materials , v. 25, n. 5, p. 2290–2297, (2011)
V. Hazaree+, H. Ceylan, and K. Wang, "Influences of Mixture Composition on Properties and Freeze-thaw Resistance of RCC," Construction and Building Materials, vol. 25, p.313-319 (2011)
Hu+, K. Wang, J. A. Gaunt, "Sequestering Lead by Utilizing Lead-Based Paint (LBP) – Contaminated Masonry Materials as Recycled Aggregate in Portland Cement Concrete," Journal of Solid Waste Technology and Management, v 37, n 4, p 260-272, (2011)
2010
Hu+, K. Wang, J. A. Gaunt, "Recycling Lead Based Paint Contaminated Deconstructed Masonry Materials as Aggregate for Portland Cement Concrete – A Cost Effective and Environmentally Friendly Approach," Resources, Conservation and Recycling Journal, v 54, n 12, p 1453-1460 (2010)
E. Cutler+, K. Wang, V. R. Schaefer, and J. T. Kevern "Resistance of Portland Cement Pervious Concrete to Deicing Chemicals", J. of Transportation Research Record (TRB), Construction, no. 2164, p. 98-104 (2010)
R. Schaefer, J. T. Kevern+, B. Izevbekhai, K. Wang, H. Curler+, and P. Wiegand, "Construction and Performance of the Pervious Concrete Overlay at Minnesota Road Research Project," J. of Transportation Research Record (TRB), Construction, no. 2164, p. 82-88 (2010)
Kim+, K. Gopalakrishnan, H. Ceylan, and K. Wang, "Early-age Response of Concrete Pavements to Temperature and Moisture Variations", The Baltic Journal of Road and Bridge Engineering, v 5, n.3, p. 132-138 (2010)
Xu, J. Hu+, J. M. Ruiz, K. Wang, and Z. Ge+, "Isothermal Calorimetry Tests and Modeling of Cement Hydration Parameters," Thermochimica Acta, v 499, Iss.1-2, p. 91-99, (2010)
T. Kevern+, K. Wang, and V. R. Schaefer, "The Effect of Coarse Aggregate on the Freeze-Thaw Durability of Pervious Concrete." ASCE J. of Materials in Civil Engineering, v. 22, n. 5, p. 469-475 (2010), http://ascelibrary.org/doi/abs/10.1061/%28ASCE%29MT.1943-5533.0000049
Voigt, J. Mbele, K. Wang, S. P. Shah, "Using Fly Ash, Clay and Fibers for Simultaneous Improvement of Concrete Green Strength and Consolidatability for Slip-form Pavement" ASCE Journal of Materials in Civil Engineering, v 22, n 2, p. 196-206, (2010), http://ascelibrary.org/doi/abs/10.1061/%28ASCE%290899-1561%282010%2922%3A2%28196%29
Lu+ and K. Wang, "Investigation into Yield Behavior of Fresh Cement Paste: model and experiment", ACI Materials Journal, v. 107, n. 1, p 1-8, (2010)
2000-2009
T. Kevern+, V.R Schaefer, and K. Wang, "Evaluations of Pervious Concrete Workability Using Gyratory Compaction", ASCE Journal of Materials in Civil Engineering, v 21, n 12, p 764-770 (2009), http://ascelibrary.org/doi/abs/10.1061/%28ASCE%290899-1561%282009%2921%3A12%28764%29
Lomboy+ and K. Wang "Effects of Strength, Permeability, and Air Void Parameters on Freezing-Thawing Resistance of Concrete with and without Air Entrainment," Journal of ASTM International, v. 6, n. 10 (2009)
T. Kevern+, V. R. Schaefer, and K. Wang, "Temperature Behavior of a Pervious Concrete System", Transportation Research Record: Journal of the Transportation Research Board, No. 2098, p. 94-104 (2009)
T. Kevern+, K. Wang, and V.R Schaefer, "Test Methods for Characterizing Air Void Systems in Portland Cement Pervious Concrete", Journal of ASTM International, v. 6, n. 9, JAI102451 (2009)
Ge+, K. Wang, P. J. Sandberg, J. M. Ruiz, Characterization of Cement-based Materials Using a Simple Isothermal Calorimeter," Journal of Advanced Concrete Technology, v. 7, n. 3, p. 355-366 (2009)
T., Kevern+, V. R. Schaefer, and K. Wang, "The Effect of Curing Regime on Pervious Concrete Abrasion Resistance," ASTM Journal of Testing and Evaluation, v 37, n 4, p.337-342 (2009)
Bektas+ , K. Wang, H. Ceylan, "Effects of Crushed Clay Brick Aggregate on Mortar Properties", Construction and Building Materials, v. 23, n. 5, p. 1909-1914 (2009)
Ge+ and K. Wang, "Modified Heat of Hydration and Strength Models for Concrete Containing Fly Ash and Slag", International Journal of Computers and Concrete, v. 6, n. 1, p. 19-40 (2009)
Bektas+, K. Wang, H. Ceylan, Use of Ground Clay Brick as a Pozzolanic Material in Concrete, Journal of ASTM International, v. 5, n. 10, ID JAI101681 (2008)
Bektas+, K. Wang, and H. Ceylan, "Effect of Portland Cement Fineness on ASTM C1260 Expansion", ASTM Journal of Testing and Evaluation, v.36, n. 5, p. 436-442 (2008)
T. Kevern+, V.R Schaefer, and K. Wang, "Portland Cement Pervious Concrete: A Field Experience from Sioux City", Open Construction and Building Technology Journal, v. 2, p 82-88, 2008.
D. Rupnow+, K. Wang, and V. R. Schaefer, "Effect of Sampling Location on the Air Void Analyzer Test Results on Concrete Pavements: Evaluation of Data from a Sixteen State Pooled Fund Project," ASTM Journal of Testing and Evaluation, v. 36, n. 4, p. 307-319 (2008)
T. Kevern+, K. Wang, and V.R Schaefer, "A Novel Approach to Characterize Entrained Air Content in Pervious Concrete", Journal of ASTM International, v. 5, n. 2, ID: JAI101434 (2008)
T. Kevern+, V.R Schaefer, K. Wang, and M. T. Suleiman, "Pervious Concrete Mixture Proportions for Improved Freeze Thaw Durability" Journal of ASTM International, v. 5, n. 2, ID: JAI101320 (2008)
Lu+, K. Wang, T. J Rudolphi, "Modeling Rheological Behavior of Highly Flowable Mortar Using Concepts of Particle and Fluid Mechanics," Cement and Concrete Composites, v. 30, n. 1, 1-12 (2008), https://doi.org/10.1016/j.cemconcomp.2007.06.002
Ceylan, S. Kim+, K. Gopalakrishnan, and K. Wang, "Environmental Effects on Deformation and Smoothness Behavior of Early Age Jointed Plain Concrete Pavements," Transportation Research Record, n 2037, Rigid and Flexible Pavement Design, p 30-39, (2007)
Bektas+, L. Turanli, K. Wang, and H. Ceylan, "Comparative Performance of Ground Clay Brick in Mitigation of the Alkali-silica Reaction", ASCE Journal of Materials in Civil Engineering, v. 19, n. 12, (2007).
Y. Pekmezci, T. Voigt, K. Wang, S. P. Shah, "Low Compaction Energy Concrete for Improved Slip Form Casting of Concrete Pavements" ACI Materials Journal, v 104, n 3, p 251-258 (2007)
Hu+ and K. Wang, "Effects of Size and Uncompacted Voids of Aggregate on Mortar Flow Ability" Journal of Advanced Concrete Technology, v. 5, n. 1, 1-11 (2007)
Wang, A. Mishulovich, and S. P. Shah, "Activations and Properties of Cementitious Materials Made with Cement-Kiln Dust and Class F Fly Ash," ASCE Journal of Materials in Civil Engineering, v. 19, n. 1, p. 112-119 (2007); http://ascelibrary.org/doi/pdf/10.1061/(ASCE)0899-1561(2007)19:1(112)
D. Rupnow+, V. R. Schaefer, K. Wang, and B. L. Hermanson+, "Investigation of Portland Cement Concrete Mix Consistency and Concrete Performance using a Two-Stage Mixing Process" Transportation Research Record, Journal of the Transportation Research Board, n.1979, Concrete Materials, p.12-20 (2006)
Zhang+ and K. Wang, "Investigation into the Effects of Materials and Mixing Procedures on Air Void Characteristics of Fresh Concrete Using Air Void Analyzer (AVA)", Journal of ASTM International, v.. 3, n. 10, ID: JAI100435 (2006)
Wang, P.R.L. Helene, P.J.M. Monteiro (□), "Potential Use of Zinc in the Corrosion Repair," Cement and Concrete Composites, Special Issue on Patch and Structural Repair, v 28, n 8, p. 707–715 (2006)
Wang, J. Cable, and Z. Ge+, "Evaluation of Pavement Curing Effectiveness and Its Effects on Concrete Properties," ASCE Journal of Materials in Civil Engineering, v. 18, n 3, p. 377-389 (2006)
Wang, D. Nelsen+, and W. Nixon, "Effects of Deicing Chemicals on Damage of Concrete Materials," Cement and Concrete Composites, v 28, n 2, p. 173-188 (2006)
Wang and J. Hu+, "Use of a Moisture Sensor for Monitoring Concrete Mixture Uniformity," Journal of Advanced Concrete Technology, v. 3, n.3, p.1-14 (2005)
Wang, S. M. Schlorholtz, J. Hu +, and S. Zhang+, "Investigation into Flow Property Measurements of Low-Slump Concrete Using Vibrating Slope Apparatus," Journal of ASTM International, v. 2, n.5, ID13054, p. 187‐204 (2005)
Wang, S. P. Shah, and A. Mishulovich, "Effects of Curing Temperature and NaOH Addition on Hydration and Strength Development of Clinker Free CKD-Fly Ash Binders," Cement and Concrete Research, v.34, n. 2, p. 299–309 (2004)
M. Babaian¥, K. Wang, A. Mishulovich, S. Bhattacharja, and S. P. Shah, "Effect of Mechano-Chemical Activation on Reactivity of Cement Kiln Dust-Fly Ash Systems," ACI Material J., v.100, n. 1, p. 55–62 (2003)
Wang, M. S. Konsta-Gdoutos, and S. P. Shah, "Hydration, Rheology, and Strength of CKD-Slag-OPC Binders," ACI Material Journal, v. 99, n. 2, p. 173-179 (2002)
Wang, S. P. Shah and P. Phuaksuk+, "Plastic Shrinkage Cracking in Concrete Materials– Influence of Fly Ash and Fibers," ACI Material Journal, v. 98, n. 6, p.1–7 (2001)
Yoon, K. Wang, W. J. Weiss, and S. P. Shah, "Interaction between Loading, Corrosion, and Serviceability of Reinforced Concrete," ACI Material Journal, v. 97, n. 6, p. 637–644 (2000)
Before 2000
Aldea, F. J. Young, K. Wang, and S. P. Shah, "Effects of Curing Conditions on Properties of Concrete Using Slag Replacement," Cement and Concrete Research, v. 30, n. 3, p. 465–472 (2000)
Wang and P. J. M. Monteiro, "Optical Microscopy Analysis of Ice Formation and Propagation in Concrete," L'Industria Italiana del Cement, No. 739, p. 65 (1999)
J. M. Monteiro, K. Wang, G. Sposito, M. C. dos Santos and W. Pacelli de Andrade, A Reply to Discussion of the Paper "Influence of Mineral Admixtures on the Alkali-Aggregate Reaction," Cement and Concrete Research, v. 28, n. 8, p. 1195 (1998)
J. Monteiro, K. Wang, G. Sposito, M. C. dos Santos, and W. P. de Andrade, "Influence of Mineral Admixtures on The Alkali-Aggregate Reaction," Cement and Concrete Research, v. 27, n.12, p. 1899–1909 (1997)
Wang, D. Jansen, S.P. Shah, and A. Karr, "Permeability Study of Cracked Concrete," Cement and Concrete Research, v. 27, n.3, p. 381–393 (1997)
Wang, P. J. Monteiro, B. Rubinsky, and A. Arav, "Microscopic Study of Ice Propagation in Concrete," ACI Materials Journal, v. 93, n.4, p. 370–377 (1996)
Wang, "A Study on Viscous-Elastic Properties of Bituminous Concrete and Thermal Stresses of Impervious Sloped Core Made of Bituminous Concrete," Water Resources and Hydropower Engineering, v. 33, n.3, p. 11–18 (1988) (Chinese)
Peer-Reviewed Papers in Special Publications and Conference Proceedings
Wang and K. Wang, "Hydration and Strength of Cement Pastes Containing Different Nanoparticles" ACI Special Publication (SP): Nanotechnology for Improved Concrete Performance, (accepted 6.27.2019)
J. Hong, W. Li, and K. Wang, "Effects of Anionic Asphalt Emulsion on Early-Age Cement Hydration" Ed. M. M. Reda Taha, Proceedings of the Int'l Congress on Polymers in Concrete, Polymers for Resilient and Sustainable Concrete Infrastructure (ICPIC 2018), Washington D. C., April 29-May 2, 2018, p. 143-150
S. Laflamme, D. Eisenmann, K. Wang, F. Ubertini, I. Pinto+, A. DeMoss "Smart Concrete for Enhanced Nondestructive Evaluation", ASNT Annual Conference, Nashville, TN, Oct. 30, 2017
Asaad, G. Morcous, X. Wang, P. Taylor, K. Wang (invited), "Prediction of Mechanical Properties of Self-Concrete for Cast-in Place Bridge Construction", proceedings of the 8th International RILEM Symposium on Self-Compacting Concrete, ed. by K. H. Khayat, pages 341-351, Washington DC, May 15-18, 2016
Wang and G. Lomboy, "Thixotropic behavior of fresh cement paste with highly purified magnesium alumino-silicate clay: measurements and interpretation", Proceedings of the 8th International RILEM Symposium on Self-Compacting Concrete, ed. by K. H. Khayat, pages 253-262, Washington DC, May 15-18, 2016
Laflamme, S., Pinto, I.+, Saleem, H., Elkashef, M.+, Wang, K., Cochran, E., "Conductive Paint-Filled Cement Paste Sensor for Accelerated Percolation", Proc. of SPIE Conference on Smart Structures and Materials & NDE and Health Monitoring, San Diego, CA, March 8-12, 2015 (also, The International Society for Optical Engineering, v 9437, 2015)
R. Lomboy , K. Wang , and S. Sundararajan, "Nanoscale Characterization of Cementitious Materials", Proceedings of 5th International Symposium on Nanotechnology in Construction (NICOM5), Chicago, IL, May 24–26, 2015, K. Sobolev, S.P. Shah (eds.), p.45-53, 2015
Hu+, K. Wang, and F. Bektas, "Monitoring of Joint Cracking Development in Concrete Pavement with Concrete Embedment Strain Gages", ASCE Geotechnical Special Issue on Design, Analysis, and Asphalt Material Characterization for Road and Airfield Pavements GSP 246, p. 147-154 (2014) http://ascelibrary.org/doi/abs/10.1061/9780784478462.018
Wang, S. P. Shah, R. Breitenbuecher, and G. R. Lomboy, "Design, Properties, and Performance of Semi-Flowable Self-Consolidating Concrete – An Overview", Proceeding of the third International Symposium on Design, Performance and Use of Self-consolidating Concrete, Xiamen, China, June 5-8, 2014
Yodsudjai and K. Wang, "Effects of Nano-Calcium Carbonate on Chemical Shrinkage of Cement Pastes", R.N. Raikar Memorial International Conference and Dr. S. Shah Symposium on Advances in Science and Technology of Concrete, Mumbai, India, p. 305-309, December 20-21, 2013
Kawashima¥, P. Hou, K. Wang, D. J. Corr, and S. P. Shah, "Activation of Fly Ash through Nanomodification", ACI-SP 294, Green Cement, p. 1-12 (2013)
Yodsudjai and K. Wang, "Chemical Shrinkage of Cement Pastes Containing Fly Ashes and Blast-furnace Slag", Proceedings of the 3rd international conference on construction in developing countries, Bangkok, Thailand, July 4-6, 2012
N. Garg+ and Wang, "Applying Raman Spectroscopy for Studying Cement-based Materials", Proceedings of the international conference on Micro-durability 2012, Delft University of Technology, Netherland, April 12-14, 2012
Kevern+, K. Wang, and V. R. Schaefer, "Durability and Performance of the Pervious Concrete Overlay at MnRoad", ACI SP-282, Leading Edge of Pervious Concrete, p. 1-12, December 2011
Kevern+, K. Wang, and V. R. Schaefer, "Durability and Performance of the Pervious Concrete Overlay at MnRoad", ACI SP-282, Leading Edge of Pervious Concrete, p. 1-12, December 2011
Wang, S. P. Shah, G. Lomboy (♦), and G. Lu, "Self-consolidating Concrete for Slip Form Construction: Field application and Performance Monitoring", Proceedings of the 9th International Symposium on High Performance Concrete – Design, Verification and Utilization, New Zealand, August 9-11, 2011
Bektas and K. Wang, "Use of ground clay bricks to suppress deterioration due to potassium-acetate deicer", 2nd International Conference on Sustainable Construction Materials and Technologies, p 699-705, 2010, (ISBN-13: 9781450714907)
J. T. Kevern+, V.R. Schaefer, and K. Wang, "Durability of a New Generation of Pervious Concrete Mixtures Designed for Roadway Applications", FHWA International Conference on Sustainable Concrete Pavements, Sacramento, California, September 15-17, 2010
Hu+, K. Wang, and J. A. Gaunt, "Mix Design of Concrete Made with All Recycled Aggregate from Deconstructed Lead-Contaminated Masonry Buildings" First International Conference on Sustainable Urbanization, December 15-17, 2010, Hong Kong, China
L Gang+ and K. Wang, "Application of SCC as Mass Concrete in a Special Structure Construction" SCC 2010, 6th International RILEM Symposium on Self-Compacting Concrete and 4th North American Conference on the Design and Use of SCC, Montreal, Canada, September 26-29, 2010.
Ge+ and K. Wang, "Hydration of Sodium Silicate-Activated Binders Made with Cement Kiln Dust and Fly Ash", First International Conference on Advances in Chemically-Activated Materials, Jinan, China, May 9-12, 2010 (accepted for RILEM publication)
Hu+, K. Wang, and Z. Ge+, "Study of Iowa PCC Mechanic Properties for Mechanistic-Empirical Pavement Design (MEPDG)," ASCE Geotechnical Special Publication (GSP), n 203, p 169-175, 2010 (Also in Proceedings of GeoShanghai 2010, June 3-5, 2010)
Hu+, K. Wang, and Z. Ge+, "Study of Iowa PCC Mechanic Properties for Mechanistic-Empirical Pavement Design (MEPDG)," ASCE Geotechnical Special Publication (GSP), n 203, p 169-175, 2010
T. Kevern+ and K. Wang, "Investigation into Corn Ash as a Supplementary Cementitious Material in Concrete", Proceedings of the Second International Conference on Sustainable Construction Materials and Technologies, Università Politecnica della Marche, Ancona, Italy June 28-30, 2010, Edts: J. Zacher, P. Claisse, T.R. Naik, and E. Ganjian, v. 1, p. 447- 456 (2010)
Bektas+ and K. Wang, "Use of Ground Clay Brick to Suppress Deterioration due to Potassium-Acetate Deicer," Proceedings of the Second International Conference on Sustainable Construction Materials and Technologies, Università Politecnica della Marche, Ancona, Italy June 28-30, 2010, Edts: J. Zacher, P. Claisse, T.R. Naik, and E. Ganjian, v. 2, p.699-706 (2010)
R. Schaefer, J.T. Kevern+ and K. Wang, "Pervious Concrete Overlay Design, Construction and Performance", Proceedings of the Second International Conference on Sustainable Construction Materials and Technologies, Università Politecnica della Marche, Ancona, Italy June 28-30, 2010, Edts: J. Zacher, P. Claisse, T.R. Naik, and E. Ganjian, v. 2, p 789- 800 (2010)
Ge+, K. Wang, Z. Gao, "Properties and Early-age Cracking Potential of Blended Cement Concrete", Material, Design, Construction, Maintenance, and Testing of Pavement, ASCE Geotechnical Special Publication No. 193, Ed by Dar-Hao Chen, Cindy Estakhri, Xudong Zha and Sheng Zeng, p. 163-170 (2009)
Wang, S. P. Shah, G. Lu+, and J. Grove, "Self-Consolidating Concrete for Slip Form Construction: Mix Design Method and Application" (keynote paper) The Second International Symposium on Design, Performance and Use of Self-consolidating Concrete, Ed. by C. Shi, Z. Yu, K.H. Khayat and P. Yan, p. 734-744, Beijing, China, June 5-7, 2009
D. Rupnow+, V. R. Schaefer, K. Wang, "Evaluation of a Quick Heat Generation Index Test for Characterization of Cementitious Materials" ACI SP-259 (7), Transition from Fluid to Solid: Reexamining the Behavior of Concrete at Early Ages, Ed. K. Riding, ACI, Farmington Hills, Michigan, p. 89-106 (2009)
D. Rupnow+, V. R. Schaefer, and K.Wang, "Evaluation of a Quick Heat Generation Index Test for Characterization of Cementitious Materials," ACI SP-259, Transition from Fluid to Solid: Re-examining the Behavior of Concrete at Early Ages, Ed. K. Riding, ACI, Farmington Hills, Michigan, P. 89-106 (2009)
R. Schaefer, J.T. Kevern, and K. Wang, "Pervious Concrete in Severe Exposures: Development of pollution-reducing pavement for northern cities," ACI Concrete International, v. 30, n. 7, p. 43-49, (2008)
L Gang and K Wang, "Aggregate Collision and Particle-Fluid Model for Highly Flowable Mortar", Proceedings of the Third North American Conference on the Design and Use of Self-Consolidating Concrete 2008: Challenges and Barriers to Application, Chicago, November 10-12, 2008, Ed. S. P. Shah (2010)
T. Kevern+, K. Wang, and V. R. Schaefer, "Self-Consolidating Pervious Concrete," Proceedings of the Third North American Conference on the Design and Use of Self-Consolidating Concrete 2008 (SCC 2008): Challenges and Barriers to Application, Chicago, November 10-12, 2008, Ed. S. P. Shah (2010)
Wang, S. P. Shah, and T. Voigt, "Self-consolidating Concrete for Slip-form Construction: Properties and Test Methods", In proceedings of Advances in Civil Engineering Materials, The 50-year Teaching and Research Anniversary of Prof. Sun Wei, Nanjing, China, October 15, 2008, Eds: C. Miao, G. Ye, and H. Chen, RILEM Publications ISBN: 978-2-35158-098-1, p. 161-172 (2008)
Ge and K. Wang, "Predicting Field Concrete Temperature Using an Integrated Model", Proceedings of the International Conference on Microstructure Related Durability of Cementitious Composites, Nanjing, China, October 13-15, 2008, editors: Wei Sun, K. van Breugel, Changwen Miao, Guang Ye, Huisu Chen. ISBN: 978-2-35158-067-7, p1125-1138 (2008)
Ge, K. Wang, "Properties of Ternary Cement Concrete Under Various Curing Conditions," Proceeding of the International Workshop on Cement Based Materials And Civil Infrastructure, Karachi, Pakistan, December 10-11, Ed by Shuaib Ahmad, p. 433-446 (2007)
D. Rupnow+, V. R. Schaefer, K. Wang, P. J. Tikalsky, "Effects of Different Air Entraining Agents, Supplementary Cementitious Materials, and Water Reducing Agent on the Air Void Structure of Fresh Mortar," the International Conference on Optimizing Paving Concrete Mixtures and Accelerated Concrete Pavement Construction and Rehabilitation, Atlanta, Georgia, November 7–9, 2007
Hazaree+, K. Wang, and H. Ceylan, "Optimizing mix proportions for durable Roller compacted concrete in Indian conditions", The ASCE Conference on Airfield and Highway Pavements: Meeting Today's Challenges and Emerging Technologies, April/May 2006, Atlanta, Georgia, USA, pp. 543-556.
S. P. Shah, K. Wang, and J. Weiss, "Is High Strength Concrete Durable?", Concrete Technology for a Sustainable Development in the 21st Century, edited by Odd E. Gjorv, Koji Sakai, E & FN Spon, London, ISBN: 0-419 -25060-3, p. 102- 115 (2000)
P. Shah, K. Wang, and W. J. Weiss, "Concrete Mix Design Criteria: Changes and Challenges," ACI Concrete International, v. 22, n 9, p. 73–78 (2000)
Yoon, H. R. Kim, K. Wang, W. J. Weiss, and S. P. Shah, "The Influence of Loading on the Corrosion and Mechanical Response of Reinforced Concrete Elements," High Performance Concrete: Research to Practice, ACI SP-189, ACI, Farmington Hills, Michigan, p. 253–266 (1999)
Yoon, H. R. Kim+, K. Wang, W. J. Weiss, and S. P. Shah, "The Influence of Loading on the Corrosion and Mechanical Response of Reinforced Concrete Elements," High Performance Concrete: Research to Practice, ACI SP-189, ACI, Farmington Hills, Michigan, p. 253–266 (1999)
Wang, T. Igusa, and S. P. Shah, "Permeability of Concrete: Relationship to its Mix Proportion, Microstructure, and Microcracks," Material Science of Concrete (Special Volume), ed. by M. Cohen and S. Diamond, American Ceramic Society, p. 45–54 (1998)
Wang, T. Igusa, and S. P. Shah, "Permeability of Concrete: Relationship to its Mix Proportion, Microstructure, and Microcracks," Material Science of Concrete (Special Volume), ed. by M. Cohen and S. Diamond, American Ceramic Society, p. 45–54 (1998)
Wang and P. J. Monteiro, "Corrosion Products of Reinforcing Steel and Their Effects on the Concrete Deterioration," Third CANMET/ACI International Conference on Performance of Concrete in Marine Environment, New Brunswick, Canada, August 4–9, 1996, ed. by P. K. Mehta, p. 83–97 (1996)
Wang and P. J. Monteiro, "Ice Propagation and Its Velocity in Concrete," Proceedings of the International Conference on Concrete under Severe Conditions: CONSEC'95, Sapporo, Japan, August 2–4, 1995, Vol. I, Ed. by K. Sakai, N. Banthia and O. E. Gjorv, p. 203–210 (1995)
Peer Reviewed Technical Reports
Bektas+, K. Wang, and H. Ceylan, "Effect of Portland Cement Fineness on ASTM C1260 Expansion", PCA R&D Serial No. 2693, Portland Cement Association, Skokie, IL (2007)
T. Kevern+, K. Wang, and V. R. Schaefer, "The Effect of Coarse Aggregate on the Freeze-Thaw Durability of Pervious Concrete," PCA R&D Serial No. 3063, Portland Cement Association, Skokie, IL (2007)
Books Edited or Co-Edited
Wang, Rheology of Cement Based Materials, Special Issue in the journal of ASTM Advanced Civil Engineering Materials, Dec. 2014; http://www.astm.org/BOOKSTORE/PUBS/ACEM14V3N2.htm
Wang, S. P. Shah, and K. Khayat, Guest Editors, Special Issue on Self-Consolidating Concrete, Journal of Cement and Concrete Composite, Vol. 54, Pages 1-126 (2014), http://www.sciencedirect.com/science/journal/09589465/54
Wang and G. R. Lomboy, Recent Studies on Constituent Materials of Self-consolidating Concrete, Special Issue, Journal of Sustainable Cement-Based Materials, Vol. 3, Issue 3-4, 2014, http://www.tandfonline.com/doi/abs/10.1080/21650373.2014.975428#.VFo7XMkrFyw
Wang, S. P. Shah, and K. Khayat, Editors, Proceedings of the Fifth North American Conference on the Design and Use of Self-Consolidating Concrete, Chicago, May 12-15, 2013 (122 papers)
Wang, Editor, "Recent Advancement in Concrete Freezing-thawing (F-T) Durability", West Conshohocken, PA: ASTM International, 196 pages, (2010).
Wang and Anton K. Schindler, Editor, Concrete Heat Development: Monitoring, Prediction, and Management, ACI SP-241, American Concrete Institute (ACI), Farmington Hills, MI. 145 pages (2007)
Wang, Editor, Proceedings of International Workshop on Sustainable Development and Concrete Technology, Beijing, China, May 20–22, 2004, ISBN 0-9652310-0, ISU, Ames, Iowa, 359 pages (2004)
Departments
Affiliations
Interests
Groups