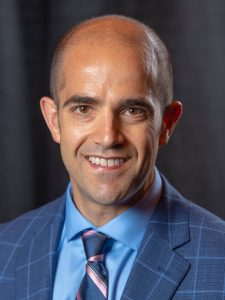 Eric William Cochran
Title(s):
Professor, Mary Jane Skogen Hagenson & Randy L. Hagenson Professor
Office
3133 Sweeney
618 Bissell Rd.
Ames, IA 50011-1098
Information
Recent Honors and Awards
| | |
| --- | --- |
| 2021 | Mary Jane Skogen Hagenson and Randy L. Hagenson Professorship |
| | Asphalt Paving Association of Iowa Innovation in Construction Award |
| | Canadian Technical Asphalt Association Elaine Thompson Editor's Award |
| | ACS PMSE Cooperative Research Award |
| 2019 | Asphalt Paving Association of Iowa Innovation in Construction Award |
| | Smart Transportation Alliance Best Innovation Project (BioRePavation) |
| | American Cleaning Institute/National Biodiesel Board (ACI/NBB) Glycerine Innovation Award |
| | ISU Award for Achievement in Intellectual Property |
Education
Ph.D. Chemical Engineering, University of Minnesota-Twin Cities, 2004
B.S. Chemical Engineering, Iowa State University, 1998
Interest Areas
My research group is interested in all things polymers! These versatile and ubiquotous materials are commonly known as resins, plastics, rubbers, adhesives, coatings, thermoplastics, and thermosets.
The global population uses over 1,000,000,000,000 pounds of these materials every year. Polymers played a major role in the industrial revolution and continue to be transformative in our daily lives. At the same time, they are made from finite resources and are quickly discarded, leading to alarming levels of waste and environmental leakage. How can we continue to enjoy the benefits of polymers while freeing ourselves of the drawbacks? Answers to these questions motivate our research directions.
Our projects innovate on how we make polymers, what we make them from, how we use them, how to make them more useful, and what to do with them at their end-of-life.
Publications
| | |
| --- | --- |
| (112) | Liu, Hengzhou; Patel, Deep; Chen, Yifu; Lee, Jungkuk; Lee, Ting-Han; Cady, Sarah; Cochran, Eric W.; Roling, Luke; Li, Wenzhen. "Unraveling Electro-Reductive Mechanisms of Biomass-Derived Aldehydes via Tailoring Interfacial Environments". ACS Catalysis, November 2022. https://doi.org/10.1021/acscatal.2c03163. |
| (111) | Kuehl, Baker; Hohmann, Austin; Lee, Ting-Han; Forrester, Michael; Hernandez, Nacu; Dietrich, Hannah; Smith, Connor; Musselman, Sam; Tran, Grayson; Cochran, Eric W. "Cavitation-Mediated Fracture Energy Dissipation in Polylactide at Thermoplastic Soybean Rubber Interfaces Formed via Reactive Extrusion". ACS Applied Materials & Interfaces, October 2022. https://doi.org/10.1021/acsami.2c10496. |
| (110) | Lee, Ting-Han; Yu, Huangchao; Forrester, Michael; Wang, Tung-ping; Shen, Liyang; Liu, Hengzhou; Li, Jingzhe; Li, Wenzhen; Kraus, George; Cochran, Eric W. "Next-Generation High-Performance Biobased Naphthalate-Modified PET for Sustainable Food Packaging Applications". Macromolecules, 55(17), 7785–7797 August 2022. https://doi.org/10.1021/acs.macromol.2c00777. |
| (109) | Staver, Maxwell; Podolsky, Joseph; Williams, R.; Pinto, Irvin; Huisman, Theodore; Forrester, Michael J.; Buss, Ashley F.; Hohmann, Austin; Cochran, Eric W. "Soybean Oil Derived Additives used in Bio-Cutback and Bio-Fog Seal Treatment for Brittle HMA". Journal of Transportation Engineering: Part B, Pavements, June 2022. https://doi.org/10.1007/s42947-022-00199-2. |
| (108) | Staver, Maxwell; Arabzadeh, Ali; Forrester Michael J.; Hohmann, Austin; Cochran, Eric W.; Williams, R. Christopher. "The Influence of Long Blending Duration on Physical and Chemical Properties of Dual Polymer Modified Asphalt Binder with Rejuvenator". Materials and Structures, 55(163), July 2022. https://doi.org/10.1617/s11527-022-02005-8. |
| (107) | Wang, Tung-ping; Shen, Liyang; Lin, Fang-Yi; Forrester, Michael; Torres, Sabrina; Robison, Thomas; Lee, Ting-Han; Goyal, Shailja; Cochran, Eric W. "Standalone Block Copolymer Nanoballoons: Decoupling Self-assembly from Implementation in Nanomanufacturing". ACS Applied Polymer Materials, 4(7), 5134–5143 June 2022. https://doi.org/10.1021/acsapm.2c00647. |
| (106) | Carter, Prerana; Trettin, James L.; Lee, Ting-Han; Forrester, Michael J.; Shanks, Brent H.; Tessonnier, Jean-Philippe; Cochran, Eric W. "A Bio-Enabled Platform to Access Polyamides With Built-In Target Properties". Journal of the American Chemical Society, 144(22), 9548–9553 May 2022. https://doi.org/10.1021/jacs.2c01397. |
| (105) | Manke, Nicholas; Williams,, R. Christopher; Sotoodeh-Nia, Zahra ; Cochran, Eric W.; Porot, Laurent ; Chailleux, Emmanuel; Pouget, Simon; Olard, Francois; Blanc, Juliette; Hornych, Pierre. "Performance of a sustainable asphalt mix incorporating high RAP content and novel bio-derived binder". Road Materials and Pavement Design, 22(4), 812–834 March 2022. https://doi.org/10.1080/14680629.2019.1643769. |
| (104) | Lee, Ting-Han; Yu, Huangchao; Forrester, Michael; Wang, Tung-ping; Shen, Liyang; Liu, Hengzhou; Li, Jingzhe; Li, Wenzhen; Kraus, George; Cochran, Eric W. "Next-Generation High-performance Bio-Based Naphthalate Food Packaging". ACS Sustainable Chemistry & Engineering, 10(8), 2624–2633 February 2022. https://doi.org/10.1021/acssuschemeng.1c06726. |
| (103) | Goyal, Shailja; Cochran, Eric W. "Cyanate ester composites to improve thermal performance: A review". Polymer International, 71(5), 583–589 January 2022. https://doi.org/10.1002/pi.6373. (Invited) |
| (102) | Dileep, Dhananjay; Forrester, Michael J.; Cochran, Eric W. "Plastic Glut down a Microbial Gut". Polymer International, January 2022. https://doi.org/10.1002/pi.6369. (Invited) |
| (101) | Staver, Maxwell; Podolsky, Joseph; Williams, R.; Hohmann, Austin; Cochran, Eric W. "At the frontline for mitigating the undesired effects of recycled asphalt: An alternative bio oil-based modification approach". Construction and Building Materials, 310(6), 125253 December 2021. https://doi.org/10.1016/j.conbuildmat.2021.125253. |
| (100) | Staver, Maxwell; Podolsky, Joseph; Williams, R.; Pinto, Irvin; Huisman, Theodore; Forrester, Michael J.; Buss, Ashley F.; Hohmann, Austin; Cochran, Eric W. "Statistical Analysis Factor Screening of Soybean Oil and Polymer Modified Asphalt Blending using Master Batching Technique". Construction and Building Materials, 313, 125435 October 2021. https://doi.org/10.1016/j.conbuildmat.2021.125435. |
| (99) | Shen, Liyang; Wang, Tung-ping; Forrester, Michael J.; Torres, Sabrina; Pearson, Connor; Cochran, Eric W. "3D printable all-polymer epoxy composites". ACS Applied Polymer Materials, 3(11), 5559–5567 October 2021. https://doi.org/10.1021/acsapm.1c00889. |
| (98) | Goyal, Shailja; Forrester, Michael; Coverdell, Danielle; Torres, Sabrina; Lee, Mark; Cochran, Eric W. "High temperature performance cyanate ester composites with carboranes". Macromolecules, 54(19), 9155–9164 August 2021. https://doi.org/10.1021/acs.macromol.1c01410. |
| (97) | Arabzadeh, Ali; Staver, Maxwell; Podolsky, Joseph; Williams, R.; Hohmann, Austin; Cochran, Eric W. "Performance Evaluation of Bioengineered Recyled Asphalt Materials". Transportation Research Record, 2676(2), 464–475 September 2021. https://doi.org/10.1177/03611981211036365. |
| (96) | Abdolmohammadi, Sanaz; Gansebom, Dustin; Goyal, Shailja; Lee, Ting-Han; Kuehl, Baker; Forrester, Michael; Lin, Fang-Yi; Hernandez, Nacu; Shanks, Brent; Tessonnier, Jean-Philippe; Cochran, Eric W. "Analysis of the Amorphous and Interphase Influence of Comononomer Loading on Polymer Properties towards Forwarding Bioadvantaged Copolyamides". Macromolecules, 54(17), 7910–7924 August 2021. https://doi.org/10.1021/acs.macromol.1c00651. |
| (95) | Goyal, Shailja; Lin, Fang-Yi; Forrester, Michael; Henrichsen , William; Murphy, Grace; Shen, Liyang; Wang, Tung-ping; Cochran, Eric W. "Glycerol ketals as building blocks for a new class of biobased (meth)acrylate polymers". ACS Sustainable Chemistry & Engineering, 9(31), 10620–10629 July 2021. https://doi.org/10.1021/acssuschemeng.1c02931. |
| (94) | Arabzadeh, Ali; Podolsky, Joseph; Staver, Maxwell; Williams, R. Christopher; Hohmann, Austin D.; Hernández, Nacú; Cochran, Eric W. "The Improvement of Thermal Cracking Resistance and Fatigue Life of RAP-Incorporated Asphalt Mixtures with the Aid of Epoxidized Methyl Soyate (EMS)". International Airfield and Highway Pavements, June 2021. https://doi.org/10.1061/9780784483510.001. |
| (93) | Cochran, Eric W. "Epoxidation in moderation brings new life to old pavements". AOCS Inform, 32(6), 12–15 June 2021. https://www.informmagazine-digital.org/informmagazine/library/item/june_2021/3919679/. (Invited) |
| (92) | Liu, Hengzhou; Lee, Ting-Han; Chen, Yifu; Cochran, Eric W.; Li, Wenzhen. "Paired and Tandem Electrochemical Conversion of 5-(Hydroxymethyl)furfural in Membrane-Electrode Assembly-Based Electrolytic Systems". ChemElectroChem, 8(15), 2817–2824 June 2021. https://doi.org/10.1002/celc.202100662. |
| (91) | Liu, Hengzhou; Lee, Ting-Han; Chen, Yifu; Cochran, Eric W.; Li, Wenzhen. "Paired Electrolysis of 5-(Hydroxymethyl)furfural in Flow Cells with High-Performance Oxide-Derived Silver Cathode". Green Chemistry, 53, 5056–5063 May 2021. https://doi.org/10.1039/D1GC00988E. |
| (90) | Luo, Yixin; Qu, Wangda; Cochran, Eric W.; Bai, Xianglan. "Enabling high-quality carbon fiber through transforming lignin into an orientable and melt-spinnable polymer". Journal of Cleaner Production, 307, 127252 May 2021. https://doi.org/10.1016/j.jclepro.2021.127252. |
| (89) | Arabzadeh, Ali; Saw, Barrie; Williams, R. Christopher; Cochran, Eric W.; Lee, Hosin. "Performance of Field Produced Rejuvenated 30% RAP Surface Mix in Northwest Iowa". Road Materials and Pavement Design, 23(6), 1451–1466 March 2021. https://doi.org/10.1080/14680629.2021.1898451. |
| (88) | Goyal, Shailja; Hernandez, Nacu; Cochran, Eric W. "Glycerol Polymers for Industrial Applications: A Review". Polymer International, 70(7), 911–917 February 2021. https://doi.org/10.1002/pi.6209. (Invited) |
| (87) | Chang, Boyce; Shen, Liyang; Cochran, Eric W.; Thuo, Martin. "Passivation-Driven Speciation, Dealloying and Purification". Materials Horizons, 8(3), 925–931 February 2021. https://doi.org/10.1039/D0MH01832E. |
| (86) | Shen, Liyang; Wang, Tung-ping; Goyal, Shailja; Torres, Sabrina; Robison, Thomas; Cochran, Eric W. "Easy-Processable and Aging-Free All-Polymer Polysiloxane Composites". ACS Applied Polymer Materials, 2(12), 5835–5844 November 2020. https://doi.org/10.1021/acsapm.0c01088. |
| (85) | Carter, Prerana; Rao; Forrester, Michael J.; Pfennig, Toni ; Shanks, Brent; Cochran, Eric W.; Tessonnier, Jean-Phillippe. "Solvent-driven isomerization of cis,cis-muconic acid for the production of specialty and performance-advantaged cyclic biobased monomers". Green Chemistry, 22, 6444 September 2020. https://doi.org/10.1039/D0GC02108C. |
| (84) | Lin, Fang-Yi; Hohmann, Austin D.; Hernandez, Nacu; Shen, Liyang; Dietrich, Hannah; Cochran, Eric W. "Self-Assembly of Poly(styrene-block-acrylated epoxidized soybean oil) Star-Brush-Like Block Copolymers". Macromolecules, 53(18), 8095–8107 August 2020. https://doi.org/10.1021/acs.macromol.0c00441. |
| (83) | Forrester, Michael; Becker, Andrew; Hohmann, Austin; Hernandez, Nacu; Lin, Fang-Yi; Bloome, Nicholas; Johnson, Grant; Dietrich, Hannah; Marcinko, Joe; Williams, R. Christopher; Cochran, Eric W. "RAFT Thermoplastics from Glycerol: A Biopolymer for Development of Sustainable Wood Adhesives". Green Chemistry, 22, 6148 August 2020. https://doi.org/10.1039/d0gc01831g. |
| (82) | Podolsky, Joseph; Sotoodeh-Nia, Zahra; Manke, Nicholas; Hohmann, Austin; Huisman, Theodore; Williams, R. Christopher; Cochran, Eric W. "Development of High RAP High Performance Thin Lift Overlay (Thinlay) Mix Design using a Soybean Oil-derived Rejuvenator". Journal of Materials in Civil Engineering, 32(6), June 2020. https://doi.org/10.1061/(ASCE)MT.1943-5533.0003203. |
| (81) | Chen, Conglin; Podolsky, Joseph H.; Hernandez, Nacu B.; Williams, R. Christopher; Cochran, Eric W. "Low Temperature Performance of Hot Mix Asphalt using Vacuum Tower Distillation Bottoms modified with Bio-derived Rejuvenators according to the Semi-circular Bend Test". International Journal of Pavement Engineering, March 2020. https://doi.org/10.1080/10298436.2020.1739284. |
| (80) | Shen, Liyang; Wang, Tung-ping; Lin, Fang-Yi; Torres, Sabrina; Robison, Thomas; Kalluru, Sri Harsha; Hernández, Nacú B.; Cochran, Eric W. "Polystyrene-block-Polydimethylsiloxane as a Potential Silica Substitute for Polysiloxane Reinforcement". ACS Macro Letters, 9(6), 781–787 February 2020. https://doi.org/10.1021/acsmacrolett.0c00211. |
| (79) | Podolsky, J.; Saw, B.; Elkashef, M.; Williams, R.C.; Cochran, Eric W. "Rheology and mix performance of rejuvenated high RAP field produced hot mix asphalt with a soybean derived rejuvenator". Road Materials and Pavement Design, 22(8), 1894–1907 January 2020. https://doi.org/10.1080/14680629.2020.1719190. |
| (78) | Podolsky, Joseph H.; Elkashef, Mohammed; Hernandéz, Nacú B.; Hohmann, Austin D.; Williams, R. Christopher; Cochran, Eric W. "Understanding improvements to low temperature rheology of stiff binders modified with epoxidized plant derived oil materials through analytical chemistry". Journal of Testing and Evaluation, 48(1), 200–210 January 2020. https://doi.org/10.1520/JTE20180900. |
| (77) | Chen, Conglin; Podolsky, Joseph H.; Hohmann, Austin D.; Williams, R. Christopher; Cochran, Eric W. "Effect of blending protocol on the performance of SBS/sulfur/soybean-derived additive composite modified hard asphalt". International Journal of Pavement Engineering, November 2019. https://doi.org/10.1080/10298436.2019.1698741. |
| (76) | Lin, Fang-Yi; Yan, Mengguo; Cochran, Eric W. "Gelation Suppression in RAFT Polymerization". Macromolecules, 52(18), 7005–7015 September 2019. https://doi.org/10.1021/acs.macromol.9b00707. |
| (75) | Sotoodeh-Nia, Zahra; Manke, Nicholas ; Williams, R. C.; Cochran, Eric W.; Porot, Laurent; Chailleux, Emmanuel. "Effect of two novel bio-based rejuvenators on the performance of 50% RAP mixes – a statistical study on the complex modulus of asphalt binders and asphalt mixtures". Road Materials and Pavement Design, 22(5), 1060–1077 August 2019. https://doi.org/10.1080/14680629.2019.1661276. |
| (74) | Manke, N.D.; Williams, R.C.; Sotoodeh-Nia, Z.; Cochran, Eric W.; Porot, P.; Chailleux, E.; Pouget, S.; Olard, F.; Jimenez Del Barco Carrion, A.; Planche, J.P.; Lo Presti, D. "Performance of a Sustainable Asphalt Mix Incorporating High RAP Content and Novel Bio-derived Binder". Road Materials and Pavement Design, 22(4), 812–834 June 2019. https://doi.org/10.1080/14680629.2019.1643769. |
| (73) | Elkashef Mohamed; Podolsky, Joseph H.; Hernandez, Nacu; Williams, R. Christopher; and Cochran, Eric W. "Using viscosity models to predict the properties of rejuvenated reclaimed asphalt pavement (RAP) binders". Road Materials and Pavement Design, 20(sup2), S767–S779 June 2019. https://doi.org/10.1080/14680629.2019.1628441. |
| (72) | Hadi, Atefe; Ryan, Bradley; Nelson, Rainie; Santra, Kalyan; Lin, Fang-Yi; Cochran, Eric W.; Panthani, Matthew. "Improving the Stability and Monodispersity of Layered Cesium Lead Iodide Perovskite Thin Films by Tuning Crystallization Dynamics". Chemistry of Materials, 31(14), 4990–4998 May 2019. https://doi.org/10.1021/acs.chemmater.9b00238. |
| (71) | Olson, Emily; Li, Yifan; Lin, Fang-Yi; Miller, Ana; Liu, Fei; Tsyrenova, Ayuna; Palm, Devinl; Curtzwiler, Greg W.; Vorst, Keith L.; Cochran, Eric W.; Jiang, Shan. "Thin Biobased Transparent UV-Blocking Coating Enabled by Nanoparticle Self-Assembly". ACS Applied Materials & Interfaces, 27(11), 24552–24559 May 2019. https://doi.org/10.1021/acsami.9b05383. |
| (70) | Gao, Yiwei; Qu, Wangda; Liu, Yang; Hu, Hui; Cochran, Eric W.; Bai, Xianglan. "Agricultural Residue-derived Lignin as the Filler of Polylactic Acid Composites and the Effect of Lignin Purity on the Composite Performance". Journal of Applied Polymer Science, 136(35), 47915 April 2019. https://doi.org/10.1002/app.47915. |
| (69) | Chen, Conglin; Podolsky, Joseph H.; Hernandez, Nacu B.; Williams, R. Christopher; Cochran, Eric W. "Effect of Bio-derived/Chemical Additives on HMA and WMA Compaction and Dynamic Modulus Performance". International Journal of Pavement Engineering, 22(5), 613–624 April 2019. https://doi.org/10.1080/10298436.2019.1631453. |
| (68) | Qu, Wangda; Huang, Yuerui; Luo, Yixin; Kalluru, Sri Harsha; Cochran, Eric W.; Forrester, Michael; Bai, Xianglan. "Controlled Radical Polymerization of Crude Lignin Bio-oil for Methacrylate Polymers and The Potential Applications". ACS Sustainable Chemistry & Engineering, 9(7), 9050–9060 April 2019. https://doi.org/10.1021/acssuschemeng.9b01597. |
| (67) | Forrester, Michael J; Bradley, Willam; Williams, R. Chris; Kraus, George; Cochran, Eric W. "Blending the Effectiveness of Anionic Polymerization with the Versitility of RAFT by use of the Atom Transfer Radical Addition-Fragmentation Technique". Macromolecular Chemie and Physics, 220(10), 1900065 March 2019. https://doi.org/10.1002/macp.201900065. |
| (66) | Podolsky, Joseph H.; Sotoodeh-Nia, Zahra; Huisman, Theodore; Williams, R. Christopher; Cochran, Eric W. "Practical Approach to Mix Design with High Binder and Aggregate Replacement in Iowa using Fractionation". Transportation Research Record, 2673(10), 571–578 January 2019. https://doi.org/10.1177/0361198119834303. |
| (65) | Hallmark, Brittany L.; Hernandez, Nacu. B.; Williams, R. Christopher; Cochran, Eric W. "Ground Tire Rubber Modification for Decreased Asphalt Separation". ACS Energy and Fuels, 33(4), 2659–2664 January 2019. https://doi.org/10.1021/acs.energyfuels.8b03558. |
| (64) | Liu, Fei; Goyal, Shailja; Forrester, Michael J.; Ma, Tao; Miller, Kyle; Zhou, Lin; Cochran, Eric W.; Jiang, Shan;. "Self-assembly of Janus Dumbbell Nanocrystals and Their Enhanced Surface Plasmon Resonance". Nano Letters, 19(3), 1587–1594 January 2019. https://doi.org/10.1021/acs.nanolett.8b04464. |
| (63) | Chen, Conglin; Podolsky, Joseph H.; Hernandez, Nacu B.; Williams, R. Christopher; Cochran, Eric W. "BioRePavation: innovation in bio-recycling of old asphalt pavements, comparison between EU and US mix design specification systems". ASTM Journal of Testing and Evaluation, November 2018. |
| (62) | Elkashef, Mohamed; Williams, R. Christopher; Cochran, Eric W. "Thermal and cold flow properties of bio-derived rejuvenators and their impact on the properties of rejuvenated asphalt binders". Thermochimica Acta, 671, 48–53 November 2018. https://doi.org/10.1016/j.tca.2018.11.011. |
| (61) | Chen, Conglin; Podolsky, Joseph H.; Hernandez, Nacu B.; Hohmann, Austin D.; Williams, R. Christopher; Cochran, Eric W. "Laboratory investigation of using acrylated epoxidized soybean oil (AESO) for asphalt modification". Construction and Building Materials, 187, 267–279 October 2018. https://doi.org/10.1016/j.conbuildmat.2018.07.204. |
| (60) | Chen, Conglin; Podolsky, Joseph H.; Williams, R. Christopher; Cochran, Eric W. "Rheological properties and effects of aging on acrylated epoxidized soybean oil (AESO) monomer modified asphalt binder". Road Materials and Pavement Design, 1–27 July 2018. https://doi.org/10.1080/14680629.2018.1491883. |
| (59) | Sotoodeh-Nia, Zahra; Hohmann, Austin D.; Buss, Ashley; Williams, R. C.; Cochran, Eric W. "Rheological and physical characterization of pressure sensitive adhesives from bio-derived block copolymers". Journal of Applied Polymer Science, 135(34), 46618 May 2018. https://doi.org/10.1002/app.46618. |
| (58) | Al-Hasan, A.; Cochran, Eric W. "Pavement Friction Modeling Using Texture Measurements and Pendulum Skid Tester". Transportation Research Record, 2672(40), 440–451 May 2018. https://doi.org/10.1177/0361198118774165. |
| (57) | Nia, Zahra S.; Hohmann, Austin D.; Buss, Ashley F.; Williams, R. Christopher; Cochran, Eric W. "Rheological and Physical Characterization of Pressure Sensitive Adhesives from Bio-Derived Block Copolymers". Journal of Applied Polymer Science, 135(34), 46618 April 2018. https://doi.org/10.1002/app.46618. |
| (56) | Yan, Mengguo; Frank, Elizabeth M.; Cochran, Eric W. "Effects of Vegetable Oil Composition on Epoxidation Kinetics and Physical Properties". Journal of the American Oil Chemists Society, 95(2), 209–216 March 2018. https://doi.org/10.1002/aocs.12014. |
| (55) | Elkashef, Mohamed; Williams, R. Christopher; Cochran, Eric W. "Investigation of fatigue and thermal cracking behavior of rejuvenated reclaimed asphalt pavement binders and mixtures". International Journal of Fatigue, 108, 90–95 March 2018. https://doi.org/10.1016/j.ijfatigue.2017.11.013. |
| (54) | Elkashef, Mohamed; Williams, R. Christopher; Cochran, Eric W. "A study of the thermal and crystallization behavior of bio-derived rejuvenators and its impact on the properties of rejuvenated asphalt binders". Journal of Thermal Analysis and Calorimetry, February 2018. https://doi.org/10.1007/s10973-017-6674-9. |
| (53) | Elkashef, Mohamed; Williams, R. Christopher; Cochran, Eric W. "Thermal stability and evolved gas analysis of rejuvenated reclaimed asphalt pavement (RAP) bitumen using thermogravimetric analysis–Fourier transform infrared (TG–FTIR)". Journal of Thermal Analysis and Calorimetry, 131(2), 865–871 February 2018. https://doi.org/10.1007/s10973-017-6674-9. |
| (52) | Elkashef, Mohamed; Williams, R. Christopher; Cochran, Eric W. "Effect of base asphalt binder grade and source on the extent of rheological changes in rejuvenated binders". Journal of Materials in Civil Engineering, 30(12), January 2018. https://doi.org/10.1061/(ASCE)MT.1943-5533.0002526. |
| (51) | Elkashef, Mohamed; Williams, R. Christopher; Cochran, Eric W. "Physical and chemical characterization of rejuvenated reclaimed asphalt pavement (RAP) binders using rheology testing and pyrolysis gas chromatography-mass spectrometry". Materials and Structures, 51(1), 12 January 2018. https://doi.org/10.1617/s11527-018-1141-z. |
| (50) | Podolsky, Joseph H.; Williams, R. Christopher; Cochran, Eric W. "Effect of Corn and Soybean Oil derived Additives on Polymer-modified HMA and WMA Master Curve Construction and Dynamic Modulus Performance". International Journal of Pavement Research and Technology, 11(6), 541–552 January 2018. https://doi.org/10.1016/j.ijprt.2018.01.002. |
| (49) | Chen, Conglin; Podolsky, Joseph H.; Hernandez, Nacu B.; Hohmann, Austin D.; Williams, R. Christopher; Cochran, Eric W. "Preliminary investigation of bioadvantaged polymers as sustainable alternatives to petroleum-derived polymers for asphalt modification". Materials and Structures, 50, 225 September 2017. https://doi.org/10.1617/s11527-017-1097-4. |
| (48) | Elkashef, Mohamed; Podolsky, Joeseph H.; Williams, R. Christopher; Cochran, Eric W. "Introducing a soybean oil derived material as a potential rejuvenator of asphalt through rheology, mix characterization, and Fourier Transform Infrared Analysis". Road Materials and Pavement Design, 19(8), 1750–1770 July 2017. https://doi.org/10.1080/14680629.2017.1345781. |
| (47) | Yan, Mengguo; Lin, Fang-Yi; Cochran, Eric W. "Dynamics of hyperbranched polymers derived from acrylated epoxidized soybean oil". Polymer, 125, 117–125 July 2017. https://doi.org/10.1016/j.polymer.2017.07.088. |
| (46) | Elkashef, Mohammed; Podolsky, Joseph H.; Williams, R. Christopher; Cochran, Eric W. "Preliminary examination of soybean oil derived material as a potential rejuvenator through Superpave criteria and asphalt bitumen rheology". Materials and Structures, 149, 826–836 September 2017. https://doi.org/10.1016/j.conbuildmat.2017.05.195. |
| (45) | Chen, Conglin; Podolsky, Joseph H.; Hernandez, Nacu B.; Hohmann, Austin D.; Williams, R. Christopher; Cochran, Eric W. "Determination of the optimum polystyrene parameters using asphalt binder modified with polystyrene-acrylated epoxidized soybean oil through response surface modeling". Road Materials and Pavement Design, 20(3), 572–591 October 2017. https://doi.org/10.1080/14680629.2017.1407354. |
| (44) | Podolsky, Joseph H.; Buss, Ashley F.; Williams, R. Christopher; Hernández, Nacú B.; Cochran, Eric W. "Rejuvenation of Vacuum Tower Bottoms through Bio-derived Materials for Use in Paving Flexible Roadways". Journal of Cleaner Production, 143, 1081–1093 February 2017. https://doi.org/10.1016/j.jclepro.2016.12.011. |
| (43) | Podolsky, Joseph H.; Buss, Ashley F.; Williams, R. Christopher; Cochran, Eric W. "Effect of Bio-derived/Chemical Additives on Warm Mix Asphalt Compaction and Mix Performance at Low Temperature". Cold Regions Science and Technology, 136, 52–61 April 2017. https://doi.org/10.1016/j.coldregions.2017.02.003. |
| (42) | Suastegui, Miguel; Matthiesen, John E.; Carraher, Jack M.; Hernandez, Nacu; Rodriguez Quiroz, Natalia; Okerlund, Adam; Cochran, Eric W.; Shao, Zengyi; Tessonnier, Jean-Philippe. "Combining Metabolic Engineering and Electrocatalysis: Application to the Production of Polyamides from Sugar". Angewandte Chemie International Edition, 55(7), 2368–2373 January 2016. https://doi.org/10.1002/anie.201509653. (Cover article). |
| (41) | Bessmann, Erik; Lo Presti, Davide; Ji menez del Barco Carrion, Ana; Porot, Laurent; Pauli, Troy; Planche, Jean-Pascal; Williams, R. Chris; Cochran, Eric W.; Ng-Puga, Ka Lai; Pouget, Simon; Olard, François; Hornych, Pierre. "Biorepavation: innovations in the recycling of asphalt pavements using bio-based materials". General Review of roads and land, 938, 44–46 August 2016. https://doi.org/10.1016/j.trpro.2016.05.427. |
| (40) | Chen, Conglin; Podolsky, Joseph H.; Hernández, Nacú B.; Hohmann, Austin; Williams, R. Christopher; Cochran, Eric W. "Use of Bioadvantaged Materials for Use in Bituminous Modification". Transportation Research Procedia, 3592–3600 April 2016. https://doi.org/10.1016/j.trpro.2016.05.427. |
| (39) | Podolsky, Joseph H.; Buss, Ashley F.; Williams, R. Christopher; Hernández, Nacú B.; Cochran, Eric W. "Effects of Aging on Rejuvenated Vacuum Tower Bottom Rheology through use of Black Diagrams, and Master Curves". Fuel, 34–44 April 2016. https://doi.org/10.1016/j.fuel.2016.07.094. |
| (38) | Yan, Mengguo; Huang, Yuerui; Lu, Mingjia; Lin, Fang-yi; Hernández, Nacú B.; Cochran, Eric W. "Gel Point Suppression in RAFT Polymerization of Pure Acrylic Cross-Linker Derived from Soybean Oil". Biomacromolecules, 17(8), 2701–2709 June 2016. https://doi.org/10.1021/acs.biomac.6b00745. |
| (37) | Wang, Shu; Xie, Renxuan; Kesava, Sameer Vajjala ; Gomez, Enrique D. ; Cochran, Eric W.; Robertson, Megan L. "Close-Packed Spherical Morphology in an ABA Triblock Copolymer Aligned with Large Amplitude Oscillatory Shear". Macromolecules, 49(13), 4875–4888 June 2016. https://doi.org/10.1021/acs.macromol.6b00505. |
| (36) | Podolsky, Joseph; Buss, Ashley; Williams, R. Christopher; Cochran, Eric W. "The Rutting and Stripping Resistance of Warm and Hot Mix Asphalt using Bio-additives". Construction and Building Materials, 112, 128–139 March 2016. https://doi.org/10.1016/j.conbuildmat.2016.02.166. |
| (35) | Podolsky, Joseph; Buss, Ashley; Williams, R. Christopher; Cochran, Eric W. "Laboratory Investigation of Warm Mix Asphalt Performance with and without select bio-derived/chemical additives in Midwestern United States using AASHTOWare Pavement ME Design". International Journal of Road Materials and Pavement Design, 18(4), 800–816 June 2016. https://doi.org/10.1080/14680629.2016.1194880. |
| (34) | Chen, Conglin; Podolsky, Joseph H.; Hernández, Nacú B.; Hohmann, Austin; Williams, R. Christopher; Cochran, Eric W. "Use of bioadvantaged materials for use in bituminous modification". Transport Research Arena, 14, 3592–3600 June 2016. https://doi.org/10.1016/j.trpro.2016.05.427. |
| (33) | Buss, Ashley; Podolsky, Joseph; Williams, R. Christopher; Cochran, Eric W. "Investigation of Isosorbide Distillation Bottoms as a Bio-Based Warm-Mix Additive". Journal of Materials in Civil Engineering, 28(3), 6856–6870 September 2015. https://doi.org/10.1061/(ASCE)MT.1943-5533.0001445. |
| (32) | Peng, Haisheng; Poovaiah, Nitya; Forrester, Michael J.; Cochran, Eric W.; Wang, Qun. "Ex Vivo Culture of Primary Intestinal Stem Cells in Collagen Gels and Foams". ACS Biomater. Sci. Eng., 1(1), 37–42 January 2015. https://doi.org/10.1021/ab500041d. |
| (31) | Peng, Haisheng; Liu, Xiaoying; Wang, Guangtian; Li, Minghui; Bratlie, Kaitlin M.; Cochran, Eric W.; Wang, Qun. "Polymeric Multifunctional Nanomaterials for Theranostics". J. Mater. Chem. B, 3(34), 6856–6870 July 2015. https://doi.org/10.1039/C5TB00617A. |
| (30) | Zhang, Chaoqun; Yan, Mengguo; Cochran, Eric W.; Michael R. Kessler. "Biorenewable polymers based on acrylated epoxidized soybean oil and methacrylated vanillin". Materials Today Communications, 5, 18–22 December 2015. https://doi.org/10.1016/j.mtcomm.2015.09.003. |
| (29) | Behling, Ross E.; Kalluru, Sri-Harsha; Cochran, Eric W. "Morphological and Mechanical Behavior Of Montmorillonite Grafted Block Copolymer Brushes". Journal of Polymer Science, Part B: Polymer Physics, 54(2), 353–361 November 2015. https://doi.org/10.1002/polb.23956. (Invited). |
| (28) | Laflamme, Simon; Saleem, Hussam S; Elkashef, Mohamed; Wang, Kejin; Cochran, Eric W. "Conductive paint-filled cement paste sensor for accelerated percolation". SPIE Proceeedings, 9437, 943722 April 2015. https://doi.org/10.1117/12.2084408. |
| (27) | Podolsky, Joseph H.; Buss, Ashley; Studer, Jesse; Williams, R. Christopher; Cochran, Eric W. "The Rutting and Stripping Resistance of Warm and Hot Mix Asphalt using Bio-additives". International Journal of Construction and Building Materials, 112(1), 128–139 October 2015. https://doi.org/10.1016/j.conbuildmat.2016.02.166. |
| (26) | Podolsky, Joeseph; Studer, Jesse; Williams, R. Christopher; Cochran, Eric W. "Low Temperature Performance of Bio-Derived/Chemical Additives in Warm Mix Asphalt". ASCE Cold Regions Engineering, 241–251 July 2015. https://doi.org/10.1061/9780784479315.022. |
| (25) | Bergman, James A.; Cochran, Eric W.; Heinen, Jennifer M. "Role of the segment distribution in the microphase separation of acrylic diblock and triblock terpolymers". Polymer, 55(16), 4206–4215 August 2014. https://doi.org/10.1016/j.polymer.2014.05.049. |
| (24) | Grewell, David; Srinivasan, Gowrishankar; Cochran, Eric W. "Depolymerization of Post-Consumer Polylactic Acid Products". Journal of Renewable Materials, 2(3), 157–165 August 2014. https://doi.org/10.7569/JRM.2014.634112. |
| (23) | Podolsky, Joseph H.; Buss, Ashley; Williams, R.Christopher; Cochran, Eric W. "Comparative performance of bio-derived/chemical additives in warm mix asphalt at low temperature". Materials and Structures, 49(2), 563–575 December 2014. https://doi.org/10.1617/s11527-014-0520-3. |
| (22) | Hernández, Nacú; Williams, R. Christopher; Cochran, Eric W. "The battle for the "green" polymer. Different approaches for biopolymer synthesis: bioadvantaged vs. bioreplacement". Organic & biomolecular chemistry, 12(18), 2834–2849 March 2014. https://doi.org/10.1039/C3OB42339E. |
| (21) | Bergman, James A.; Hernández, Nacú B.; Cochran, Eric W.; Heinen, Jennifer M. "Thermodynamics of Chain Architecture in Acrylic Block Terpolymers". Macromolecules, 47(17), 5960–5970 August 2014. https://doi.org/10.1021/ma500905n. |
| (20) | Kalluru, Sri Harsha; Cochran, Eric W. "Synthesis of Polyolefin/Layered Silicate Nanocomposites via Surface-Initiated Ring-Opening Metathesis Polymerization". Macromolecules, 46(23), 9324–9332 November 2013. https://doi.org/10.1021/ma4015406. |
| (19) | Hernández, Nacú; Benson, Calvin; Cochran, Eric W. "Thermodynamics of Symmetric Diblock Copolymers Containing Poly (styrene-ran-styrenesulfonic acid)". Macromolecules, 46(1), 179–187 December 2012. https://doi.org/10.1021/ma301228v. |
| (18) | Kim, Seung Ha; Cochran, Eric W. "Localization of spherical nanoparticles within lamellar AB diblock copolymer melts through self-consistent field theory". Polymer, 52(10), 2328–2339 March 2011. https://doi.org/10.1016/j.polymer.2011.03.016. |
| (17) | Mishra, Vindhya; Hur, Su-mi; Cochran, Eric W.; Stein, Gila E.; Fredrickson, Glenn H.; Kramer, Edward J. "Symmetry transition in thin films of diblock copolymer/homopolymer blends". Macromolecules, 43(4), 1942–1949 January 2010. https://doi.org/10.1021/ma901891b. |
| (16) | Behling, Ross E.; Wolf, Lynn M.; Cochran, Eric W. "Hierarchically ordered montmorillonite block copolymer brushes". Macromolecules, 43(5), 2111–2114 February 2010. https://doi.org/10.1021/ma902357s. |
| (15) | Behling, Ross E.; Williams, Bryce A.; Staade, Brandy L.; Wolf, Lynn M.; Cochran, Eric W. "Influence of graft density on kinetics of surface-initiated ATRP of polystyrene from montmorillonite". Macromolecules, 42(6), 1867–1872 February 2009. https://doi.org/10.1021/ma8024909. |
| (14) | Stein, G. E.; Cochran, Eric W.; Katsov, K.; Fredrickson, G. H.; Kramer, E. J.; Li, X.; Wang, J. "Symmetry breaking of in-plane order in confined copolymer mesophases". Physical review letters, 98(15), 158302 April 2007. https://doi.org/10.1103/PhysRevLett.98.158302. |
| (13) | Behling, Ross E.; Cochran, Eric W. "Novel synthesis of hierarchically structured block copolymer/layered silicate nanocomposites". Polymer Preprints, 48(2), 427 May 2007. |
| (12) | Hotta, Atsushi; Cochran, Eric W.; Ruokolainen, Janne; Khanna, Vikram; Fredrickson, Glenn H.; Kramer, Edward J.; Shin, Yong-Woo; Shimizu, Fumihiko; Cherian, Anna E.; Hustad, Phillip D.; Rose, Jeffrey M.; Coates, Geoffrey W. "Semicrystalline thermoplastic elastomeric polyolefins: Advances through catalyst development and macromolecular design". Proceedings of the National Academy of Sciences, 103(42), 15327–15332 October 2006. https://doi.org/10.1073/pnas.0602894103. |
| (11) | Khanna, V.; Cochran, Eric W.; Hexemer, A.; Stein, G. E.; Fredrickson, G. H.; Kramer, E. J.; Li, X.; Wang, J.; Hahn, S. F. "Effect of chain architecture and surface energies on the ordering behavior of lamellar and cylinder forming block copolymers". Macromolecules, 39(26), 9346–9356 December 2006. https://doi.org/10.1021/ma0609228. |
| (10) | Cochran, Eric W.; Garcia-Cervera, Carlos J.; Fredrickson, Glenn H. "Stability of the Gyroid Phase in Diblock Copolymers at Strong Segregation. Volume 39, Number 7, March, 14, 2006, pp 2449-2451.". Macromolecules, 39(12), 4264–4264 May 2006. https://doi.org/10.1021/ma060970s. |
| (9) | Cochran, Eric W.; Garcia-Cervera, Carlos J.; Fredrickson, Glenn H. "Stability of the gyroid phase in diblock copolymers at strong segregation". Macromolecules, 39(7), 2449–2451 March 2006. https://doi.org/10.1021/ma0527707. |
| (8) | Hammond, Matthew R.; Cochran, Eric W.; Fredrickson, Glenn H.; Kramer, Edward J. "Temperature Dependence of Order, Disorder, and Defects in Laterally Confined Diblock Copolymer Cylinder Monolayers". Macromolecules, 38(15), 6575–6585 July 2005. https://doi.org/10.1021/ma050479l. |
| (7) | Cochran, Eric W.; Bates, Frank S. "Shear-Induced Network-to-Network Transition in a Block Copolymer Melt". Phys. Rev. Lett., 93(8), 87802 August 2004. https://doi.org/10.1103/PhysRevLett.93.087802. |
| (6) | Wu, Lifeng; Cochran, Eric W.; Lodge, Timothy P.; Bates, Frank S. "Consequences of block number on the order-disorder transition and viscoelastic properties of linear (AB) n multiblock copolymers". Macromolecules, 37(9), 3360–3368 April 2004. https://doi.org/10.1021/ma035583m. |
| (5) | Epps, Thomas H.; Cochran, Eric W.; Hardy, Cordell M.; Bailey, Travis S.; Waletzko, Ryan S.; Bates, Frank S. "Network phases in ABC triblock copolymers". Macromolecules, 37(19), 7085–7088 August 2004. https://doi.org/10.1021/ma0493426. |
| (4) | Epps, Thomas H.; Cochran, Eric W.; Bailey, Travis S.; Waletzko, Ryan S.; Hardy, Cordell M.; Bates, Frank S. "Ordered network phases in linear poly (isoprene-b-styrene-b-ethylene oxide) triblock copolymers". Macromolecules, 37(22), 8325–8341 October 2004. https://doi.org/10.1021/ma048762s. |
| (3) | Cochran, Eric W.; Morse, David C.; Bates, Frank S. "Design of ABC triblock copolymers near the ODT with the random phase approximation". Macromolecules, 36(3), 782–792 January 2003. https://doi.org/10.1021/ma020651a. |
| (2) | Cochran, Eric W.; Bates, Frank S. "Thermodynamic behavior of poly (cyclohexylethylene) in polyolefin diblock copolymers". Macromolecules, 35(19), 7368–7374 August 2002. https://doi.org/10.1021/ma020227%2B. |
| (1) | Cramer, Christopher J.; Kormos, Bethany L.; Winget, Paul; Audette, Vanessa M.; Beebe, Jeremy M.; Brauer, Carolyn S.; Burdick, W. Russ; Cochran, Eric W.; Eklov, Brian L.; Giese, Timothy J.; others. "A Cooperative Molecular Modeling Exercise—The Hypersurface as Classroom". Journal of Chemical Education, 78(9), 1202 September 2001. https://doi.org/10.1021/ed078p1202. |
Departments
Affiliations
Interests