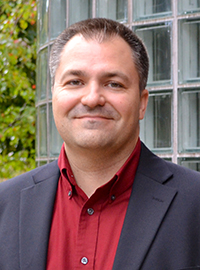 Christian (Cris) Schwartz
Title(s):
Professor
Mechanical Engineering
Director of Undergraduate Education
Office
2024 Black Engr.
2529 Union Dr.
Ames, IA 500112030
Information
Links
Prior to his current appointment, Cris was an Assistant Professor in the Mechanical Engineering Department at Texas A&M University in College Station and was granted tenure before joining ISU in 2012. He currently leads the Surface Sciences research group which focuses on issues that link biology, tribology, and design. This includes extensive work with the friction and wear of polymers, orthopaedic biomaterials, tactility of polymer materials, and skin tribology. He has a special focus on using skin tribology investigation to improve tactual assistive technologies for persons with blindness or other visual impairment. He is a licensed professional engineer and an active engineering consultant. Before his academic career, Cris was a research engineer at Southwest Research Institute® (SwRI®) in San Antonio, Texas from 1998 to 2003, where he served as a project manager, mechanical designer, and technical investigator, while being a named inventor on three U.S. patents. Among his past industry projects is work on the non-lethal Mobility Denial System for the U.S. Department of Defense and the design of ultrasonic inspection hardware for military aircraft. He has taught in the areas of materials science, mechanics, statistics, tribology, and engineering design and has been recognized for his classroom efforts with the Student Led Award for Teaching Excellence (SLATE) and the Peggy L. and Charles L. Brittan '65 Teaching Award for Outstanding Undergraduate Teaching.
Education
PhD, Mechanical Engineering, Iowa State University, 2006
MS, Mechanical Engineering, Iowa State University, 1998
BS, Mechanical Engineering, Iowa State University, 1996
Experience
Licensed Professional Engineer
State of Iowa, License No. 16967
State of Texas, License No. 90291 (inactive status)
Southwest Research Institute
Senior Research Engineer, 2002-2003
Research Engineer, 1998-2002
Interest Areas
Education
Solid Mechanics
Engineering Design
Kinematics
Criteria-based assessment and grading
Engaging visually impaired students in STEM topics
Research
Tribology (friction and wear) of biological materials
Polymer tribology
Haptics and Tactility
Tactual assistive technology for the blind and visually impaired
Biomedical implant design and testing
Departments
Affiliations
Interests