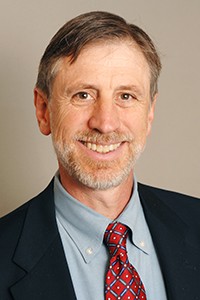 Charles Jahren
Title(s):
Morrill Professor [CCE E]
Associate Chair, CCEE Department
Office
458 Town Engr
813 Bissell Rd
Ames, IA 50011-1066
Information
Charles T. Jahren is the associate chair for Iowa State University's Construction Engineering Program, housed by the university's civil, construction and environmental engineering department. He earned his bachelor's degree in civil engineering (1977) and his master's in business administration (1982) from the University of Minnesota. He went on to earn his doctorate in civil engineering (1987) from Purdue University. He has more than six years of industrial experience as a bridge construction project engineer and as a research engineer. His research interests include the use of advance technologies to improve learning, electronic data exchange in design and construction, construction process improvement and road and maintenance and rehabilitation. His teaching interests include construction process design, construction equipment and cost estimating.
---
Honors and Awards
Richard R. Torrens Award for Exemplary Performance as an American Society of Civil Engineers journal or practice periodical editor, 2011
ISU Award for Outstanding Achievement in Teaching, 2009
Learning Community Outstanding Innovation Award for the Cornerstone Learning Community, from Iowa State University, 2008
Charles W. Schafer Award for Excellence in Teaching, Research, and Service in the Department of Civil and Construction Engineering at Iowa State University, 2000
Education
Ph.D. Civil Engineering (Specialization in Construction), Purdue University, 1987
MBA, University of Minnesota, 1982
B.S. Civil Engineering, University of Minnesota, 1977
Interest Areas
Use of advanced technologies to improve learning
Electronic data exchange in design and construction
Construction process improvement
Highway and road maintenance and rehabilitation
Teaching construction equipment and construction process design
Departments
Affiliations
Interests
Groups