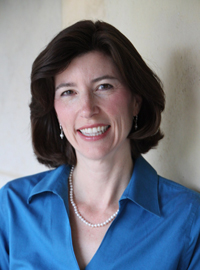 Leslie Potter
Title(s):
Teaching Professor
Industrial & Manufacturing Systems Engineering
Office
3012 Black Engr
2529 Union Dr
Ames, IA 50011-2030
Information
Links
Education
MS, Industrial and Manufacturing Engineering (Emphasis in Manufacturing), Penn State University, 1996
BS (with distinction), Industrial and Manufacturing Systems Engineering, Iowa State University, 1991
Interest Areas
Leslie A. Potter is a Teaching Professor in the Industrial and Manufacturing Systems Engineering Department at Iowa State University (ISU) in Ames, Iowa. She earned her M.S. in IE from Penn State and worked at John Deere from 1991-1998 before joining academia. After thirteen years of teaching IE441 (Capstone Design), she currently teaches first- and second-year courses including IE101 (Introduction to Industrial Engineering), IE148 (Information Engineering), and IE222 (Process Improvements). She has been recognized with multiple teaching awards at the university, state, and national level. She has presented numerous papers on engineering education topics such as accreditation, technical communication, teaching pedagogy, and course-based undergraduate research.
Publications
Potter L, Stone R, and D Popejoy-Sheriff, "Increasing Graduate School Enrollment of Female Industrial Engineers through CUREs,"Proceedings of the ASEE Annual Conference, Tampa, Florida (2019). (Presented – Potter)
Potter L, Raje S, Oftedal J, Okudan Kremer G, Bastias A, Molenaar K, Madson K, and B Franz, "Developing a TRIZ-based Design for Flexibility Tool for Manufacturing Facilities," Proceedings of the IISE Annual Conference, Orlando, Florida (2019). (Presented – Raje)
Potter L, Okudan Kremer G, Scallon J, Swegle D, and T Gould, "Establishing a Link between Electrodermal Activity and Classroom Engagement," Proceedings of the IISE Annual Conference, Orlando, Florida (2019). (Presented – Scallon)
Gregory S, Bastias A, Molenaar K, Madson K, Franz B, Potter L, and G Kremer, "Assessing the Influence of Manufacturing Flexibility on Facility Construction Costs," Proceedings of the IISE Annual Conference, Orlando, Florida (2019). (Presented – Madson)
Jacobson B, Dorneich M, and L Potter, "Impact of Lecture Video Acceleration in a Flipped Introductory Engineering Course," The International Journal of Engineering Education, Vol. 34, Number 6, 1863-1875 (2018).
Fyock A, Potter L, Stone R, and D Popejoy-Sheriff, "Filling the Graduate Pipeline Via Course-Based Undergraduate Research Experiences (CUREs)," Proceedings of the IISE Annual Conference, Orlando, Florida (2018). (Presented – Potter)
Potter L, Fyock A, Stone R, and D Popejoy-Sheriff, "Implementing a Course-Based Undergraduate Research Experience (CURE) into an IE Curriculum," Proceedings of the 2018 ASEE Annual Conference, Salt Lake City, Utah (2018). (Presented – Stone)
Potter L and D Popejoy-Sheriff, "Comparing Assistantship vs. Course-Based Undergraduate Research Opportunities," Proceedings of the IISE Annual Conference, Pittsburgh, Pennsylvania (2017). (Presented – Potter)
Potter L and B Jacobson, "Lessons Learned from Flipping a First-Year Industrial Engineering Course," Proceedings of the IISE Annual Conference, Nashville, Tennessee (2015). (Presented – Jacobson)
L Potter, "Using Industry to Drive Continuous Improvement in Capstone Design," Proceedings of the Capstone Design Conference, Champagne-Urbana, Illinois (2012). (Presented – Potter)
Peters F, Potter L, and K J Min, "Developing Students' Understanding of Global Issues through Lean Manufacturing," Proceedings of the 38th ASEE/IEEE Frontiers in Education Conference, Saratoga Springs, New York (2008). (Presented – Potter)
Potter L, Jackman J, Min K J, and M Search, "A New Engineering Communications Course Based on a Professional Communications Process," Proceedings of the 2008 ASEE National Conference, Pittsburgh, Pennsylvania (2008). (Presented – Potter)
Potter, L, Jackman J, Min K J, and M Search, "Integrating Communication and Engineering Skills in an Industrial Engineering Curriculum Based on Outcome Assessment Results," Proceedings of the Institute of Industrial Engineers IERC 2008, Vancouver, British Columbia (2008). (Presented – Potter)
Potter L, Min K J, and F Peters, "Effecting Improvement in an Industrial Engineering Program by Applying Outcome Assessment Results," Proceedings of the 2007 ASEE National Conference, Honolulu, Hawaii (2007). (Presented – Potter)
Potter L, Daniel S, Popejoy-Sheriff D, and K J Min, "ABET Outcome Assessment and Improvement through the Capstone Design Course in an Industrial Engineering Curriculum," Proceedings of the 2006 ASEE National Conference, Chicago, Illinois (2006).  (Presented – Potter)
Potter, L and K J Min, "ABET Outcome Assessment in an Industrial Engineering Capstone Design Course," Proceedings of the 2005 ASEE North Midwest Regional Conference, Brookings, South Dakota (2005). (Presented – Potter).
Karve A, Voigt R, and L Potter, "Use of Measurement Equipment for Casting Dimensional Inspection," AFS Transactions, 971-979 (1997).
Potter L, Voigt R, Peters F, Lies J, and M Chandra, "A Statistically Based Pattern Approval Process," AFS Transactions, Vol 104, 410-421 (1996).
Potter L, Voigt R, and F Peters, "A Preliminary Analysis of the Influence of Casting Feature Variables and Measurement Instruments on the Repeatability of Casting Feature Dimensions," Proceedings of the 1995 Steel Founders' Society of America Technical and Operating Conference, Chicago, Illinois (1995). (Presented – Potter)
Peters F, Voigt R, Potter L, and E DeMeter, "Dimensional Repeatability of Steel Castings:  An Update," Proceedings of the 1995 Steel Founders' Society of America Technical Operating Conference, Chicago, Illinois (1995).  (Presented – Peters)
Departments
Affiliations
Interests