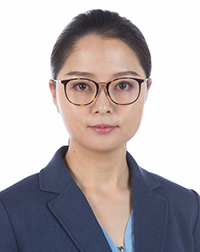 Juan Ren
Title(s):
Associate Professor
Mechanical Engineering
Office
2030 Black Engr.
2529 Union Dr.
Ames, IA 500112030
Information
Education
PhD, Mechanical Engineering, Rutgers University, 2015
BS, Mechanical Engineering, Xi'an Jiaotong University, 2009
Interest Areas
Nanoscale probe-based broadband biomechanics characterization
High-speed imaging and broad-band viscoelasticity spectroscopy of soft and biological materials
System-inversion based feedforward-feedback control, optimal control, and iterative control theory and implementation to nanotechnology
Publications
Ren, J., Huang, H., Zheng, X., and Zou, Q. , "Study of the Effects of Anticancer Drugs on the Rate-dependent Elastic Modulus of Human Prostate Cancer Cell using Atomic Force Microscope", PLOS ONE, 10(5): e0126107.
Ren, J., and Zou, Q., "High-Speed Adaptive Contact-Mode Atomic Force Microscopy Imaging with Near-Minimum-Force", Review of Scientific Instruments, 85(7), 073706, 2014.
Ren, J., Zou, Q. , Li, B., and Lin, Z., "High-speed atomic force microscope imaging: Adaptive multiloop mode", Physical Review E, 90(1), 012405, 2014.
Ren, J., and Zou, Q. , "A Control-based Approach to Accurate Nanoindentation Quantication in Broadband Nanomechanical Measurement using Scanning Probe Microscope", IEEE Transactions on Nanotechnology, 13(1), 46 – 54, 2014.
Ren, J., Yu, S., Gao, N., and Zou, Q., "Indentation quantication for in-liquid nanomechanical measurement of soft material using an atomic force microscope: Rate-dependent elastic modulus of live cells", Physical Review E, 88(5), 052711, 2013.
Ren, J., Mousavi, A., Li, X., Zou, Q., Erina, N., and Su, C., "Enhanced measurement of broad-band nanomechanical property of polymers using atomic force microscope", Applied Physics Letters, 102(18), 183116, 2013.
Departments
Affiliations
Interests