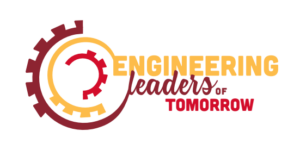 Welcome Students!
Whether you are just starting at Iowa State and looking for ways to jump-start your college career or getting close to graduation, Engineering Leaders of Tomorrow Conference is a great way to drive you closer to your professional goals. With the ability to cultivate your leadership style, network with leading engineering professionals, and grow closer to becoming the best leader you can be in the professional world, Engineering Leaders of Tomorrow is the new best tool to help achieve your long-term life goals.
The Conference will last two days with the first day being an all-expense paid dinner, with a leader in the engineering field address their reasons for success and how you can be successful in your perspective engineering discipline. The second day will consist of staff, students, and company led sessions with varying topics that you will be able to pick and choose from to target your specific interests.
Registration fee is $20, which includes dinner on Friday night, lunch on Saturday, a conference t-shirt and notebook and an invaluable amount of programming on Friday and Saturday.
Check back in Spring to register for the 2018 conference!!