ENGINEERING LEADERS OF TOMORROW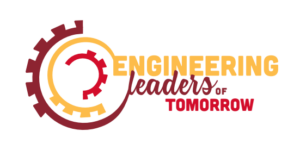 Welcome students, faculty, staff, and sponsors! Engineering Leaders of Tomorrow is a new leadership conference for the students in the College of Engineering at Iowa State University. This conference will focus on developing students in four ways:
Professional Development

 

Leadership in the everyday world

Preparing for future careers

Diversity and inclusion
This conference is a collaborative effort between five student organizations within The College of Engineering: Emerging Leaders in Engineering, Engineering Student Council, Alpha Sigma Kappa, Society of Women in Engineering, and Triangle Fraternity. This conference will be held on September 15th-16th in the Scheman Building.  The registration fee is $20 and is non-refundable.  The $20 registration fee includes dinner on Friday night, lunch on Saturday, a conference t-shirt and notebook and an invaluable amount of programming on Friday and Saturday.

Registration is now closed. Come back in Spring to register for the 2018 conference!!
Sponsors interested in sponsoring this conference can find more information above under the "Sponsorship Information" tab. If you have any questions, please contact our finance committee at elt.finance@iastate.edu