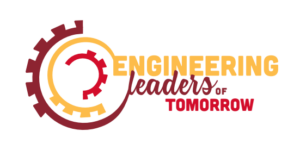 Greetings Sponsor,
The members of the Engineering Leaders of Tomorrow (ELT) Executive Team would like to cordially invite you to contribute to Iowa State University's Engineering Leadership Conference. The Iowa State University College of Engineering will be hosting the 2018 ELT conference on September 28th — 29th, 2018 at the Iowa State Center Scheman Building. This event is intended to further develop and educate our engineering community so that our students can become leaders in the classroom, in the community, and in their future workplace.  Student learning and development will occur through four topic areas: Professional Development, Diversity & Inclusion, Planning for Future Careers, and Leadership in the Everyday World.  Additionally, the purpose of the conference is rooted in education and preparation for engineering career fairs.
The estimated 200 — 300 students attending will also have the opportunity to participate in resume review sessions, professional pictures for LinkedIn, and receive advice from industry recruiters.  The students organizing this conference represent prominent organizations within our community.  These organizations are Engineering Student Council, Emerging Leaders in Engineering, Society of Women Engineers, and Triangle Fraternity. Executive members of the College of Engineering have committed to support a successful conference for the college. We invite you to join us to make this conference a success!
This conference will include keynote speakers from companies  and breakout sessions following specific tracks, geared towards students, to help them gain and enhance their leadership skills and expand their professional network. We hope that this conference acts as a springboard for students to get involved and take on leadership roles within the Iowa State community and other professional organizations. To support Engineering Leaders of Tomorrow conference, we invite you to sponsor our activities at one of these four levels:
Gold: $4,000
Silver: $2,000
Bronze: $1,000
Cardinal: $500
An explanation of the various sponsorship levels can be found under "Sponsorship Benefits and Opportunities" at the top of this page. Your donation, a portion of which may be tax deductible, will ensure a successful and inspiring conference that will help develop students personally, academically, and professionally in order to improve their skills as the leaders of tomorrow.
We hope you will join us in creating a program to help groom the current and future leaders of the Iowa State Engineering community.
Sincerely
Joshua Bump and Ty Sandene, Directors of Corporate Relations
Engineering Leaders of Tomorrow Leadership Conference
Iowa State University
*This is a non-recruitment event