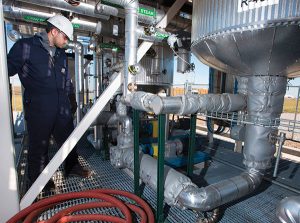 Researchers scale-up plans to use soybean oil to produce bio-polymers
A new Bio-Polymer Processing Facility located at Iowa State University's BioCentury Research Farm gives researchers a broader understanding of what it would take to commercialize bio-polymers so they can be added to materials like asphalt.
Eric Cochran, associate professor of chemical and biological engineering, and Chris Williams, the Gerald and Audrey Olson Professor of civil, construction and environmental engineering, have been working together since 2010 to develop bio-polymers with soybean oil.
The professors originally set out to create a soybean based styrene-butadiene rubber. Early in their research, a member of Cochran's team figured out how to polymerize soybean oil into a thermoplastic. "A thermoplastic can be solid at room temperature, but if you heat it up you can make new shapes or dissolve it into another material such as asphalt. This is something that has not been feasible until now," Cochran says.
Using the fundamental Flory-Stockmayer theory, the team can predict when a polymer system will gel. "The gelation is the point in which the individual polymer chains connect and form a giant molecule," explains Cochran. "The goal is to stop the process right before the gelation point to achieve a thermoplastic."
Discovering thermoplastics has fueled several projects over the years, including working with Argo Genesis Chemical LLC, a sister company to Seneca Petroleum Co. Inc., of Crestwood, Illinois. Williams, who manages the Institute for Transportation's Asphalt Materials and Pavements Program, has partnered with Seneca for more than 20 years. He says the shared knowledge and resource has led to significant advancements.
The partnership also made the Bio-Polymer Processing Facility at Iowa State a reality. Argo Genesis Chemical built the pilot plant and turned it over to Iowa State last summer.
The plant, which was designed specifically to produce bio-polymers from soybean oil, contains several industrial tanks all connected through a series of tubes, pipes, wires and hoses. The sensors on the equipment must be extremely precise due to the sensitivity of the polymer and chemicals involved.
Cochran and Williams are working to get enough of the polymer into asphalt so it can be viable as an asphalt modifier, resulting in a more sustainable approach to paving roadways.