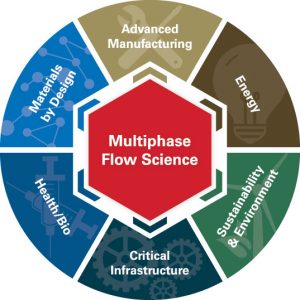 A cohesive group of researchers at Iowa State has joined together to accelerate discoveries in multiphase flow science and their transfer to industry.
The group known as CoMFRE initially started out in 2002 as an informal way for faculty to share insights about related research projects. Now, the team is more formally organized with a mission to bring ideas together to make computational and experimental multiphase flow research more cohesive and connected.
Shankar Subramaniam, professor of mechanical engineering, and Rodney Fox, distinguished professor in chemical and biological engineering, lead the group of 18 faculty members who make up CoMFRE. The group also collaborates with a number of experts in industry, academia and national laboratories.
Subramaniam says having a large number of faculty and experts involved has helped the group expand its impact. "We aren't working on just one problem. We're working on a set of techniques that can be rapidly realigned to various problems. I anticipate that over the next 20-25 years we can continuously reinvent ourselves to solve whatever the hard multiphase flow problem of the day happens to be."
One major initiative within CoMFRE is biofuels. As biomass, such as corn stover, is heated to create fuel, multiphase flow researchers can analyze how changes in the composition of biomass and flow impact the reaction.
The team develops simulations of biomass reactors, analyzes computational data gathered during the process, and evaluates the economics of the facilities used to generate biomass and biofuels, effectively performing an entire life-cycle analysis that focuses on efficiency and sustainability.
"From a computational perspective, all of our work involves a variety of statistical and mathematical methods and visualization," Subramaniam says. "While it's relatively easy to compute large amounts of data, we take our research beyond information. We provide insight into the processes occurring and look for answers to research questions."
As the long-term applications and science research being developed under the umbrella of CoMFRE continues to grow, Subramaniam says the group's industry outreach will also expand. CoMFRE facilitates training, seminar and networking opportunities for industry collaborators, where the group shares rich knowledge and diverse expertise to advance research in the multiphase flow field.
Collaborators come from a variety of industries including energy, healthcare, materials design, advanced manufacturing, sustainability and infrastructure.
The team also incorporates training and workforce development for graduate students, providing them with skills that can be applied across industries to investigate multiple challenges. CoMFRE is even proposing to break away from the traditional Ph.D. structure to act as more of a learning community, where graduate students work with peer groups and a whole group of faculty members acting as advisers. In addition to refining their technical skills, the students will be trained on entrepreneurship, which would prepare them to adapt to changes that can occur in the research landscape over time.
"We want our graduates to be cognizant of how to connect their work to societal issues," Subramaniam says. "We think we've set up CoMFRE to prepare these students to be industry leaders while we also make advancements in our research."