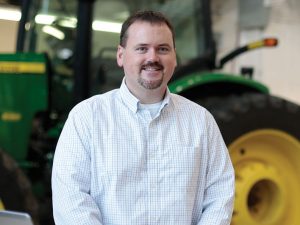 Advanced ag machinery technology developed at ISU transfers to industry
Matthew Darr's research group strives to make an impact that extends knowledge and scientific development to the marketplace. "Seeing our results ported out to the public sector where we're able to help agricultural producers with intelligent technologies — that's our 'why,'" he says.
Darr, an associate professor in agricultural and biosystems engineering, runs an industry-focused research program at Iowa State, working on innovations in the agricultural equipment and agricultural automation sectors.
"We've developed strong relationships with industry partners, which helps us better understand their needs. We then focus our research on addressing applied research questions through targeted applications of advanced technology, science and innovation," he says.
Much of the group's work is data driven, with researchers working to both collect and analyze complex data from a range of agricultural systems. Darr says analysis of vehicle sensor networks has become a focal point for the group's research.
The team develops algorithms for sensors used within agricultural equipment for a range of purposes and then works with industry partners to get that intelligence integrated into a commercial product.
Because the agricultural field relies heavily on telematics to gather data, Darr's group creates hardware and software solutions that integrate the process. One such project involved assessing the logistics behind cellulosic ethanol supply chains in the Midwest. Industry partners used technology from Darr's team to gather data and then made informed changes to how the plants operate, saving time and money.
Another area Darr is exploring is unmanned aerial vehicles, which involves remote sensing with UAVs. "We are utilizing this technology to acquire plant health indicators for individual plants.  This allows us to create a quality index that is used to adapt farming operations and make decisions related to crop production," he explains. "The data from these UAVs can help producers make decisions about everything from water management to fertilizer application."
While most of the group's work has a significant impact in the Midwest, Darr says there's an international component to the team. Test research of the group's technologies happens on four continents every year, something Darr says provides the group with a greater understanding of how technology could help in the less developed ag markets.
The team's successful approach in partnering with industry to create transferrable technology is an accomplishment in and of itself. Thanks to Iowa State's land-grant mission, the university has flexible options for industry partners that address intellectual property concerns and facilitate the process for all parties involved.
He adds that diversity in the research group, which includes computer scientists, researchers from a number of engineering disciplines, ag technologists and students, gives the team a broad perspective for approaching problems.
The team's work recently contributed to three innovation Silver Medal awards at AGRITECHNICA 2015, a global showcase of ag machinery in Hannover, Germany. The award-winning innovations, which were developed at Iowa State University and licensed to John Deere, involved the operation of harvesting equipment.
"When we see the value our work creates for producers, we know we're making contributions to the agricultural industry," Darr says. "Iowa State creates an environment where this is possible, and we are able to make a difference because of it."