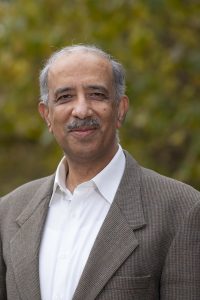 Ashfaq Khokhar
Title(s):
Professor & Palmer Department Chair
Office
2215 Coover
2520 Osborn Dr.
Ames, IA 500111046
Information
Links
Dr. Khokhar previously served as Chair and Professor in the Department of Electrical and Computer Engineering at the Illinois Institute of Technology in Chicago, Illinois. He has also served as Professor and Director of Graduate Studies in the Department of Electrical and Computer Engineering at the University of Illinois, Chicago. Dr. Khokhar has received various types of scholarly recognition and awards, including the NSF CAREER Award in 1998 for his work on multi-threaded algorithms for multimedia applications. In 1996, he won an Outstanding Paper Award for his presentation at the International Conference on Parallel Processing. He has served as associate editor on the editorial board of numerous journals. Khokhar was elected an Institute of Electrical and Electronics Engineers (IEEE) Fellow in 2009 for his work on multimedia computing and databases, and he is a member of the Honor's Society Phi Kappa Phi.
Education
Dr. Khokhar earned his bachelor's degree in electrical engineering from the University of Engineering and Technology in Lahore, Pakistan; his master's degree in computer engineering from Syracuse University; and his Ph.D. in computer engineering from the University of Southern California.
Interest Areas
Dr. Khokhar's research spans multiple area including: context-aware Device-to-Device communication; Internet of Things (IoTs), machine leaning and healthcare; computational biology; content-based multimedia data modeling, retrieval and communication; hardware efficient implementation; and high-performance computing. He is considered a leading expert in the area of high-performance solutions for multimedia applications, especially those that are data or communication intensive. He has contributed to five edited volumes and co-authored nine book chapters, 81 publications in archival journals, and 194 refereed conference papers. His research has been supported by National Science Foundation (including NSF Career Award), National Institutes of Health, United States Army, the Department of Homeland Security, and the Air Force Office of Scientific Research.
Publications
Google Scholar Profile: https://scholar.google.com/citations?user=EWnVKwIAAAAJ&hl=en
F. Zhou, Z. Wen, C. Li, T. Zhong, G. Trajcevski, and A. Khokhar, "Uncertainty-Aware Network Alignment" International Journal of Intelligent Systems, 2021. (accepted to appear)
C. Titouna, F. Nait-Abdesselam, and A. Khokhar, "Statistical-based Approach for Outlier Detection in Wireless Sensor Networks," Int. J. of Networking and Security, 2021.
F. Zhou, Q. Yang, K. Zhang, G. Trajcevski, T. Zhong, A. Khokhar, "Reinforced Spatiotemporal Attentive Graph Neural Networks for Traffic Forecasting," IEEE Internet Things J. 7(7): 6414-6428, 2020.
Y. Keshtkarjahromi, H. Seferoglu, R. Ansari, A. Khokhar, "Device-to-Device Networking Meets Cellular via Network Coding," IEEE/ACM Transactions on Networking, Vol. PP(99), pp. 1-14, 2018.
U. Cheema, G. Nash, R. Ansari, A. Khokhar, "Memory-optimized Re-gridding Architecture for Non-Uniform Fast Fourier Transform," IEEE Transactions on Circuits and Systems I, Vol. 64 (7), pp. 1853 – 1864, 2017.
X. Xu, R. Ansari, A. Khokhar, "Parallel Nonuniform Discrete Fourier Transform (P-NDFT) Over a Random Wireless Sensor Network," IEEE Transactions on Parallel and Distributed Systems, Vol. PP(99), 2017.
J. Johnson, MK. Lodhi, U. Cheema, J. Stifter, K. Dunn-Lopez, Y. Yao, G. Keenan, R. Ansari, A. Khokhar, D. Wilkie, "Outcomes for End-of-Life Patients with Anticipatory Grieving: Insights from Practice with Standardized Nursing Terminologies within an Interoperable Internet-based Electronic Health Record," Journal of Hospice & Palliative Care Nursing, 2017.
A. Khokhar, M.K. Lodhi, Y. Yao, R. Ansari, G. Keenan, D. Wilkie, "Framework for Mining and Analysis of Standardized Nursing Care Plan Data," Western Journal of Nursing Research, Vol. 39(1), pp. 20-41, 2017.
F. Zhou, G. Trajcevski, R. Tamassia, A. Khokhar and P. Scheuermann: Deflection-Aware Tracking Principals Selection in Active Wireless Sensor Networks. IEEE Transactions on Vehicular Technology (IEEE-TVT), Vol. 61(7): 3240-3254, 2012.
F. Saeed, A. Khokhar, and T. Wolf-Berger, "High Performance Multiple Sequence Alignment System for Pyrosequencing Reads from Multiple Reference Genomes," Journal o Parallel and Distributed Computing (JPDC), in press, August, 2011.
S. Ababneh, R. Ansari, and A. Khokhar, "Compensated Signature Embedding for Multimedia Content Authentication," ACM, Journal of Data and Information Quality, Vol. 1 No. 3, pp. 17:1-17:20, 2009.
F.I. Bashir, A.A. Khokhar, and D. Schonfeld, "Object Trajectory based Activity Classification and Recognition using Hidden Markov Models," IEEE Transactions on Image Processing, Vol. 16, pp. 1912-1919, 2007.
F. Bashir, A.A. Khokhar, and D. Schonfeld, "Real-time Motion Trajectory-based Indexing and Retrieval of Video Sequences," IEEE Transactions on Multimedia, vol. 9, No. 1, pp. 58-65, January 2007.
Departments
Affiliations