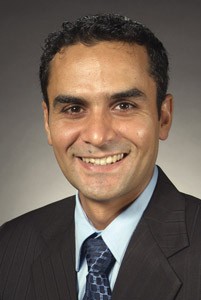 Sumit Chaudhary
Title(s):
Affiliate [S P]
Materials Science and Engineering (Courtesy)
Electrical and Computer Engineering
Information
Links
Education
PhD, Electrical Engineering, University of California, Riverside (2006)
B.Tech, Electrical Engineering, Institute of Technology at Banaras Hindu University, India (2001)
Interest Areas
Organic semiconductors, solar cells, nano-optoelectronics
Core Research Areas: Microelectronics and photonics
Strategic Research Area: Energy infrastructure
Publications
Nalwa, K. S., Y. Cai, A. L. Thoeming, J. Shinar, R. Shinar, and S. Chaudhary. "Polythiophene-fullerene Based Photodectors: Tuning of Spectral Response and Application in Photoluminescence Based Bio(chemical) Sensors." Advanced Materials, 2010, (forthcoming).
Miller, K., K. S. Nalwa, A. Bergerud, N. Neihart, and S. Chaudhary. "Memristive Behavior in Thin Anodic Titania." IEEE Electron Device Letters 31, no. 7, (2010): 737-739.
Nalwa, K. S. and S. Chaudhary. "Design of Light-trapping Microscale-textured Surface for Efficient Organic Solar Cells." Optics Express 8, no. 5, (2010): 5168-6178.
Park, J. M., K. S. Nalwa, W. Leung, K. Constant, S. Chaudhary, and K. M. Ho. "Fabrication of Metallic Nanowires and Nanoribbons Using Laser Interference Lithography and Shadow Lithography." Nanotechnology 21, (2010): 215301.
Chaudhary, S., H. Lu, A. M. Muller, C. J. Bardeen, and M. Ozkan. Hierarchical Placement and Associated Optoelectronic Impact of Carbon Nanotubes in Polymer: Fullerene Solar Cells. Nano Letters 7, (2007): 1973-1979.
Departments
Affiliations