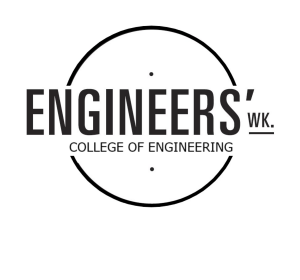 A new year of Engineers' Week 2019 is quickly approaching! Check out our amazing events we have coming up:
Men's Basketball Game Watch: Saturday, February 16th
E-Mazing Race & Matinee Movie: Sunday, February 17th
World's Fair: Monday, February 18th
International Engineering Panel: Tuesday, February 19th
Keynote Speaker, Katherine McKinley: Thursday, February 21st
E-Week 2019 Merch is available now!  Pre-orders can be placed here until Friday, 2/15.
The mission of Iowa State University Engineers' Week is to involve the College in a celebration of engineering that encompasses all students, faculty, staff, and alumni. The goals of the organization are to provide students the opportunity to interact with fellow students, faculty, and company representatives in both a professional and social manner, to educate the public about engineering and to provide service to the community.
Highlights from Fall 2018:
 Suggested Links
History : Check Out How Engineers' Week All Got Started Here
Events : Mark Your Calender's With All Upcoming Events!
Get Involved : Learn How You Can Help E-Week Happen
Contact : Do You Have Questions? Comments? Suggestions? Concerns? Send Them To Us Here!