Welcome back to class!
We've been busy planning for an amazing E-Week and we hope you choose to join us!
Check out our official calendar of events below! We're so grateful for all of the support you've shown us, our button lunches are SOLD OUT! Online button orders can be picked up the first day of the lunches, Monday, February 20th in Howe Atrium. All other merchandise orders can be still be purchased online HERE and will also be available for pickup at E-Week events!
Join us at our Next E-Week kickoff event: E-Lympics!
Join us in the Beyer Hall Game Room for a video game tournament! More details can be found here, and you can signup below! Free Redbull for participants and prizes for the winners!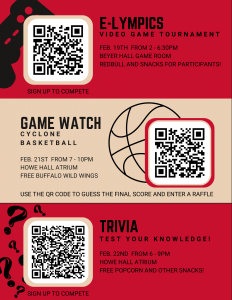 __________________________________________________________
Check out our LinkTree for Event Registration Information
Visit us here!
---
Fill out this Google Form if you are interested in joining Engineers' Week!

---
Check out our video from Clubfest Fall 2021:
Do You Have Questions? Comments? Suggestions? Concerns?
Email us at: isueweek@gmail.com