Want to participate in ISU Engineers' Week?
Visit us here to get access to our event signups, merchandise, and see our full calendar of events!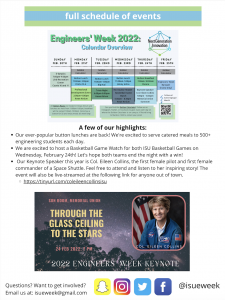 ---
Fill out this Google Form if you are interested in joining Engineers' Week!

---
Check out our video from Clubfest Fall 2021:
Do You Have Questions? Comments? Suggestions? Concerns?
Email us at: isueweek@gmail.com
Add Engineers' Week to your Google Calendar → Iowa State E-Week