Our engineering faculty members are making important discoveries and advancements each day. Much of this work is inspired in research centers and institutes, where creative minds across multiple disciplines collaborate to engineer an idea into reality.
The larger or university-wide centers and institutes below include active contributions from many engineering faculty members. Individual labs and smaller research enterprises can be found within our academic departments.
The Ames Laboratory is a U.S. Department of Energy Office of Science national laboratory devoted to "creating materials and energy solutions".
The Analog and Mixed-Signal VLSI Design Center at Iowa State University was formed in 1988. Faculty members in the center focus on analog and mixed-signal VLSI design for biomedical, RF, microwave, fiber-optics, data conversion, testing layout and other applications.
The BioCentury Research Farm is the first-in-the-nation integrated research and demonstration facility dedicated to biomass production and processing.
The Bioeconomy Institute (BEI) is an outgrowth of the Bioeconomy Initiative — a campuswide effort, launched in 2002, to investigate the use of biorenewable resources as sustainable feedstocks for producing chemicals, fuels, materials, and energy.
The Biopolymers & Biocomposites Research Team (BBRT), established in 1995, promotes research in the development of biorenewable polymers from Midwest crops, encourages bioplastics in industry, and works towards new formulations and processing techniques.
The Bridge Engineering Center at Iowa State University was established in 1988. The center's mission is to conduct research on bridge technologies to help bridge designers/owners, particularly the Iowa Department of Transportation Office of Bridges and Structures, design, build, and maintain long-lasting bridges.
The Catron Center for Solar Energy Research supports research on solar energy technologies that can address national energy needs.
The Center for e-Design is a joint research coalition comprised of seven universities working closely with numerous businesses and government organizations. The coalition was established to create new design paradigms and electronic design tools that will assist in generating high quality products and systems at a reduced cost while also reducing the time associated with designing complex engineered products and systems.
The Center for Nondestructive Evaluation (CNDE) develops noninvasive methods and instruments for assessing the integrity of structures and materials.
Through its research, education and outreach programs, the Center for Sustainable Environment Technologies (CSET) seeks to promote, develop, and demonstrated sustainable energy and environmental technologies, particularly those that address environmentally driven problems in energy utilization.
This center promotes and expands research in electric power and energy-related fields of particular interest to faculty and to the twelve electric utilities who support EPRC through their membership fees.
In response to the growing concern about computer security, faculty from several departments created the Information Assurance Center (IAC) as a structure to provide a focal point for research and teaching in computer security.
This Institute is a focal point at ISU for efforts to promote transportation education, research and extension activities.  It includes 8 centers and 4 programs that address various aspects of transportation infrastructure.
Faculty in the Center for Bioinformatics and Biological Statistics engage in research to develop computational, graphical, statistical, mathematical, or algorithmic methods to interpret or mine information from biological data; apply quantitative approaches in biology; and bridge separate experimental biology areas with creative computational approaches.
The Microelectronics Research Center develops and characterizes advanced semiconductor materials, devices, and processing technology.
The NSF Engineering Research Center for Biorenewable Chemicals (CBiRC) will develop the fundamental knowledge and technology and the academic and industrial partnerships needed to provide a foundation for U.S. industrial chemical production to be transformed from a petroleum-based industry to a renewable resource-based industry.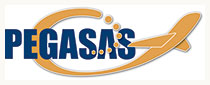 The Partnership to Enhance General Aviation Safety, Accessibility and Sustainability (PEGASAS) is a Federal Aviation Administration (FAA) Center of Excellence for General Aviation.  The mission of PEGASAS is to enhance general aviation safety, accessibility, and sustainability by partnering the FAA with a national network of world-class researchers, educators and industry leaders.
The Virtual Reality Application Center (VRAC) is an interdisciplinary research center focused on the rapidly expanding interface between humans and computers.