Wind Energy Science, Engineering, and Policy (WESEP) Research Experiences for Undergraduates (REU)
About the Program
Iowa State University offers an exciting 10-week on-campus research program in Wind Energy Science, Engineering, and Policy (WESEP) for undergraduate students. Ten fellowships are sponsored each year by the National Science Foundation's (NSF) Research Experiences for Undergraduates (REU) program. Students work in research teams with faculty and graduate students to receive training and get hands-on research experience in areas that address critical, long-term national needs in wind energy-related areas.
The program covers on-campus housing and a meal plan for all participants. Students receive up to $650 of travel expenses to and from Ames and a $5,000 stipend. Outside of the research experience, social events with other REU students at Iowa State are also available.
Applications are not being accepted at this time.
Program Highlights
One-on-one mentoring: Each student is assigned a faculty mentor for weekly meetings and a member of the research team who serves as a daily contact person.
Opportunity to make a research contribution: Each student participates in an individual research project within the faculty-led team. Research projects focused on one of four areas: wind energy resource characterization and aerodynamic loads; wind energy conversion systems and grid operations; manufacturing, construction, and supply chain; or reliability and turbine health monitoring.
Core training: Students attend short-courses on wind energy science, engineering, and policy topics led by faculty and senior researchers, as well as participate in workshops with faculty, to provide a broad knowledge base in wind energy science, engineering, and policy.
Field trips: Students visit operating wind farms, turbine and blade manufacturing, and other wind energy-related companies in Iowa.
Industry networking: Each week students participate in  "Brown Bag Lunch and Learn" sessions where industry experts from national laboratories, wind turbine manufacturers, wind farm developers and operators, wind turbine construction companies, maintenance providers, weather prediction consultants, electric utilities, independent service operators, and advocacy organizations make presentations and engage in discussions about wind energy topics with students.
Research products: Each participant produces three high-quality resume items:  a research poster, a publish-quality research paper, and a presentation at the REU Symposium (http://www.meteor.iastate.edu/windresearch/resources/Binder1.pdf) as products of this experience.
Access to state-of-the-art laboratories: Students use software and laboratory equipment to conduct their research in Iowa State's state-of-the-art research laboratories, including the:
Wind Engineering and Experimental Aerodynamics Lab
Alternate Energy Grid Infrastructure Systems Lab
Wind Energy Manufacturing Lab
Wind Simulation and Testing Laboratory
Center for Nondestructive Evaluation
Polymer Composite Laboratory
structural testing laboratory
Aerodynamic/Atmospheric Boundary Layer Wind and Gust Tunnel
Climate Science Program's computing clusters for short-term forecasting and climate analysis
Civil, Construction and Environmental Engineering Facilities
Letters of recommendation can be sent to: jkj@iastate.edu.
For additional information or questions email: windreu@iastate.edu
Learn more about: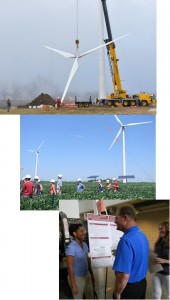 This Research Experience for Undergraduates was sponsored by the National Science Foundation.