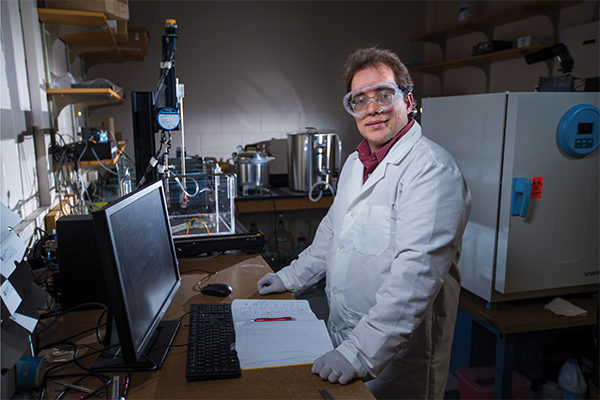 Timothy Bigelow, an associate professor of mechanical engineering and electrical and computer engineering, is using high-intensity ultrasounds as a noninvasive way to treat infections that can grow on medical implants.
"Medical implant infections are uncommon, but when they do occur you have to have a second operation to remove the implant and replace it," Bigelow said.
Bigelow and his research team use high-intensity ultrasounds to destroy bacteria biofilm, which is a protective matrix that prevents antibiotics from being effective and can lead to the development of antibiotic-resistant strains of bacteria. The ultrasounds break down the bacteria and fragment the cells, all through the body wall, eliminating the need for an invasive surgery.
In a project funded by the National Institutes of Health, Bigelow is currently focused on hernia mesh repair. He plans to eventually work on more intensive procedures involving artificial heart valves and heart assist devices, which can be much more serious if an infection does occur. In addition to ultrasound therapy, Bigelow is also working to improve the diagnosis of medical conditions such as early-stage ovarian cancer.
Bigelow said that his research combines elements of both electrical and mechanical engineering.
"Ultrasound therapy is at the boundary of both electrical engineering and mechanical engineering," said Bigelow. "It requires an understanding of wave propagation, a critical part of electrical engineering, as well as an understanding of stress/strain and thermodynamics in order to understand how the waves are really interacting with the biological structures. Without both, designing safe and effective therapies would not be possible."