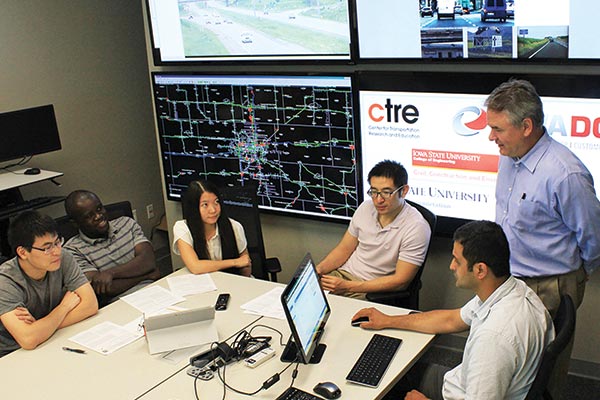 Cyclone engineers are using big data to make big improvements to road safety and traffic management. Anuj Sharma, associate professor of civil, construction and environmental engineering, and a team of researchers are using continuous traffic data streams – video, traffic volume, speed, backups, weather and more – to build automated, real-time traffic management tools.
With support from a $1 million grant from the National Science Foundation, the team is working with the Iowa Department of Transportation to develop new traffic models, computer algorithms, user-friendly computer displays and information visualizations that will help traffic management operators make decisions and take actions to keep vehicles moving smoothly.
Ultimately the goal is to build a system that can use machine learning to detect – and even predict – traffic problems. Fast responses to traffic troubles like crashes, stalled cars or bad weather will help improve the safety of motorists and workers by reducing response times and rapidly slowing or re-routing traffic in trouble spots. "When there's a crash, every second is critical," says Neal Hawkins, associate director of Iowa State University's Institute for Transportation and adjunct lecturer in civil, construction and environmental engineering.
SaveSave
SaveSave
SaveSave