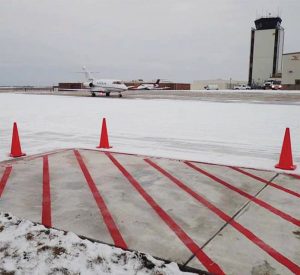 Iowa State's partnership in FAA program advances airport runways, operating technology
Engineers from Iowa State are part of a collaborative partnership to help navigate and improve the complex, ever-changing aviation industry with innovative ideas and new research projects.
"When you look at addressing any problem in the field, from the weather to security to operational efficiencies, you know it's going to take a community of minds coming together to create solutions," says Halil Ceylan, professor of civil, construction and environmental engineering and director of the Program for Sustainable Pavement Engineering and Research at Iowa State's Institute for Transportation.
Ceylan also serves as a site director for the Federal Aviation Administration's Center of Excellence Partnership to Enhance General Aviation Safety, Accessibility and Sustainability, or PEGASAS.
The partnership, which was established in 2012, is led by researchers at Purdue University and includes Iowa State, The Ohio State University, Georgia Institute of Technology, Florida Institute of Technology and Texas A&M University as core members.
Together, the researchers are working with the federal government and industry to study a variety of general aviation issues.
Ceylan is using his expertise in pavement engineering to lead a project that aims to create a hybrid heated pavement system. The system includes electrically conductive concrete, nanostructured superhydrophobic coatings and hydronic heated pavements that will keep airport pavement surface temperature above freezing during winter weather operations and reduce airport incidents related to unfavorable conditions.
Iowa State researchers are contributing to several other projects, including developing an FAA pavement marking presence tool, analyzing and processing data regarding airport safety, and testing how LED lighting performs under extreme conditions.
Ceylan says he's also excited about the student outreach component of PEGASAS. Two Ph.D. students from Iowa State were able to travel to FAA's William J. Hughes Technical Center for two months to learn and apply their skills in a real-world setting.
"I participated in a similar fellowship as a graduate student, and I can honestly say it changed the trajectory of my career in such a positive way. It's programs like these that will help shape the future of the aviation field. We have so many brilliant minds with so much to offer, we just need a way to get them involved, and PEGASAS is a great way to do just that."