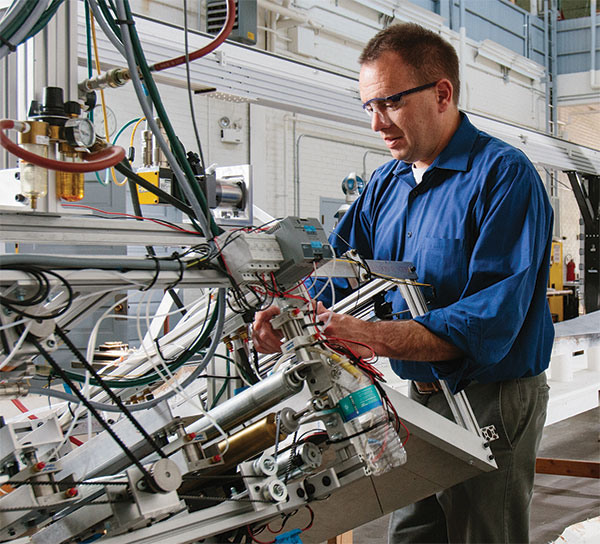 Delivering advanced manufacturing technology ready for commercialization
Researchers in Iowa State's industrial and manufacturing systems engineering (IMSE) department are major players in the country's goal to strengthen the resurgence of manufacturing in America.
With their projects to be supported by three of the recent federal manufacturing research centers – America Makes, the Institute for Advanced Composite Manufacturing Innovation and the Digital Manufacturing and Design Innovation Institute – they are working to solve unique manufacturing problems.
"Creating a product involves a great deal of reasoning and planning by individuals, which can lead to unwanted variation," explains Matt Frank, associate professor of IMSE. "We reduce that variation through automation solutions that generate high-quality products at a competitive cost all while using fewer resources."
But the group isn't working in the typical factory setting. Researchers explore complex, difficult-to-make components, like wind turbine blades and one-of-a-kind replacement products.
"It's tough to justify applying conventional automation technologies for products that aren't high volume," explains Frank Peters, associate professor of IMSE. "Instead, we like to partner with companies with interesting problems and create specific solutions that can be commercialized to improve the manufacturing system."
That's exactly what's happening at Iowa State's Wind Energy Manufacturing Laboratory (WEML). The lab is partnering with the National Renewable Energy Laboratory to incorporate advanced composites, specifically carbon fiber, into wind blade manufacturing. Using carbon fiber in place of fiberglass allows for lighter blades and may have the potential to lower the cost of wind energy.
Peters says WEML has been investigating composites for some time, and the connection with collaborators expedites getting the technology into industry.
In another area, researchers generate customized replacement parts – whether it's a human bone or tractor part – with rapid manufacturing. Frank's lab features reconfigured traditional manufacturing technologies that act like 3D printers. From there, he's able to produce components using materials with preferred properties.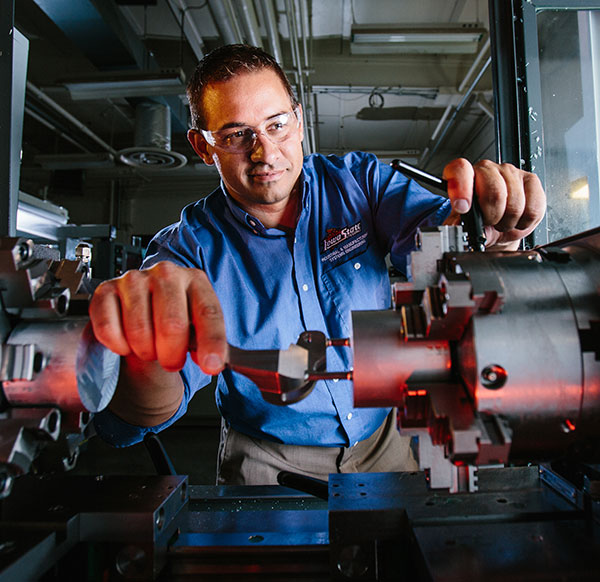 The group is also working on a project to connect metal 3D printers with a subtractive finishing process. "If we can implement this rapid manufacturing process in such a way that it will create extraordinarily customized products in an affordable way, it's going to make a big impact for consumers in the United States," Frank says.
Other projects include an automated system to produce patterns for large metal castings used in industry and military. The team has worked with the Defense Advanced Research Projects Agency to make manufacturability analysis software with the goal of reducing the design-to-build time frame. "The software analyzes proposed design ideas, giving feedback about everything from how difficult parts will be to machine, cast or weld, to what aspects within the design will drive up costs," Peters explains. "
As the country continues to look for ways to manufacture products within a variety of fields, our engagement with industry on relevant and applied solutions are an example of how that can happen," Frank says.