Want to know more about Iowa State's VRAC? Come to Engineers' Week Technology Night!!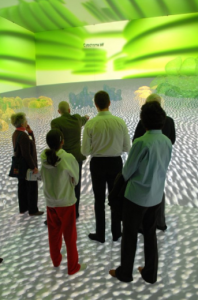 Iowa State's VRAC is the world's highest resolution display environment.
The one hour event will have a mix of presentations and 4D demonstrations of various applications built at the center. The presenter will talk about the VRAC, what we are and what we do, in addition to how 4D technologies work. 4D demonstrations in the mix highlights the topic that was just presented.
Date: Tuesday, February 20, 2018
Time: 4:00 – 5:00 PM
Location: Lee Liu Auditorium, Howe Hall
Cost: Free!
Event Description: Engineers' Week will be partnering with Howe Hall to host a 4D presentation about the VRAC. The presentation will be given by Vijay Kalivarapu.
First come, first serve!