When: 
Monday, February 11th-Thursday, February 14th
*Judging will take place on 

Thursday, February 14th

 between 3-5 PM*
Where:
 Doors leading into main offices
Why:
IN CELEBRATION OF E-WEEK! 
Requirements: 
Door decorations must be up by Monday and last until Thursday; winners are encouraged to leave their doors up during E-Week the following week

The theme "Engineering Around the World" must be apparent through the door's design

Have fun with it and get creative!
Door Decorating Rubric: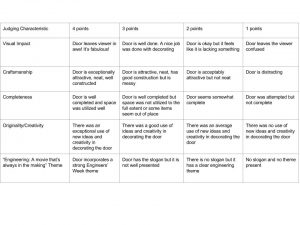 Last Year's Winner: 1300 Marston Engineering Student Services!