On sale now!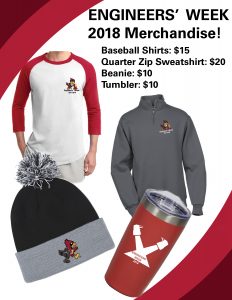 Order your 2018 Engineers' Week merchandise here!
Credit card charging will be available! All online merchandise orders can be picked up at any Engineers' Week event between the dates of February 19th to the 23rd. Merchandise can also be purchased at our events with cash or credit.
You can also purchase a "Button Meal" Button ($5) through the above link! Lunches will be the week of Engineers' Week (2/19 – 2/23) in Hoover Atrium 11 AM – 1 PM.
Monday: Hickory Park

Tuesday: Burgers

Wednesday: Fuzzy's

Thursday: Hy-Vee Breakfast (7:30-10:00AM – Sukup)

Friday: Fazoli's
Buttons can also be purchased at the Button Lunches AND at our giveaway table located in Hoover Atrium 10:00AM – 2:00PM every day the week of February 2/12 – 2/16.