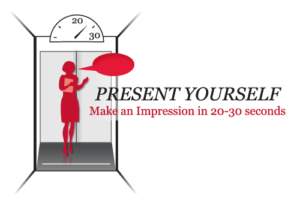 This 20-40 second speech is expected from you as approach a company representative at the career fair.  It is aptly named because it should be possible to deliver it in the time span of an elevator ride.  The goal is to introduce yourself, give the person a quick sense of who you are and what your interests are, and present your resume and highlight a few strengths that you have to offer employers.
At a minimum your Elevator Speech should include:
your name
major
year in school or graduation date if looking for full-time work
type of position you are seeking (full-time or internship)
when you are available to start and/or the time window of when you want to work if seeking an internship
why you would like to work for the employer and/or why their position appeals to you
a request for them to review your resume and consider you for an interview
Additional items to include when possible:
any connection to the employer.  Perhaps you went to their information session or talked to them at a previous fair.   Even mentioning that a relative/friend works for the employer can help make a connection.  If you have a connection to the employer, highlight it!
special qualifications that you want to highlight.  Sometimes your classes, skills, and interest areas highly align with the company.  For example, if you are talking to a chemical processor and you are in a class focused on fluid flow problems, you might mention that you are very excited about what you are learning in that class and how it would apply to their systems.  Perhaps you are a member of an engineering club and you have done project management or technical work that aligns with their job descriptions.  If you have a connection that you can make between the employer/position and your experiences, mention it!